Breitbart sends two reporters to Alabama to discredit Roy Moore sexual misconduct story
One mother said her daughter's public accusation 'wasn't done for politics, you know...It was done for personal reasons.'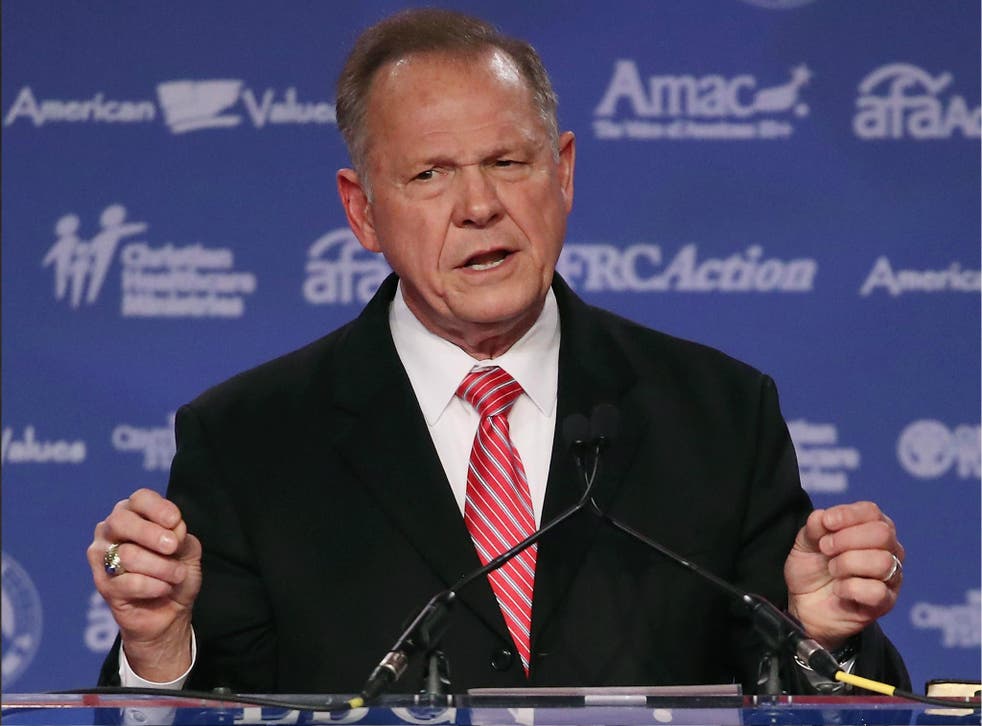 Right-leaning news outlet Breitbart sent two reporters to Alabama for the purpose of discrediting the reporting on child sex abuse charges against Roy Moore.
The Republican Senate candidate running in the special election against Doug Jones has been accused by at least five women on the record of inappropriate behaviour while they were teenagers and he was in his 30s.
He denies any wrongdoing.
The website - led by controversial former White House chief strategist Steve Bannon, spoke with the mother of the accuser Leigh Corfman.
Ms Corfman told the Washington Post that when she was just 14, a 32-year-old Mr Moore made advances towards her on multiple occasions.
The pair met when Ms Corfman was waiting with her mother outside of a child custody hearing at which her parents were appearing. Mr Moore was working as a district attorney at the time.
Ms Corfman stated she spoke on the phone with Mr Moore "on her phone in her bedroom," according to the newspaper.
Breitbart asked Ms Corfman's mother Nancy Wells about it and she said her daughter did not have a separate phone in her bedroom at the time but that the "phone in the house could get through to her easily."
Breitbart editor defends Republican candidate Roy Moore over allegations of sexual misconduct with teenagers
It is unclear why Breitbart thought this was an important detail to debate when Ms Wells recounted the rest of the story about meeting Mr Moore and the alleged abuse to Breitbart exactly as it appeared in the Washington Post.
Breitbart did not immediately respond to a request for comment.
Ms Wells even called the newspaper's story "very well researched" - the paper had 30 sources for the story, four on the record.
However, in a separate Breitbart report Ms Wells said about her daughter going public with the accusations to the Washington Post: "She did not go to them...They called her."
She told Breitbart her daughter's accusation "wasn't done for politics, you know...It was done for personal reasons. And it wouldn't have been done if the reporters hadn't contacted my daughter."
The Washington Post said its reporters did approach the women and that they were reluctant to go public.
The paper wrote: "While reporting a story in Alabama about supporters of Moore's Senate campaign, a Post reporter heard that Moore allegedly had sought relationships with teenage girls. Over the ensuing three weeks, two Post reporters contacted and interviewed the four women. All were initially reluctant to speak publicly but chose to do so after multiple interviews, saying they thought it was important for people to know about their interactions with Moore. The women say they don't know one another."
World news in pictures

Show all 50
Breitbart thought it was a sticking point that the newspaper did not admit to having to convince the women to go public.
Mr Moore's campaign blamed the newspaper for being biased against the Republican candidate who has routinely touted conservative Christian values.
It also said in a statement that Mr Moore was married for over 33 years with children and grandchildren.
Supporters came out in full force to blame the victims and criticised Ms Corfman for being a multiple divorcee, her drug use, and bankruptcies - all of which she disclosed in the original story.
"I've been investigated more than any other person in this country. That grown women would wait forty years to come right before an election to bring charges is absolutely unbelievable," said Mr Moore during a recent campaign event.
At least three polls conducted since the original report was released show Mr Moore and Mr Jones roughly tied, one poll has Mr Jones ahead by four points.
But on-the-ground reporting around Alabama showed Mr Moore still has strong support among Evangelicals who are staunchly anti-Democrat.
Register for free to continue reading
Registration is a free and easy way to support our truly independent journalism
By registering, you will also enjoy limited access to Premium articles, exclusive newsletters, commenting, and virtual events with our leading journalists
Already have an account? sign in
Register for free to continue reading
Registration is a free and easy way to support our truly independent journalism
By registering, you will also enjoy limited access to Premium articles, exclusive newsletters, commenting, and virtual events with our leading journalists
Already have an account? sign in
Join our new commenting forum
Join thought-provoking conversations, follow other Independent readers and see their replies