Trump administration sued by California and San Francisco over immigration plans
'In the name of public safety, this president is undercutting law enforcement in trying to withhold money used to reduce crime'
Jeremy B. White
San Francisco
Tuesday 15 August 2017 01:02 Comments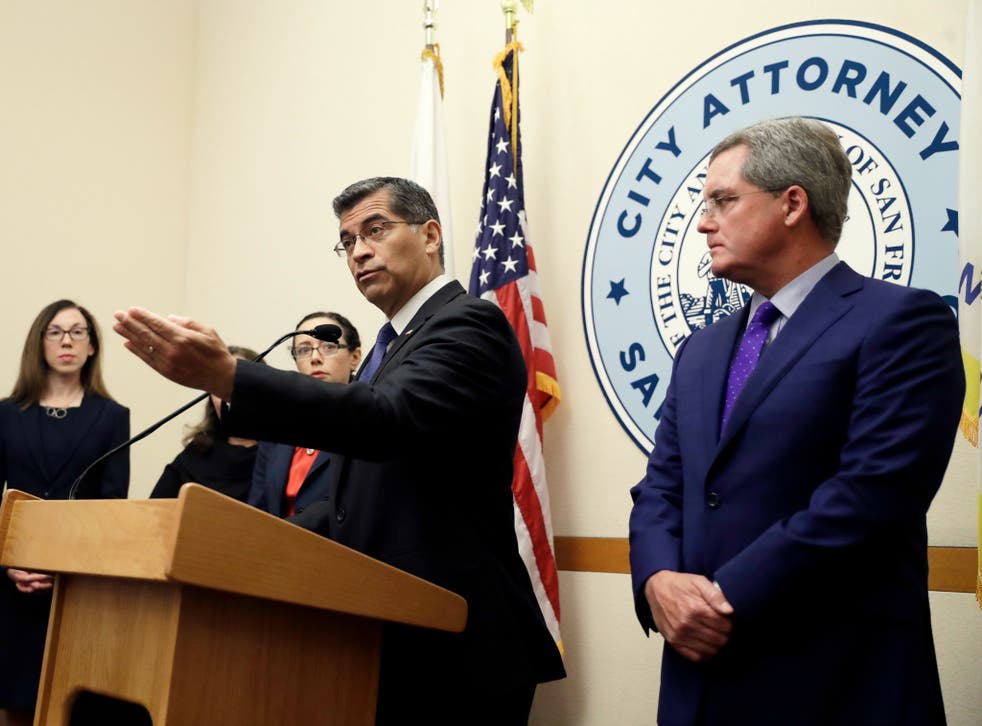 Donald Trump's administration is being sued by California and San Francisco because of the decision to revoke funding for areas that limit federal interaction with undocumented immigrants.
Shortly after taking office, the US President signed an executive order seeking to stop national money from being provided to regions which limited cooperation with Immigration and Customs Enforcement [ICE].
Since then, the Department of Justice has targeted grants that have funded programs to prevent youth recidivism and help low-level drug offenders get treatment.
California drew about $28.3m (£21.8m) from that program in the most recent fiscal year, according to the California Attorney General's office.
But changes to the funding regulations mean that it is now tied to jurisdictions giving ICE agents access to immigrants detained in jails. They are also required to notify the federal government when immigrants were to be released.
"So-called 'sanctuary' policies make all of us less safe because they intentionally undermine our laws and protect illegal aliens who have committed crimes," Attorney General Jeff Sessions said in announcing the new directive.
Those demands clash with the status quo in California, where state law bars jails from holding onto immigrants so ICE can claim them unless they've been convicted of violent crimes.
San Francisco also forbids local law enforcement from informing the federal government of detained immigrants' release dates and bars federal agents from entering jails and interviewing immigrants about their status, in most cases.
Donald Trump's immigration crackdown encapsulated in poignant footage of father being deported
In suing the federal government, San Francisco and California are filing parallel lawsuits seeking to block those new conditions from being attached to the grants.
San Francisco's lawsuit says that the city hosts "a vibrant immigrant community, many members of which are undocumented" and argues that "a safer, healthier, and stronger city when its officials do not enforce federal immigration laws."
It adds that the city "is safer when all people, including undocumented immigrants, feel safe reporting crimes to authorities."
San Francisco City Attorney Dennis Herrera said: "In the name of public safety, this president is undercutting law enforcement in trying to withhold money used to reduce crime."
He added: "We have a president who is bent on trying to vilify immigrants and punish cities that prioritise real, effective public safety over splitting up hardworking families."
World news in pictures

Show all 50
California Attorney General Xavier Becerra, who was tapped for California's top law enforcement job in part to defend the state against Trump administration policies opposed by majorities of the liberal state's residents, defended the state's lawsuit in similar terms.
"The Trump administration has instituted policies that are not only reckless but illegal," Mr Becerra told reporters, calling it "a low blow to our men and women who wear the badge for the federal government to threaten their crimefighting resources in order to force them to do the work of the federal government."
The Trump administration has made a habit of attempting to bend local governments to its immigration priorities by threatening to cut off funds. Earlier this month, the Department of Justice asked four cities that were eligible for federal assistance about their policies toward detained immigrants, leading one police chief to decry the "politicisation of policing".
Register for free to continue reading
Registration is a free and easy way to support our truly independent journalism
By registering, you will also enjoy limited access to Premium articles, exclusive newsletters, commenting, and virtual events with our leading journalists
Already have an account? sign in
Join our new commenting forum
Join thought-provoking conversations, follow other Independent readers and see their replies