Carrier corporation continues with planned staff cuts at plant Donald Trump promised to save
More than 200 Carrier employees will lose their jobs in January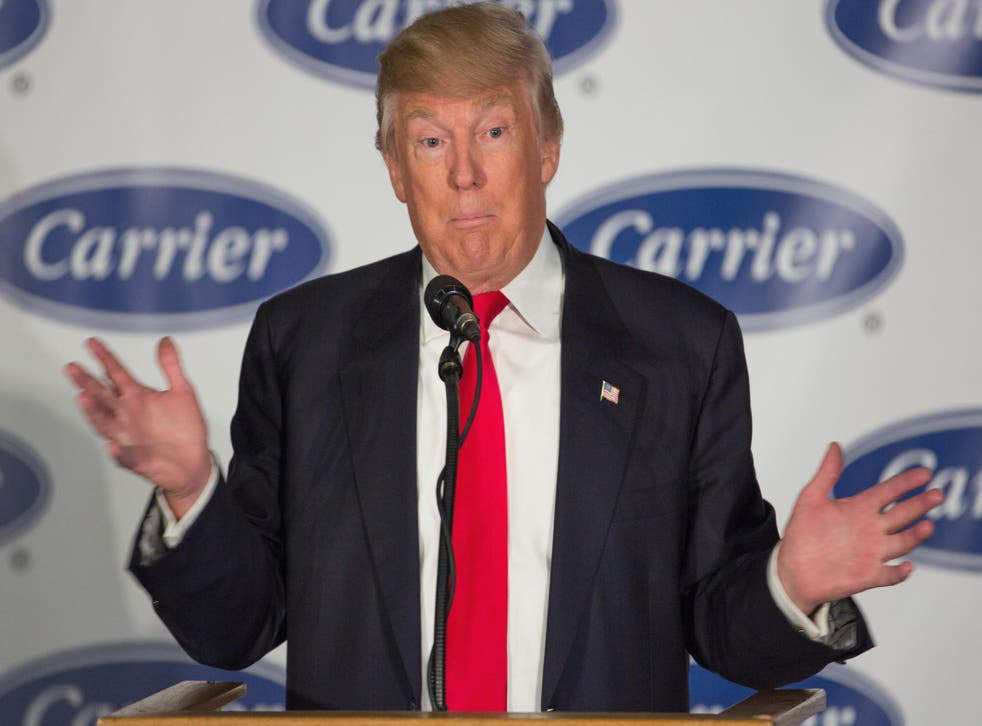 The manufacturing plant where Donald Trump promised to save jobs will proceed with its final round of layoffs.
Carrier Corporation – an air conditioning, refrigeration and heating manufacturer – has announced it will cut 215 employees from its Indiana factory in January. The announcement marks the final phase of the layoffs announced in November 2016.
The company originally planned to shut down the plant and lay off approximately 1,400 people as part of a plan to shift production to Mexico. In December, the President-elect announced that Carrier would keep at least 1,070 jobs at the plant in exchange for up to $7m in incentives.
"They're going to have a great Christmas," Mr Trump told a cheering crowd. "...And by the way, that number is going to go up very substantially as they expand this area. So the 1,100 is going to be a minimum number."
The number, however, would not go up. In May, Carrier announced that it would still be laying off more than 600 people that year, while sticking to its promise of employing at least 1,100 people at the plant. Nearly 340 of those layoffs happened in July. Now, the company has announced that 215 more of them will take place in January.
Donald Trump's least presidential moments so far...

Show all 30
This last round of layoffs was originally scheduled to cut 275 employees from the plant on 22 December.
In a recent statement, however, the company said it would only be laying off 215 employees due to attrition. They pushed the date back to January because of increased demand at the plant, a company spokesperson told The Independent.
The second round of layoffs brings the total number for the year to 553 – less than the approximately 630 it originally announced.
Trump gets roasted at the CMA awards
Carrier employees have said they felt mislead by the President's promise to save the plant.
"To me this was just political, to make it a victory within Trump's campaign, in his eyes that he did something great," Carrier employee TJ Bray told CNBC in June.
Mr Bray, who will keep his job for now due to seniority, added: "I'm very grateful that I get to keep my job, and many others, but I'm still disappointed that we're losing a lot."
Robert James, the president of the local steelworkers union, added that many of the remaining Carrier workers are still nervous about their futures.
"They just don't have any faith in this plant staying in Indianapolis," he told the Indy Star in July. "There's just too much uncertainty."
Register for free to continue reading
Registration is a free and easy way to support our truly independent journalism
By registering, you will also enjoy limited access to Premium articles, exclusive newsletters, commenting, and virtual events with our leading journalists
Already have an account? sign in
Register for free to continue reading
Registration is a free and easy way to support our truly independent journalism
By registering, you will also enjoy limited access to Premium articles, exclusive newsletters, commenting, and virtual events with our leading journalists
Already have an account? sign in
Join our new commenting forum
Join thought-provoking conversations, follow other Independent readers and see their replies