Carter Page says Nunes memo vindicates him and that defamation legal battle 'just beginning'
Exclusive: 'I feel great. I feel really happy'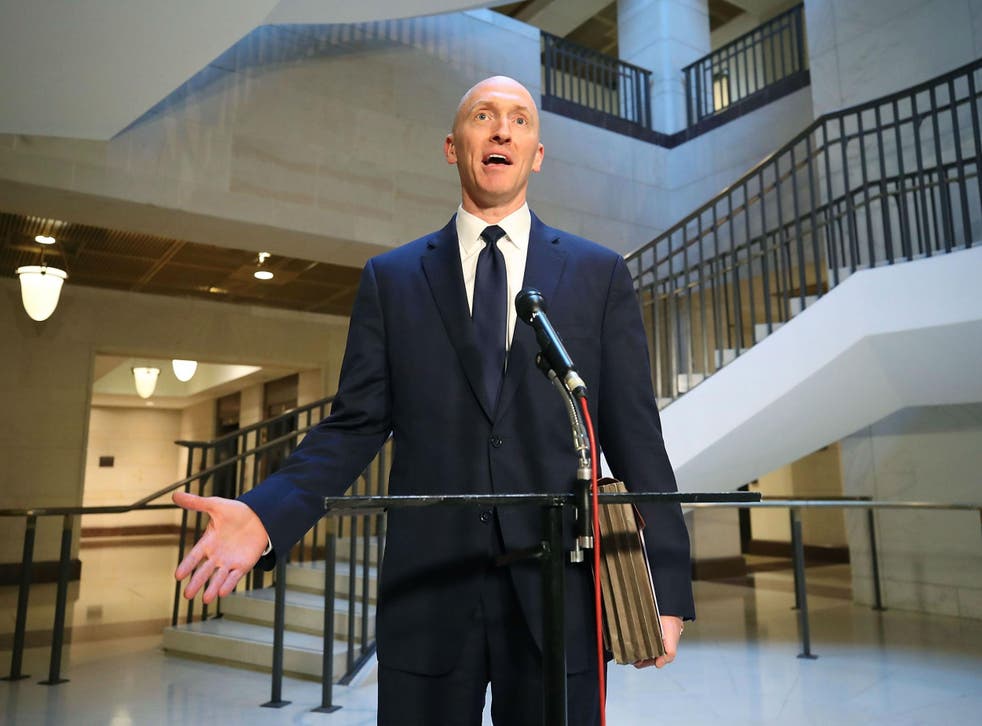 Carter Page, the former Trump campaign adviser referred to in the so-called Nunes memo, says he feels vindicated by its publication and believes it will help a defamation lawsuit he is pursuing.
"I feel great. I feel really happy," Mr Page told The Independent. "I think [the memo's publication] will do a lot."
The memo, released last week by the US House Intelligence Committee, details what Republicans claim was an inappropriate effort by Barack Obama's Department of Justice in October 2016 to obtain a warrant to carry out surveillance against Mr Page, who served for several months as an adviser to the Trump campaign.
The memo claims the application placed before the Foreign Intelligence Surveillance Act (FISA) court had failed to make clear that some of the information used to make the request had been gathered by former British spy, Christopher Steele, who had been contracted by a Washington research company, which had in turn been paid to collect damaging information on Mr Trump – first by a wealthy Republican donor and then by Hillary Clinton's campaign.
The memo also acknowledged the FBI had started its probe several months before it obtained Mr Steele's "dossier", having been tipped off by Australian diplomats about another of Mr Trump's advisers, George Papadopoulos, claiming Russia wanted to provide incriminating material about Ms Clinton.
Democrats on the committee are seeking to release their own memo, something they say would answer criticisms raised by Republicans but which the Republican leadership of the committee has so far declined to give permission for.
Donald Trump says Nunes memo is declassified and Congress will "do whatever" with it
Mr Page, 46, an American oil industry consultant was reportedly interviewed last year by the staff of Special Prosecutor Robert Mueller, who is investigating possible collusion between the Trump campaign and Russia's alleged interference in the 2016 election.
He has always denied any wrong doing and has said he has "zero" concern he may among those to be charged by Mr Mueller's team. The Special Prosecutor has so far issued indictments against four men linked to the Trump campaign – manager Paul Manafort and his associate Rick Gates, who have pleaded not guilty to charges of money laundering and conspiracy, and former advisers Michael Flynn and Mr Papadopoulos, who have pleaded guilty to lying to the FBI and are cooperating with the investigation.
Last year, Mr Page filed a defamation lawsuit against Yahoo and the Huffington Post, over a story that said he was under investigation for meeting Russian officials who meddled in the election.
The suit also targeted the Broadcasting Board of Governors, whose outlets Radio Free Europe/Radio Liberty, both controlled by the United States, wrote an account based off of the Yahoo article.
The lawsuit claims the articles represented "perhaps the most dangerous, reckless, irresponsible and historically-instrumental moments in modern-day sensational crime story journalism".
Mr Page said he believed his legal case had been strengthened by the publication of the Republican memo.
"I'm very optimistic," he said, speaking by phone. "The legal process is just beginning. The fight for justice is just beginning."
World news in pictures

Show all 50
Mr Page said although the person who made many allegations against him was a former member of MI6, he said he believed the strategic relationship between the US and UK could actually be strengthened.
"A former head of GCHQ was once quoted as suggesting that Snowden's accurate disclosures regarding mass surveillance represented the "most catastrophic loss to British intelligence ever"," he said.
"Assuming that assessment might be correct, the 2016 dodgy dossier-based fictional court submission had a similar impact on the Constitutional integrity of the US.
"But our countries and indeed the world are fortunate that the false gossip circulated by our respective intelligence communities did not inspire more geopolitical conflict this time, as the original dodgy dossier once helped inspire with the Bush/Blair Iraq disaster."
He added: "Instead, and as recently seen in Davos, each of our current national leaders have shown better judgment by focusing their efforts on far more productive endeavors this time around."
Join our new commenting forum
Join thought-provoking conversations, follow other Independent readers and see their replies