Charlottesville: Several US states recently introduced bills to protect drivers who run over demonstrators
Many of the legal changes were proposed in response to mass protests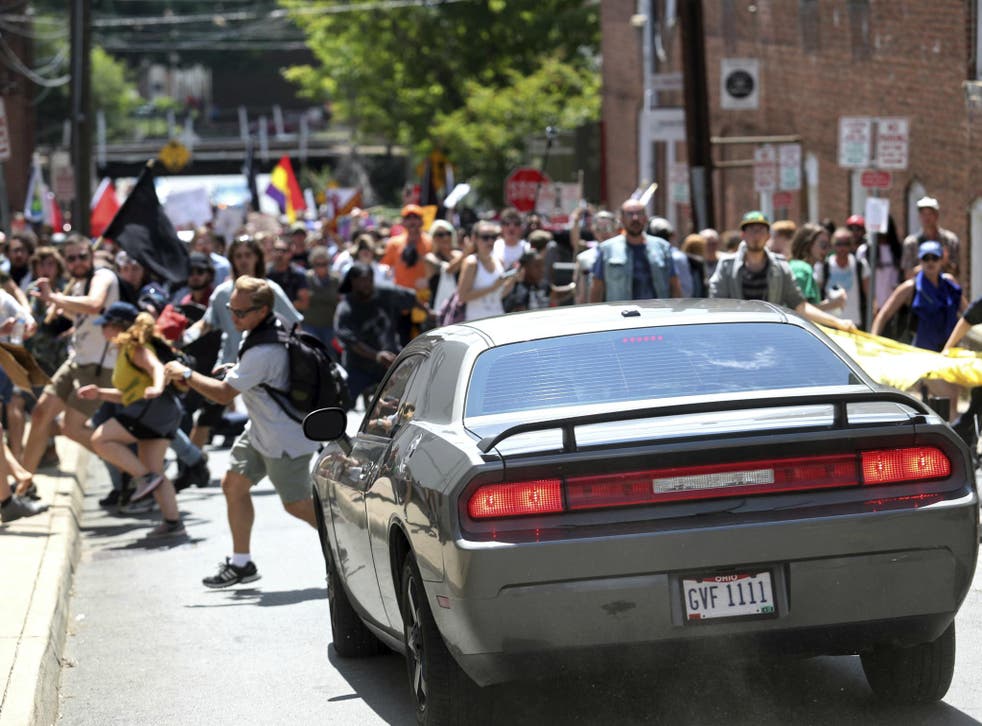 Six US states have introduced or passed laws to give legal protection to drivers who hit protesters with their cars.
Many came in response to protester tactics used in their respective states. In the past protesters have deliberately blocked roads.
But, in the light of the vehicle ramming attack which killed an anti-fascist demonstrator in Charlottesville, Virginia, the laws have taken on a sinister edge.
With the exception of one state, the proposed laws do not protect drivers deliberately attacking protesters, meaning intent would have to be proven in some cases – a potentially difficult legal area.
Hundreds gather for Charlottesville vigil
Rhode Island's House Bill 5690 ensures motorists are "immune from civil liability" if they are "exercising due care and injures another person who is participating in a protest or demonstration and is blocking traffic in a public right-of-way".
It has been recommended for further scrutiny.
The latest law to be introduced was the House Bill 250, at a July special session of the Texas Legislature.
It related to "civil liability for injury of a protestor by the operator of a motor vehicle".
While careless drivers are not protected, it does not overtly exempt drivers that cause deliberate harm from legal protection. But the law failed to progress out of the special session, killing it.
A North Dakota politician introduced House Bill 1203 in February to tackle "terrorism on the roadways," which he said developed form the protests against the Access Pipeline being built in the state.
"The bill got introduced for people to be able to drive down the roads without fear of running into somebody and having to be liable for them," Rep. Keith Kempenich told CNN.
The law failed to receive enough votes to be passed.
Another state which introduced a similar type of law in response to protests was North Carolina. House Bill 330 came about in response to the disorder which followed the shooting of Keith Lamont Scott, a black man who was gunned down by a black police officer.
Violence on the streets of Charlottesville

Show all 9
The bill passed in the state legislature's lower chamber has and must now be approved in the state Senate.
In Florida, Senate Bill 1096 was proposed in February. Unlike other bills, it did not fully protect the driver if they caused injury to a protester who then chose to sue. The law was not passed.
In Tennessee, Senate Bill 944 and House Bill 668 both proposed protections to drivers who hit protesters deliberately blocking the road, unless it was on purpose. The House Bill failed to gain approval and the Senate Bill is still being debated.
Register for free to continue reading
Registration is a free and easy way to support our truly independent journalism
By registering, you will also enjoy limited access to Premium articles, exclusive newsletters, commenting, and virtual events with our leading journalists
Already have an account? sign in
Register for free to continue reading
Registration is a free and easy way to support our truly independent journalism
By registering, you will also enjoy limited access to Premium articles, exclusive newsletters, commenting, and virtual events with our leading journalists
Already have an account? sign in
Join our new commenting forum
Join thought-provoking conversations, follow other Independent readers and see their replies