Donald Trump nominates Christopher Wray as FBI director to replace James Comey
The position has been open for more than a month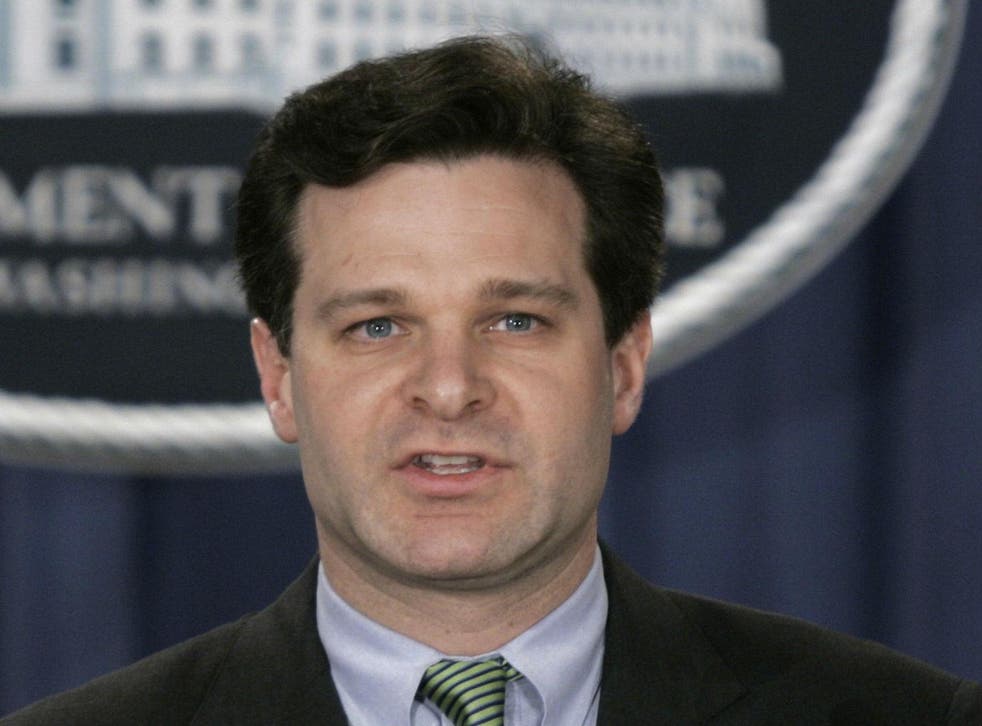 A month after he fired James Comey as the FBI Director, Donald Trump has announced he is nominating lawyer and former assistant Attorney General Christopher Wray to replace him.
Mr Trump ousted Mr Comey as he was overseeing a federal probe into possible collusion between the Trump campaign and Russia's alleged meddling in the 2016 election. At the time, he said to an interviewer: "I said 'you know, this Russia thing with Trump and Russia is a made-up story, it's an excuse by the Democrats for having lost an election that they should have won.'"
With the post having been empty since Mr Comey's firing on 9 May, Mr Trump and his team had considered a number of people for the position. Among them was former Democratic senator Joe Lieberman.
Mr Trump, who has shown no small ability to create headlines, especially to replace negative ones about him, used Twitter to make his announcement. He did so just hours before four intelligence officials were due to give testimony on Capitol Hill about the Russia investigation, and a day before Mr Comey is himself scheduled to appear before the Senate Intelligence Committee.
While Mr Comey is not expected to divulge details of the ongoing probe, now being headed by former FBI Director Robert Mueller, reports suggest he will provide details of conversations he had with Mr Trump, and which he kept notes of.
Trump denies that he urged Comey to close Flynn investigation
Among the conversations he will reportedly provide details of, is one where Mr Trump allegedly asked him to display his loyalty to the President. During another reported conversation, Mr Trump allegedly asked Mr Comey to drop his investigation into his former national security advisor, Michael Flynn, a former general who was forced to resign after it emerged he had lied about his contacts with Russian officials.
Some were quick to point out the timing of Mr Trump's announcement. "It appears, obviously, that the President is trying to change the topic because we've got two days of hearings here that could be explosive," Senator Mark Warner, the top Democrat on the Senate Intelligence Committee, told MSNBC.
World news in pictures

Show all 50
Last month, it was announced that Mr Wray, 50, who served as assistant Attorney General from 2003 to 2005, would join the list of applicants being interviewed for the vacant position.
The White House finally released a statement on Mr Trump's nomination hours after Mr Trump's tweets saying that Mr Wray has been "recognised throughout his career as a leader in the field of white-collar criminal defence and government investigations".
It also expanded on Mr Trump's earlier remarks: "I am proud to announce Christopher as my choice as the Director of the FBI. During his previous service at the Department of Justice, Christopher was the leader of major fraud investigations, and was a key part of the team overseeing the Justice Department's actions in the war on terrorism following the 9/11 attacks," said President Trump. "He is an impeccably qualified individual, and I know that he will again serve his country as a fierce guardian of the law and model of integrity once the Senate confirms him to lead the FBI".
Mr Trump also told reporters on a trip to Cincinnati that Mr Wray was "gonna be great".
The website of the Mr Wray's law firm says: "Mr Wray chairs the King & Spalding Special Matters and Government Investigations Practice Group, which represents companies, audit and special committees, and individuals in a variety of white-collar criminal and regulatory enforcement matters, parallel civil litigation, and internal corporate investigations."
"It is a great honour to be selected by the President to return to the Department of Justice as Director of the FBI," Mr Wray said. "I look forward to serving the American people with integrity as the leader of what I know firsthand to be an extraordinary group of men and women who have dedicated their careers to protecting this country."
Among his high profile clients was Chris Christie, the New Jersey Governor, who retained Mr Wray during the so-called Bridgegate controversy, an investigation into the 2013 closure of lanes on the George Washington Bridge as political payback against a local politician.
Three senior officials working for the governor were found guilty, but Mr Christie was not charged in the case.
Mr Christie said last week that Mr Wray was an "outstanding lawyer".
Other Republicans lined up to praise the decision to nominate Mr Wray, although some were caught out by Mr Trump's announcement. Legislators attending a closed-door caucus said they had no early word of the President's selection of Mr Wray.
Representative Mike Conaway of Texas said, "At first blush, he seems like a great choice to lead the FBI." But Mr Conaway added he wasn't given a heads up and told reporters that they had "surprised me on the way in".
House Speaker Paul Ryan said Mr Wray seemed like "the perfect kind of person" for the important job. Mr Ryan added that he favoured a "career person" and that Mr Wray "certainly seems to fit that bill".
Mr Wray is a traditional choice for the job. President Trump had considered current and former politicians, including Mr Lieberman, and some FBI agents worried that Mr Trump would try to politicise the bureau.
Thomas O'Connor, president of the FBI Agents Association, said that group looked forward to meeting with Mr Wray and learning about his views on the bureau and the challenges agents face.
A top Republican on the Senate Judiciary Committee, Utah Senator Orrin Hatch, said Mr Wray had "impeccable credentials, vast experience and strong support across the board".
But others were more cautious.
"With the many threats that the US faces domestically and internationally, we need a strong FBI director," said Oklahoma Senator James Lankford, a Republican and member of the Senate Intelligence Committee. "In the coming weeks, we will evaluate Christopher Wray's qualifications to lead the FBI and his plans for our security and law enforcement."
Join our new commenting forum
Join thought-provoking conversations, follow other Independent readers and see their replies