Chuck Schumer announces he will oppose nomination of Neil Gorsuch to the Supreme Court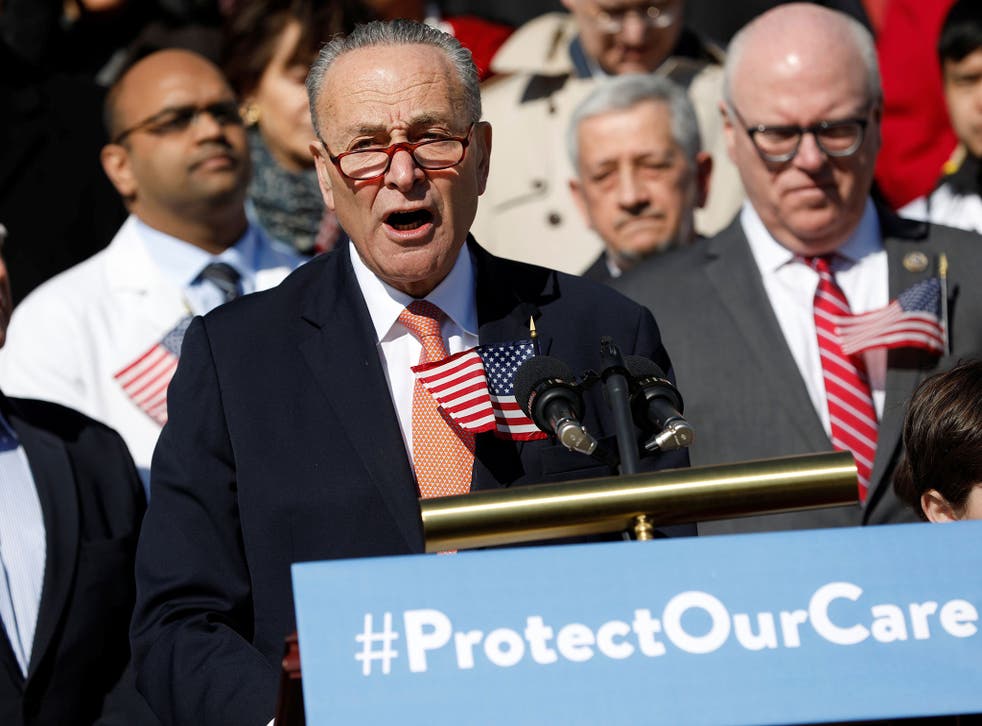 Top Senate Democrat Chuck Schumer has announced he will oppose Donald Trump's nomination of Neil Gorsuch to the Supreme Court.
The New York Democrat also said he would lead a filibuster against Mr Gorsuch's confirmation. He said Mr Gorsuch "almost instinctively favours the powerful over the weak."
Mr Schumer said doesn't think Gorsuch would serve as a check on Mr Trump or be a mainstream Justice. He blasted Mr Gorsuch for refusing to answer "question after question after question" in hearings this week.
As the Senate confirmation hearing for Mr Gorsuch finishes on today, the spotlight is turning to whether he will gain the support of vulnerable Democratic senators who are up for re-election in 2018.
They hold the key to whether the 100-member Senate, where Republicans hold 52 votes, can avoid a prolonged floor fight over President Donald Trump's high court nominee and whether confirming Gorsuch becomes an early major win for Trump as president.
If at least eight Democrats join the 52 Republicans and back Gorsuch, that will provide the 60 votes needed to pass a procedural motion letting the Senate move quickly to an up-or-down vote on his nomination, with only a simple majority for approval.
If the Democrats deny Gorsuch those eight votes, a more embattled scenario could unfold, with potential to change how the Senate handles Supreme Court nominees.
Mr Schumer has said Mr Gorsuch should have to get 60 votes to secure his confirmation. Mr Schumer's position is no surprise; Democrats remain angry that Republicans controlling the Senate denied former president Barack Obama a hearing on his choice to replace Justice Antonin Scalia, who died more than a year ago.
If Mr Gorsuch is confirmed, he would restore a 5-4 conservative majority on the Supreme Court, a key goal of Republicans.
In three days of testimony before the Senate Judiciary Committee, Mr Gorsuch, a federal appeals court judge, has remained calm under sharp questioning from Democrats, paving the way for the panel to vote on the nomination on 3 April.
The hearing concludes today with testimony from outside witnesses. Senate Republican leader Mitch McConnell has said he wants the full Senate to have a final vote on the nomination before the chamber recesses on 7 April.
If the Senate's Democrats stand together and filibuster Mr Gorsuch, Republicans could reach for the "nuclear option" and change the Senate rules to allow confirmation by a simple majority vote. Some senators are reluctant to take such a step.
Several Democrats on the Judiciary Committee, including senior member Dianne Feinstein, have said they would not comment on whether they would support a filibuster attempt.
Reuters
Join our new commenting forum
Join thought-provoking conversations, follow other Independent readers and see their replies