James Comey 'requested more resources for Russia investigation' before Trump fired him
The reported request has led some to question the timing of Mr Comey's firing
Clark Mindock
New York
Wednesday 10 May 2017 16:49 Comments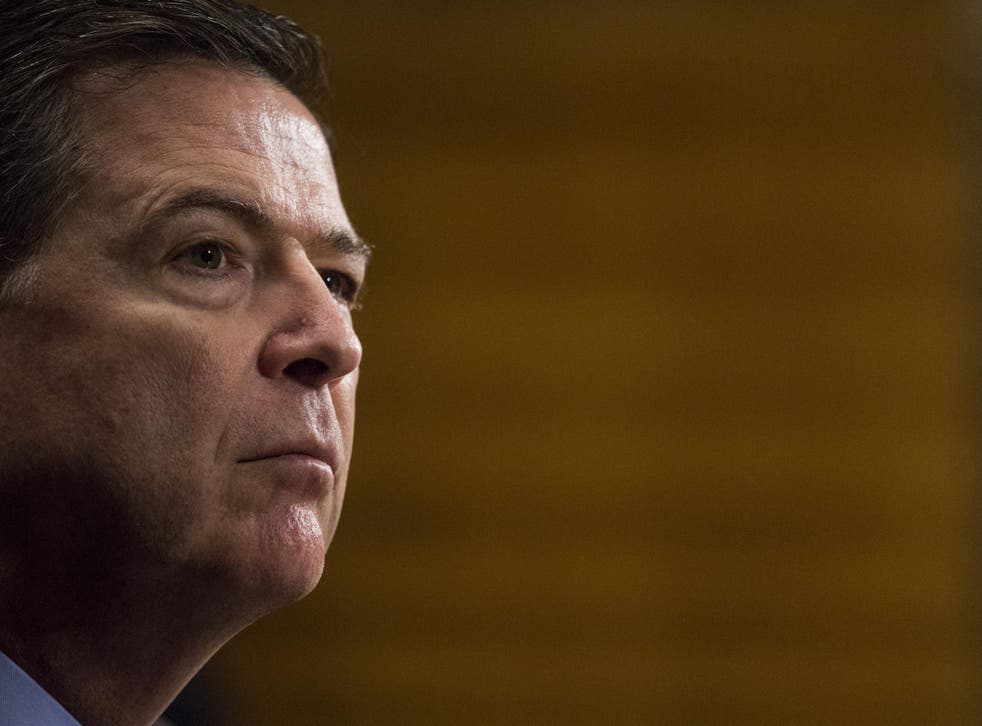 Former FBI Director James Comey reportedly requested more resources for his investigation into Russia's interference in the 2016 US election just days before President Donald Trump suddenly fired him.
Sources told the New York Times that Mr Comey had asked the Justice Department for a "significant increase" in resources to speed up the probe. The request was reportedly directed to Deputy Attorney General Rod Rosenstein, who later wrote the memo that has widely been regarded as providing the primary argument for Mr Comey's sacking.
The top two senators in the Senate Intelligence Committee, before Mr Comey's firing, reportedly asked him Monday to speed up the investigation into Russian election meddling. Mr Comey acknowledged to Senator Richard Burr, a Republican, and Senator Mark Warner, a Democrat, that the investigation was moving slowly, according to CNN.
A Justice Department spokesperson told the Los Angeles Times that Mr Comey had not made a request for more resources or money for the Russia investigation.
The sudden and unexpected firing of Mr Comey has led many in Washington to question the timing of the decision.
Mr Rosenstein, in a memo written to Attorney General Jeff Sessions urging Mr Comey's dismissal, referenced actions made by the former director in July of last year when he held a press conference to announce that his bureau would not recommend prosecution of former Democratic presidential nominee Hillary Clinton over her use of a private email server while heading up the State Department. The memo also mentioned a letter sent by Mr Comey in October indicating that the FBI had found a new cache of Clinton emails and that they would be reopening the investigation (he announced days later that there was no new information in the newly found emails).
The controversial orders Donald Trump has already issued

Show all 9
Mr Rosenstein argued that Mr Comey had violated the public's trust in the FBI by going public with those deliberations and had usurped ongoing Justice Department deliberations. Mr Trump had praised Mr Comey's decision to announce that the FBI was reopening the Clinton investigation during the campaign last year.
But several members of Congress, including some Republicans, have questioned the wisdom in using events from nearly a year ago as the rationale behind dismissing Mr Comey. More recently than the emails, Mr Comey revealed in March during an appearance before the House Intelligence Committee that the FBI was probing whether associates of the Trump campaign had been involved with Russia's interference in the 2016 election. He also recently indicated that he felt "mildly nauseous" that he may have contributed to Mr Trump's election by revealing in October that the FBI was reopening the investigation into Ms Clinton.
"While the case for removal of Federal Bureau of Investigation Director James Comey laid out by Deputy Attorney General Rod J. Rosenstein was thorough, his removal at this particular time will raise questions," Senator Bob Corker, a prominent Republican in the Senate, said in a statement. "It is essential that ongoing investigations are fulsome and free of political interference until their completion, and it is imperative that President Trump nominate a well-respected and qualified individual to lead the bureau at this critical time."
Mr Coker was joined by other prominent Senate Republicans including Senator John McCain and Mr Burr, who said that he was "troubled" by "the timing and reasoning" of Mr Comey's dismissal.
Register for free to continue reading
Registration is a free and easy way to support our truly independent journalism
By registering, you will also enjoy limited access to Premium articles, exclusive newsletters, commenting, and virtual events with our leading journalists
Already have an account? sign in
Join our new commenting forum
Join thought-provoking conversations, follow other Independent readers and see their replies