James Comey: Trump did not ask me to drop investigation into Russian election meddling
The former FBI director says no one in the White House directly asked him to drop the investigation
Emily Shugerman
New York
Thursday 08 June 2017 15:38 Comments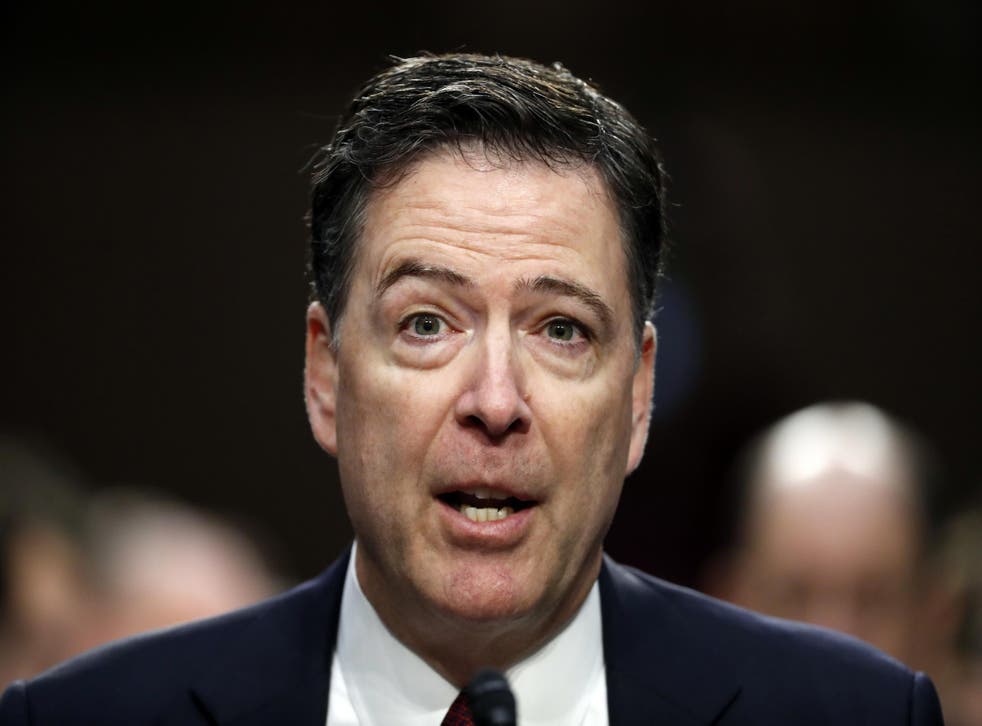 Former FBI Director James Comey has testified that President Donald Trump did not ask him to stop his investigation into Russian meddling in the 2016 US election.
Democrats have raised concerns that Mr Trump may have fired his former FBI director in order to impede this investigation, which includes a probe into his campaign's ties to Russia.
Testifying in front of the Senate Intelligence Committee, however, Mr Comey said neither the president nor his staff had directly asked him to shut down the investigation.
"Did anyone ever ask you to stop the Russia investigation?" Intelligence Committee chairman Richard Burr asked Mr Comey.
"Not to my understanding, no," Mr Comey replied.
It was the most direct answer the former FBI director had given to the question since he left office. A series of Mr Comey's memos, leaked after his firing, had raised questions about the president's handling of the situation.
The biggest names involved in the Trump-Russia investigation

Show all 17
In one instance, Mr Comey documented a meeting in which Mr Trump allegedly asked him to drop the FBI investigation into former national security adviser Michael Flynn. Mr Flynn was fired from his White House role after misrepresenting his contacts with Russian officials to the vice president and others.
In a meeting first reported by The New York Times – and confirmed by Mr Comey in his opening statement – the FBI director claims Mr Trump staged a private meeting with him and said, "I hope you can see your way clear to letting this go, to letting Flynn go".
Mr Comey said on Thursday that he perceived the president's words as an order. He clarified, however, that he did not consider this an order to drop the Russia investigation as a whole.
Mr Comey also would not comment on whether Mr Trump's actions constituted obstruction of justice, telling the committee, "I don't think it's for me to say".
Opponents of Mr Trump have put much stock in Mr Comey's testimony, which they believe may contain evidence of wrongdoing – even lawbreaking – by the president.
While Mr Comey called the president's actions "disturbing," he did not make any direct allegations of illegal behaviour.
Register for free to continue reading
Registration is a free and easy way to support our truly independent journalism
By registering, you will also enjoy limited access to Premium articles, exclusive newsletters, commenting, and virtual events with our leading journalists
Already have an account? sign in
Join our new commenting forum
Join thought-provoking conversations, follow other Independent readers and see their replies