Top US security official 'targeted in mysterious Cuba embassy attack'
The US could close its embassy in Cuba over the mysterious attacks, Secretary of State Rex Tillerson has suggested
Alexandra Wilts
Washington DC
Monday 18 September 2017 18:03 Comments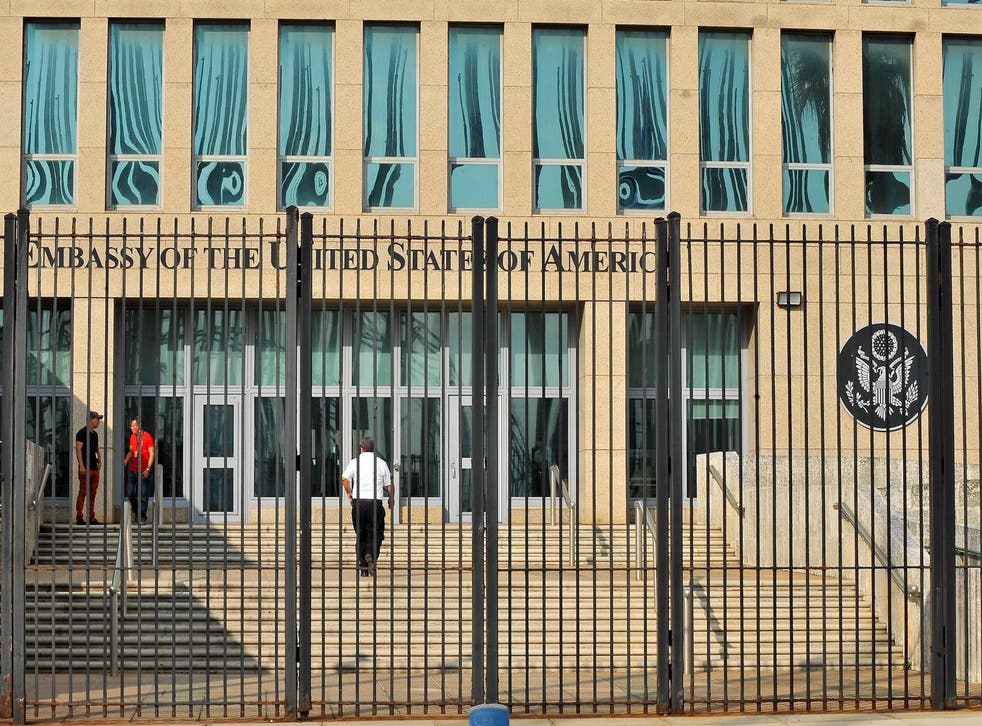 The top security official at the US embassy in Havana, Cuba is said to be among those affected by mysterious attacks that have resulted in a range of injuries.
At least 21 Americans associated with the embassy have experienced a host of unexplained health problems, including mild traumatic brain injury, permanent hearing loss, loss of balance, severe headaches and brain swelling, according to the American Foreign Service Association.
CBS News has reported that the embassy's Regional Security Officer, who is responsible for serving as the embassy's senior law enforcement and security adviser, has been scheduled to undergo medical treatment.
Last week, several Republican senators expressed concern about the attacks in a letter to Secretary of State Rex Tillerson. They called on him to expel all Cuban diplomats in the US, and – if the Cuban government does not take action to remove the threats – consider closing the American embassy in Havana.
During an interview on CBS's Face the Nation, Mr Tillerson suggested the US could shut down the recently reopened embassy.
"It's a very serious issue with respect to the harm that certain individuals have suffered," Mr Tillerson said. "We've brought some of those people home. It's under review."
Cuba has denied any involvement in the attacks. The country has also offered to let the FBI go to Havana and investigate, suggesting to some American officials that the Cuban government is equally bewildered about the cause of the assaults.
The controversial orders Donald Trump has already issued

Show all 9
Closing the US embassy in Havana would be another reversal by the Trump administration of former President Barack Obama's Cuba policy, which was aimed at fostering a warmer relationship with the Cuban government.
The Obama administration opened the US embassy in Havana in 2015 and began allowing American tourists to visit the country.
But Mr Trump has called his predecessor's deal with Cuba "terrible and misguided". In June, he moved to reinstate travel and commercial restrictions.
Led by Raúl Castro, Cuba is considered one of the world's last remaining socialist countries.
Earlier this month, US officials speculated that the health problems of the 21 Americans may have been caused by some sort of sonic attack or possibly a surveillance operation.
The attacks have also hit diplomats from Canada, which has warmer relations with Cuba than the US.
"The investigation into all of this is still underway. It is an aggressive investigation," State Department spokeswoman Heather Nauert said last week. "We will continue doing this until we find out who or what is responsible for this."
Register for free to continue reading
Registration is a free and easy way to support our truly independent journalism
By registering, you will also enjoy limited access to Premium articles, exclusive newsletters, commenting, and virtual events with our leading journalists
Already have an account? sign in
Join our new commenting forum
Join thought-provoking conversations, follow other Independent readers and see their replies