New York Covid: Cuomo aides 'hid nursing home deaths to avoid attacks from Trump'
A new report says at least 15,000 nursing home residents died of coronavirus, much higher than the previously disclosed figure of 8,500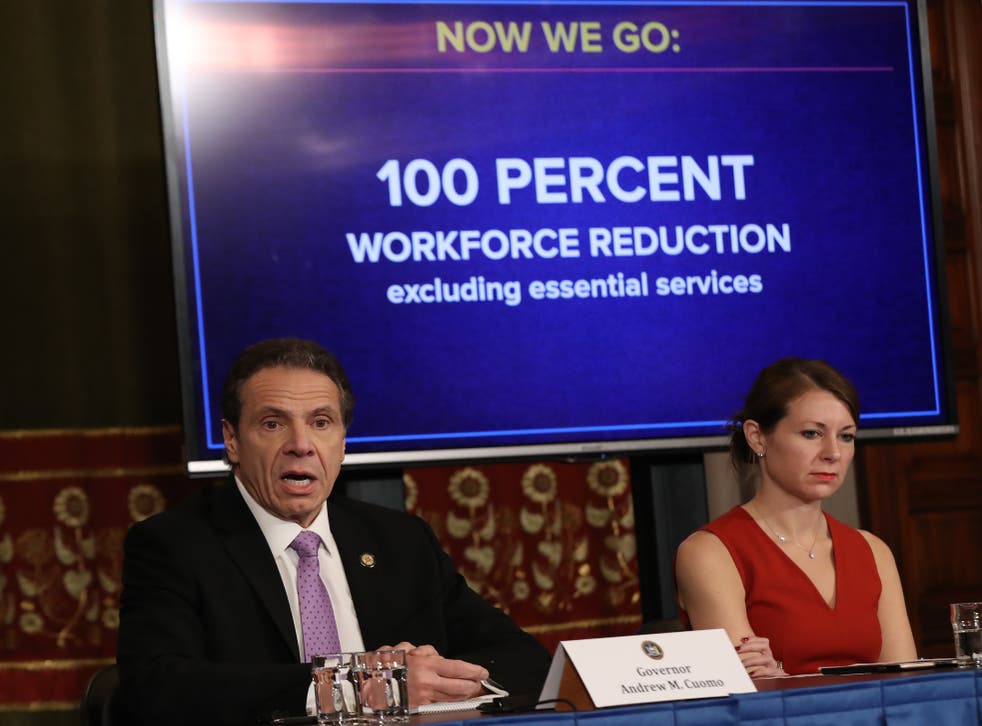 Leer en Español
A top aide of New York Governor, Andrew Cuomo, admitted the administration withheld data about Covid-19 deaths among the nursing home patients, far higher than earlier thought, due to fear of federal prosecution.
Melissa DeRosa, the secretary to Governor Cuomo, confessed to the cover-up during a video conference call with state Democrat leaders, reported the New York Post.
The confession also comes ahead of a report by Associated Press, according to which more than 15,000 nursing home residents died of coronavirus, much higher than the previously disclosed figure of 8,500.
Ms DeRosa, reportedly told lawmakers that they "froze" after the Donald Trump administration began attacking Mr Cuomo's fellow Democrat governors and directed the Department of Justice to investigate nursing home deaths.
"Basically, we froze," Ms DeRosa told the lawmakers on the call. "Because then we were in a position where we weren't sure if what we were going to give to the Department of Justice, or what we give to you guys, what we start saying was going to be used against us, while we weren't sure if there was going to be an investigation."
Responding to the criticism following the New York Post report, Rich Azzopardi, senior advisor to Mr Cuomo, released a statement saying: "We explained that the Trump administration was in the midst of a politically motivated effort to blame democratic states for Covid death and that we were cooperating with Federal document productions and that was the priority and now that it is over we can address the state legislature. That said, we were working simultaneously to complete the audit of information they were asking for."
Governor Cuomo has been under fire for his controversial 25 March directive, under which he barred nursing homes from refusing people just because they were infected with the coronavirus. Under the directive, 9,000 recovering coronavirus patients in New York were released from hospitals and sent into nursing homes, reported Associated Press. The new numbers are 40 per cent higher than the figures that the state health department had previously released, said the report.
The controversial directive was scrapped on 10 May amid criticism that it accelerated the outbreak among the nursing home residents.
Governor Cuomo has long been under fire for obscuring the data of the coronavirus deaths among nursing-home residents. With the recently released report, many top Republicans attacked Mr Cuomo, calling for his resignation.
"The truth is finally coming out — it always does — about the continued Cuomo coverup of more than 15,000 tragic deaths in our nursing homes because of his deadly mandate that they accept COVID-19 positive patients. A complete betrayal of the public trust," said Senator Daphne Jordan.
"For over six months, day after day, in briefing after briefing, Governor Cuomo stood before New Yorkers and lied to their face about his directive that contributed to the deaths of thousands of seniors," said Dutchess County Executive, Marc Molinaro.
"In the coming days he will cynically try to convince us that it was for our own good - that it was someone else's fault. This is another lie.  What is true, is that Andrew Cuomo has proved himself unworthy of our trust, and unfit for public office," Mr Molinaro said.
Join our new commenting forum
Join thought-provoking conversations, follow other Independent readers and see their replies