David Duke robocall: Former Ku Klux Klan leader urges Donald Trump voters to 'save America'
The Trump campaign has begun to distance themselves from the prominent white nationalist after months of silence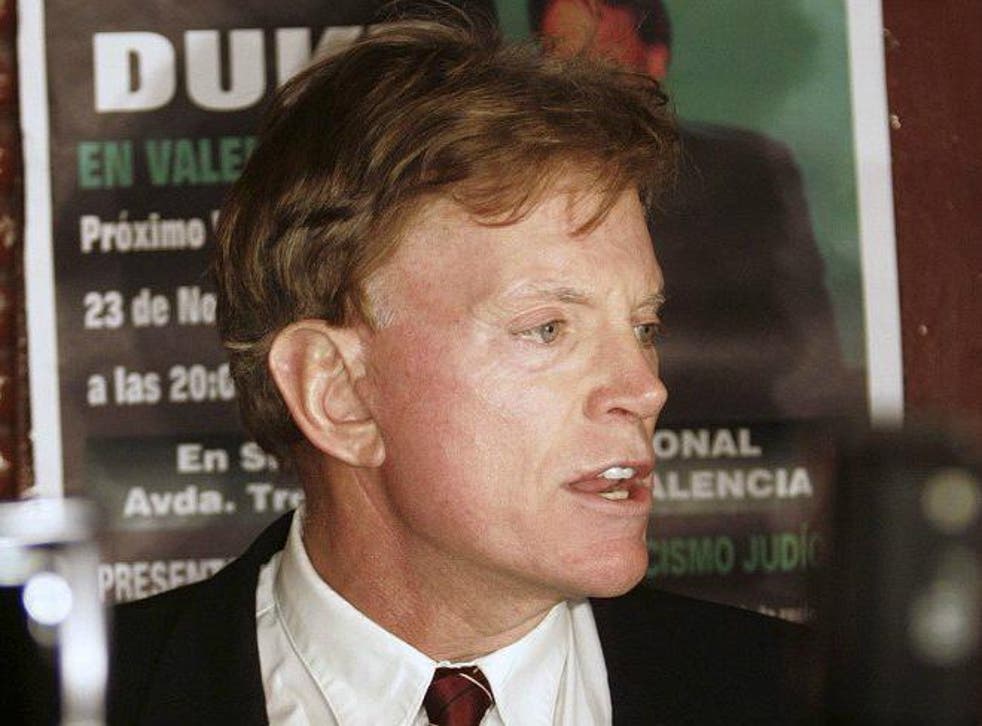 David Duke has launched an automated phone campaign urging voters to vote for him as US Senator in Louisiana and Donald Trump for president.
Mr Duke, a prominent white nationalist and former Grand Wizard of the Ku Klux Klan, has become an outspoken supporter of the Republican nominee who, he says, "embrace[s] most of the issues I've championed for years".
White supremacists groups have rallied behind Mr Trump, who launched his campaign with a hardline stance against immigration from Mexico. This support has become a thorn in the side of the New York businessman amid sharp criticism from his rival, Hillary Clinton, who accused him of running a campaign of "paranoia and prejudice".
In the robocall, obtained by BuzzFeed News, he warned of the perils of "massive immigration" and the decline of the US.
"Unless massive immigration is stopped now, we'll be outnumbered and outvoted in our own nation. It's happening!" Mr Duke said in the message.
He continued: "We're losing our gun rights, our free speech. We're taxed to death. We're losing our jobs and businesses to unfair trade. We're losing our country. Look at the Super Bowl salute to the Black Panther cop killers," a reference to the Super Bowl performance by Beyoncé.
Hillary Clinton campaign ad attacks Donald Trump over KKK
"It's time to stand up and vote for Donald Trump for president and vote for me, David Duke for the US Senate."
The Trump campaign disavowed the call in a statement to Politico on Monday.
"Mr Trump has continued to denounce David Duke and any group or individual associated with a message of hate," the statement read. "There is no place for this in the Republican Party or our country. We have no knowledge of these calls or any related activities, but strongly condemn and disavow."
Mr Trump previously failed to distance himself from Mr Duke's endorsement.
When pressed by CNN's Jake Tapper in a February interview, Mr Trump simply pleaded ignorance.
"I know nothing about David Duke," he said. "I know nothing about white supremacists. And so you're asking me a question that I'm supposed to be talking about people that I know nothing about."
Ms Clinton rebuked the Trump campaign for bringing what once were fringe ideals into the modern political discourse.
"[Donald Trump] is taking hate groups mainstream and helping a radical fringe take over the Republican party," the former Secretary of State said.
"His disregard for the values that make our country great is profoundly dangerous."
Register for free to continue reading
Registration is a free and easy way to support our truly independent journalism
By registering, you will also enjoy limited access to Premium articles, exclusive newsletters, commenting, and virtual events with our leading journalists
Already have an account? sign in