Roy Moore's Democratic opponent uses Ivanka Trump quote to attack him over alleged child sex abuse
Mr Moore denies all the allegations made against him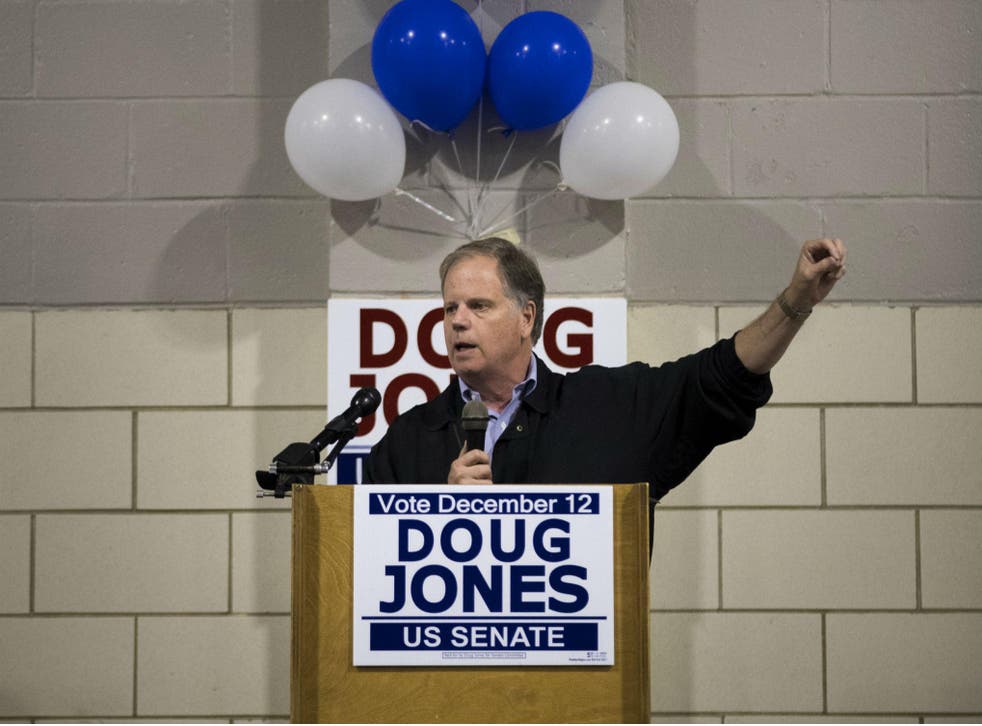 The Democratic candidate running against controversy-ridden Roy Moore in the Alabama Senate race is invoking the words of Ivanka Trump to win support.
Doug Jones has published a 30-second advertisement on the accusations facing Mr Moore, in which a narrator quotes Ms Trump condemning the behaviour of the Republican candidate.
"On Roy Moore's disturbing actions, Ivanka Trump says, 'There's a special place in hell for people who prey on children, and I have no reason to doubt the victims' accounts,'" the narrator in the advert says.
Mr Moore is alleged to have pursued underage girls while he was in his 30s and an assistant district attorney in Alabama. He denies all the allegations.
Mr Jones' ad also quotes Attorney General Jeff Sessions, who formerly occupied the seat Mr Moore and Mr Jones are vying for, and Republican Alabama senator Richard Shelby, who said that he will "absolutely not vote for Roy Moore."
While Ms Trump firmly denounced Mr Moore, her father President Donald Trump has appeared to back the candidate.
After weeks of silence regarding the claims against Mr Moore, the President on Tuesday finally weighed in on the issue: "I can tell you one thing for sure: we don't need a liberal person in there, a Democrat – [Doug] Jones," Mr Trump told reporters, referring to the Alabama Senate seat.
"[Mr Moore] denies it. Look, he denies it. I mean, if you look at what is really going on, and you look at all the things that have happened over the last 48 hours, he totally denies it."
Mr Moore and Mr Jones are running to fill the seat left vacant when Mr Sessions was appointed to be Attorney General. Republican Luther Strange was chosen to temporarily fill the position until a special election could be held.
Donald Trump's least presidential moments so far...

Show all 30
Mr Trump went on to criticise Mr Jones, calling him "soft on crime" even though the former US Attorney for the Northern District of Alabama prosecuted two Ku Klux Klansmen involved in the deadly 16th Street Baptist Church bombing.
Allegations against Mr Moore first surfaced earlier this month when four women told the Washington Post that he had pursued them when they were teenagers and he was in his 30s. One of the women was just 14 at the time.
Multiple other women between the ages of 16 and 22 have since come forward and accused him of unwanted sexual contact.
Much of the alleged sexual misconduct is said to have occurred in the late 1970s, while one alleged instance of him groping a 28-year-old woman is said to have taken place in 1991.
Mr Moore has ardently denied all allegations against him, saying he has "not been guilty of sexual misconduct with anyone".
Join our new commenting forum
Join thought-provoking conversations, follow other Independent readers and see their replies