Donald Trump is 'very upset' Amanda Knox voted for Hillary Clinton, says advisor
George Lombardi says President, who publicly supported Ms Knox, is hurt by her ingratitude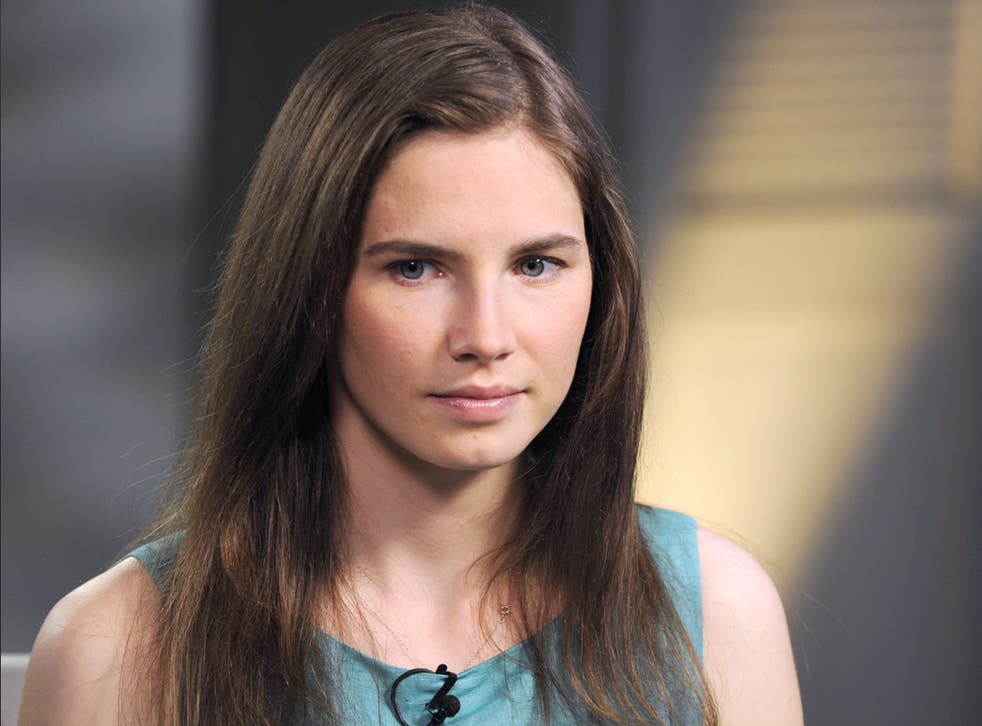 Donald Trump is "very upset" that Amanda Knox voted for Hillary Clinton in the US election, his advisor George Lombardi has said.
The US President publicly stated his support of Ms Knox, who spent nearly four years in an Italian jail before she was acquitted of the murder of fellow exchange student Meredith Kercher.
"Everyone should boycott Italy if Amanda Knox is not freed – she is totally innocent," he wrote on Twitter in September 2011, after her trial had been reopened following an appeal.
He also told Komo 4 News at the time: "I think I'm good at judging people. I study people and I become rich because I understand what people are about.
"I watched the Amanda Knox case unfolding in news reports. After watching it for a little while, I said: 'This is not a guilty person'".
But the 29-year-old from Seattle, who returned to the US from Italy when she was definitively found innocent in 2015, said she had chosen to support Ms Clinton in the presidential elections due to her views on abortion.
In a column for the West Seattle Herald in November, Ms Knox called Mr Trump "inexperienced, uninformed and irresponsible (to say the very least)".
"If Obama's song was a rousing anthem, Clinton's is a subtle symphony. And Trump, a broken trumpet," she wrote. "[Clinton's] impending victory represents the triumph of nuance and poise over prejudice and childishness."
Now Mr Lombardi, an Italian real estate investor who lives in Trump Tower and set up Facebook campaign groups for the President, has told the New York Times Mr Trump is "very upset" at Ms Knox's ingratitude.
Ms Knox was accused of the murder of Ms Kercher, from Coulsdon in Surrey, who was found dead in 2007 at the flat she shared with Ms Knox in the university town of Perugia in central Italy.
She and her boyfriend Raffaele Sollecito were found guilty and handed a 26-year sentence, but following a lengthy and complex court process, were exonerated.
Mr Lombardi, 66, has been described as Mr Trump's "go-between" with European populist, far-right political figures such as Marine Le Pen and members of Austria's Freedom Party.
Trumped! The best cartoons on 'The Donald'

Show all 28
In January, he met Ms Le Pen for coffee in Trump Tower in Manhattan, which he told the newspaper was "kind of innocent".
Ms Knox recently shared a tweet by Kristen Schaal, in which she wrote: "Retweet if you want [Donald Trump] to release his tax returns".
Register for free to continue reading
Registration is a free and easy way to support our truly independent journalism
By registering, you will also enjoy limited access to Premium articles, exclusive newsletters, commenting, and virtual events with our leading journalists
Already have an account? sign in
Register for free to continue reading
Registration is a free and easy way to support our truly independent journalism
By registering, you will also enjoy limited access to Premium articles, exclusive newsletters, commenting, and virtual events with our leading journalists
Already have an account? sign in
Join our new commenting forum
Join thought-provoking conversations, follow other Independent readers and see their replies