Donald Trump has taken far-right extremist support to 'entirely new level' with Britain First retweet
'The mask has slipped': Calls for state visit invitation to be revoked after President shares Islamophobic posts 
Lizzie Dearden
Home Affairs Correspondent
Wednesday 29 November 2017 16:32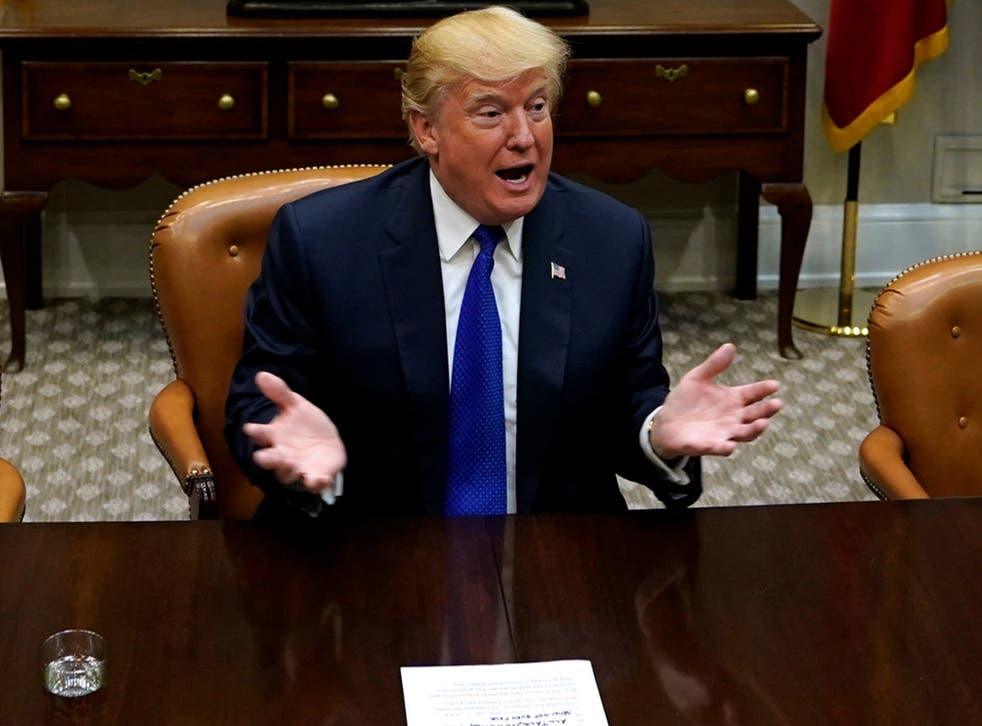 Donald Trump's pandering to the far-right has been taken an "entirely new level", critics have said after the President shared tweets from the Britain First extremist group.
Calls were mounting for Theresa May to revoke his state visit invitation as MPs said Mr Trump was "not welcome in the UK".
The Prime Minister's official spokesman said Britain First sought to divide communities through its use of "hateful narratives which peddle lies and stoke tensions", adding: "It is wrong for the President to have done this."
Mr Trump retweeted three videos carrying Islamophobic and misleading captions from Britain First deputy leader Jayda Fransen's account.
It came as she awaits a court hearing on charges of using threatening, abusive or insulting language in a speech in Belfast – one of several incidents to be met with police action.
Ms Fransen is also facing trial over four charges religiously aggravated harassment as part of a Kent Police investigation into the distribution of leaflets and the posting of online videos during a trial in Kent earlier this year.
Her account celebrated the shares, claiming that Mr Trump "himself" had retweeted the videos to almost 44 million followers around the world.
"God bless you Trump! God bless America!" read a tweet, signed off with the abbreviation OCS, meaning Onward Christian Soldiers.
The extent of Mr Trump's knowledge on Ms Fransen or Britain First was unclear but the tweets remained on his profile on Wednesday afternoon, following hours of global criticism.
Julia Ebner, a research fellow at think-tank the Institute for Strategic Dialogue, said Mr Trump's behaviour had been taken to an "entirely new level".
"If he was previously merely flirting with the extreme right, then he is now explicitly sharing a bed with them," she told The Independent.
"I'm not sure what would be worse - if he purposefully retweeted it or if he was simply unaware what it was that he was sharing.
"In any case, this further raises question marks about both his ideological leanings and his sources of information."
Ms Ebner, who wrote a book called The Rage on the "vicious cycle" of Islamist and far-right extremism, said transatlantic coordination between fringe groups was made more likely by the retweets.
She added: "President Trump's retweet could act as an endorsement that allows Britain First to move further into the mainstream both in the UK and in the US."
Britain First's supporters were celebrating the publicity amid a furious reaction by politicians from all parties, with mounting calls for Theresa May to make a statement.
"I hope our Government will condemn far-right retweets by Donald Trump," said Jeremy Corbyn. "They are abhorrent, dangerous and a threat to our society."
Britain First: the far-right group in pictures

Show all 15
A question was raised by Labour MP Stephen Doughty over the tweets in the House of Commons, where MPs could be heard calling them "absolutely disgraceful".
Yvette Cooper, the former shadow Home Secretary, urged Amber Rudd or Boris Johnson to condemn the "significant and serious" posts.
"The woman in question has already been convicted of hate crime in this country," she added, warning that Mr Trump had given her a "huge platform".
Meanwhile Chuka Umunna was among those calling for Mr Trump's state visit invitation to be withdrawn immediately, accusing the President of "normalising hatred".
"At some point you've got to draw a line, or you're going down a very dangerous road," he added.
David Lammy, the MP for Tottenham, said he had gone "beyond the pale...promoting a fascist, racist, extremist hate group", adding: "He is no ally or friend of ours. Donald Trump, you are not welcome in my country and my city."
Jo Swinson, the Liberal Democrats' foreign affairs spokesperson, accused the President of sowing division and hatred.
"The mask has yet again slipped, revealing the atrocious views of President Trump," she added. "Mr Trump needs to do the world a favour and delete his account."
The Muslim Council of Britain said the shares were the "clearest endorsement yet from the US President of the far-right and their vile anti-Muslim propaganda".
"We cannot give such bigotry a free pass," a spokesperson added. "We hope our Prime Minister and Home Secretary will distance the UK from Mr Trump and his comments, and will reiterate the government's abhorrence to all forms of extremism."
Meanwhile in the US, the Council on American-Islamic Relations said the President was "clearly telling members of his base that they should hate Islam and Muslims", following repeated attempts at a controversial immigration ban targeting Muslim-majority countries.
The group's executive director, Nihad Awad, said the posts "amount to incitement to violence against American Muslims".
Brendan Cox, the husband of murdered MP Jo Cox, said Mr Trump had "legitimised the far-right in his own country, now he's trying to do it in ours".
"Spreading hatred has consequences and the President should be ashamed of himself," he added.
Ms Cox was murdered by a far-right extremist who repeatedly shouted "Britain first" during his brutal attack, although it was unclear whether he was referring to the group and he was also supported by the neo-Nazi terrorist group National Action.
Nick Ryan, of Hope Not Hate, told The Independent it was "pretty incredulous that the leader of the free world would stoop to sharing content from one of the most notorious far-right groups in the UK, which has had links to the past to Loyalists, the British National Party".
Unite Against Fascism's joint secretary, Weyman Bennett, said Mr Trump must be condemned for the "deplorable" shares.
"It beggars belief that the most powerful person in the world is retweeting Ms Fransen's vile views," he added.
"Britain First rubbed shoulders with fascists in the large far-right demonstration in Warsaw, just weeks ago. They are a poisonous organisation."
A more unlikely critic was Infowars conspiracy theorist Paul Joseph Watson, who said that "retweeting Britain First is not great optics".
Ms Fransen's account, which is partly automated, frequently shares unverified videos claiming to show migrants and Muslims physically or verbally attacking people in Europe.
She is the deputy leader of Britain First, which styles itself as a political party but has been condemned by campaigners as a far-right extremist group.
It calls on supporters to join the "British resistance" and "secure a future for British children" and has become known for paramilitary-style "invasions" targeting mosques.
The past year has seen the group's leaders travel to meet far-right groups in Poland and other countries, amid warnings that extremists are increasing international coordination to recruit vulnerable people online.
It is not the first time Mr Trump has retweeted posts from controversial Twitter accounts or shared messages from supporters with apparent ties to white nationalist groups.
One example was his sharing of a tweet about "pizzagate", an unfounded conspiracy theory that claims Democrats harboured child sex slaves at a pizza restaurant
Register for free to continue reading
Registration is a free and easy way to support our truly independent journalism
By registering, you will also enjoy limited access to Premium articles, exclusive newsletters, commenting, and virtual events with our leading journalists
Already have an account? sign in
Register for free to continue reading
Registration is a free and easy way to support our truly independent journalism
By registering, you will also enjoy limited access to Premium articles, exclusive newsletters, commenting, and virtual events with our leading journalists
Already have an account? sign in