Trump's Cabinet: The candidates for the new President's top team, in numbers
There are as many white men roughly Trump's age as there are women and non-white candidates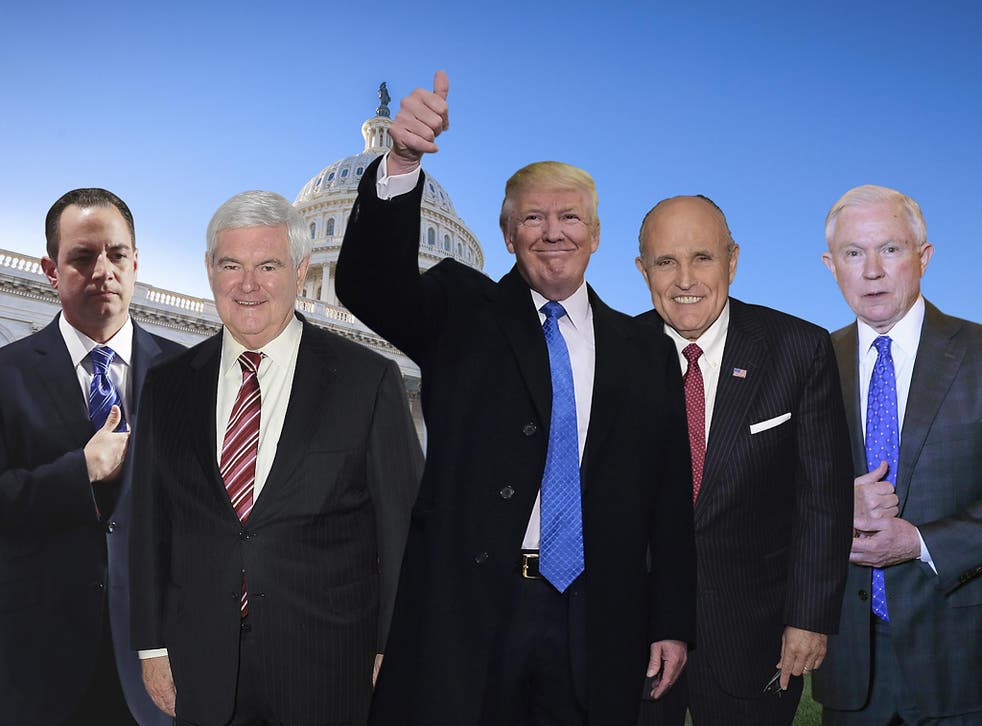 Donald Trump may have won the US presidential election, but he will not be sworn in as Barack Obama's replacement until 20 January.
Until then, he has more than two months to prepare - and to appoint a Cabinet team that will guide him through the toughest job of his life.
Guessing who will be awarded with the key roles in the Trump administration will occupy the lives of Washington journalists for weeks to come.
Follow the fallout from the US presidential election live here
But to make things easier, BuzzFeed News says it has obtained a list of 41 names and possible roles which, though provisional, gives us a good idea of where Mr Trump's thinking lies.
Some big names immediately stand out - Sarah Palin for Secretary of the Interior, Newt Gingrich for Secretary of State and Rudy Guiliani for Attorney General, to name but a few.
And if we look at the group as a whole, a few numbers stand out.
Not many women
At the ballot box, almost 59 million Americans voted to reject the prospect of the first female president, on the basis that the woman in question was Hillary Clinton.
Yet if there were any hopes Donald Trump might lend a nod towards gender equality in his ministerial appointments, the leaked list does not bode well.
Ms Palin is among only six women on the list of possible contenders.
In addition, four of those six are listed as being in the running for a single position - Secretary of the Interior - suggesting the final Cabinet could be even more male-dominated.
Not very diverse
That's something of an understatement. Ben Carson is the only non-white candidate on the list of 41.
In the final stages of the campaign, aware he was losing the vote badly among minorities, Mr Trump said he was "going to help African Americans". He also insisted he would reform what he called "inner cities". He described them as "living in hell".
He ended up taking 20 per cent of the black vote, something which contributed to his victory.
Not very young
The youngest name on the list of contenders is 39-year-old Duncan Hunter Jr, a Republican Congressman who effectively inherited his father's California seat in the House of Representatives when Duncan Hunter (Sr) retired in 2009. Something Mr Trump can relate to, perhaps.
The oldest is Carl Icahn, a 80-year-old billionaire businessman who claims he left the Trump victory party to bet $1 billion as stocks crashed in the wake of the result. Markets then rallied and the Dow Jones hit an all-time high on Wednesday - suggesting he may be a shrewd operator. "Donald coming in is a positive for our economy, not a negative," he told Bloomberg News. "He's not going to be terrible in my opinion."
If you look at the average age of the candidates, though, they lean towards the older age of the spectrum - 62.4 years old, to be exact.
There are in fact more white men on the list of roughly Mr Trump's age (68 to 72) than there are total women and non-white candidates.
Join our new commenting forum
Join thought-provoking conversations, follow other Independent readers and see their replies