Donald Trump says US 'will not stand for' Canada's action on dairy farming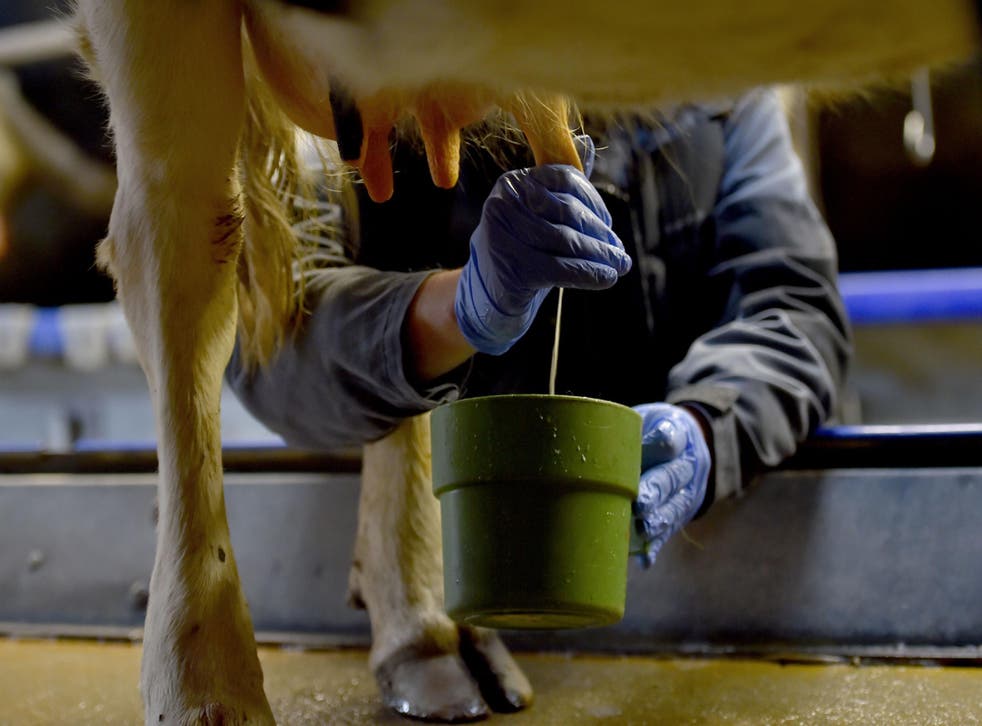 Donald Trump has claimed his administration 'will not stand' for Canada making business tough for US dairy farmers in border states.
"Canada has made business for our dairy farmers in Wisconsin and other border states very difficult," Mr Trump tweeted. "We will not stand for this. Watch!"
The tweet echoed comments reportedly made by Mr Trump at a closed-door meeting with conservative journalists the night before. Breitbart News, which was present at the event, reported Mr Trump claimed dairy farmers in Wisconsin and upstate New York are getting "killed by NAFTA".
Canada maintains a high tariff on imported dairy products, which dissuades American dairy farmers from selling many of their products in the country.
At the meeting, however, Mr Trump reportedly claimed Canadian tariffs were hurting American dairy farmers in the US market, too.
Telling reporters he would "address" Canadian dairy imports, Mr Trump said: "It's going to mean that farmers are going to start selling milk in our country."
Canadian Prime Minister Justin Trudeau shot back quickly, telling Bloomberg, "The US has a $400 million dairy surplus with Canada so it's not Canada that's the challenge here."
Canadian officials have blamed global dairy overproduction, not Canadian policies, for American dairy farmers' woes.
US dairy farmers discarded more than 43 million gallons' worth of excess milk last year, according to US Department of Agriculture numbers.
US complaints stem largely from the decision of one dairy company, Grassland Dairy Products, to discontinue business with approximately 75 Wisconsin dairy farmers.
The company cited changes in Canadian prices as the reason for the decision. Several farms in and New York were affected as well.
Wisconsin Agriculture Secretary Ben Brancel and New York Agriculture Commissioner Richard Ball wrote a letter to the the US Department of Agriculture about the situation this month. Around the same time, Mr Trump began calling Canadian tariffs "unfair" and vowing to "stand up for our dairy farmers."
"Canada, what they've done to our dairy farm workers, it's a disgrace," Mr Trump told reporters last week. "...We're not going to let Canada take advantage [of the US]."
Mr Trump has yet to set specific policy on dairy trade, but did announce tariffs on Canadian lumber imports on Monday. Duties on Canadian lumber will range from 3 to 24 per cent.
"It has been a bad week for US-Canada trade relations," Commerce Secretary Wilbur Ross said in a statement.
Register for free to continue reading
Registration is a free and easy way to support our truly independent journalism
By registering, you will also enjoy limited access to Premium articles, exclusive newsletters, commenting, and virtual events with our leading journalists
Already have an account? sign in
Register for free to continue reading
Registration is a free and easy way to support our truly independent journalism
By registering, you will also enjoy limited access to Premium articles, exclusive newsletters, commenting, and virtual events with our leading journalists
Already have an account? sign in
Join our new commenting forum
Join thought-provoking conversations, follow other Independent readers and see their replies