Trump doubles down on defence of EPA chief Scott Pruitt: He's 'under siege'
There is speculation over how much longer Mr Pruitt will last as head of the Environmental Protection Agency 
Alexandra Wilts
Washington DC
Friday 06 April 2018 18:02 Comments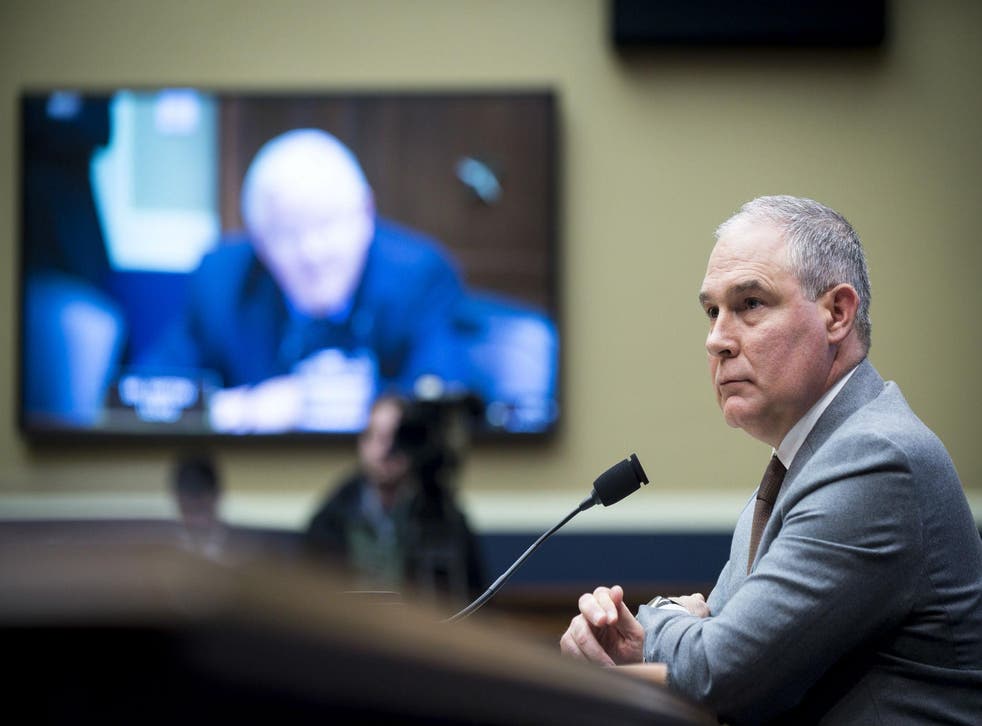 Donald Trump has doubled down on his defence of Scott Pruitt, saying the chief of the Environmental Protection Agency is "doing a great job but is TOTALLY under siege".
Mr Pruitt has been under mounting scrutiny in recent weeks, with the EPA administrator facing a growing number of negative headlines, leading many to wonder whether his stint as head of the EPA may soon be over.
But reports have also suggested that Mr Trump was floating the idea as recently as this week of replacing Attorney General Jeff Sessions with Mr Pruitt, despite all the scandals.
Mr Trump has publicly conveyed how frustrated he is over Mr Sessions' decision more than year ago to recuse himself from an investigation into alleged ties between Russia and Trump campaign advisers. The president has insisted there was no collusion. Meanwhile, he continues to express confidence in Mr Pruitt.
"Do you believe that the Fake News Media is pushing hard on a story that I am going to replace A.G. Jeff Sessions with EPA Chief Scott Pruitt, who is doing a great job but is TOTALLY under siege?" Mr Trump tweeted. "Do people really believe this stuff? So much of the media is dishonest and corrupt!"
The White House is conducting a review of ethical questions surrounding Mr Pruitt.
During a White House briefing, Press Secretary Sarah Huckabee Sanders said the president believes Mr Pruitt has "done a good job at ... carrying out the goals of the EPA."
White House Chief of Staff John Kelly is said to have told Mr Trump last week that he is convinced Mr Pruitt needs to step down, the Wall Street Journal reported. Several members of Congress, including three Republicans, have also called for his resignation.
House Democratic Leader Nancy Pelosi said Mr Pruitt's tenure has been "part of the Trump administration's culture of corruption, cronyism and incompetence."
"Pruitt must resign," she declared in a statement.
Mr Pruitt has spoken with conservative media outlets, protesting against media reports about his regular first-class travel, his use of an obscure administrative provision to increase the salaries of two favoured aides, and his below-market rental agreement with the lobbyist. He has denied knowing about the pay raises and says he did nothing wrong.
World news in pictures

Show all 50
The stories, he has suggested, are the handiwork of his critics who are trying to derail his deregulatory and pro-business agenda.
A spokesperson for the EPA has said the lease agreement was in line with federal ethical regulations.
Additionally, a report by the New York Times on Thursday said that at least five EPA officials were sidelined after they confronted the administrator over several issues, including unusually large spending on office furniture and first-class travel, as well as certain demands by Mr Pruitt for security coverage.
The EPA disputes the veracity of the accusations. None of the officials who reportedly left or were removed from their jobs at the agency after questioning Mr Pruitt – as well as the official said to be considering resigning – would comment when contacted by the newspaper.
The White House has said it is aware that reports on Mr Pruitt "raise questions".
"If the president has confidence in somebody, then they stay," White House spokesman Hogan Gidley told reporters. "We all serve at the pleasure of the President. You guys know that. And when he's not pleased, you'll know it."
Mr Gidley on Thursday declined to elaborate on which of Mr Pruitt's specific activities it was reviewing.
"I can't get into specificity on what we're looking at," Mr Gidley said. "We see what you guys see. We read what you guys report. And, you know, the president demands the highest levels of ethical standards for his entire staff, and that includes the cabinet."
Register for free to continue reading
Registration is a free and easy way to support our truly independent journalism
By registering, you will also enjoy limited access to Premium articles, exclusive newsletters, commenting, and virtual events with our leading journalists
Already have an account? sign in
Join our new commenting forum
Join thought-provoking conversations, follow other Independent readers and see their replies