Donald Trump gambles on surprise Mexico trip to distract from immigration dilemmas
First trip to foreign country meant to make him look 'decisive and presidential'
David Usborne
New York
Wednesday 31 August 2016 14:07 Comments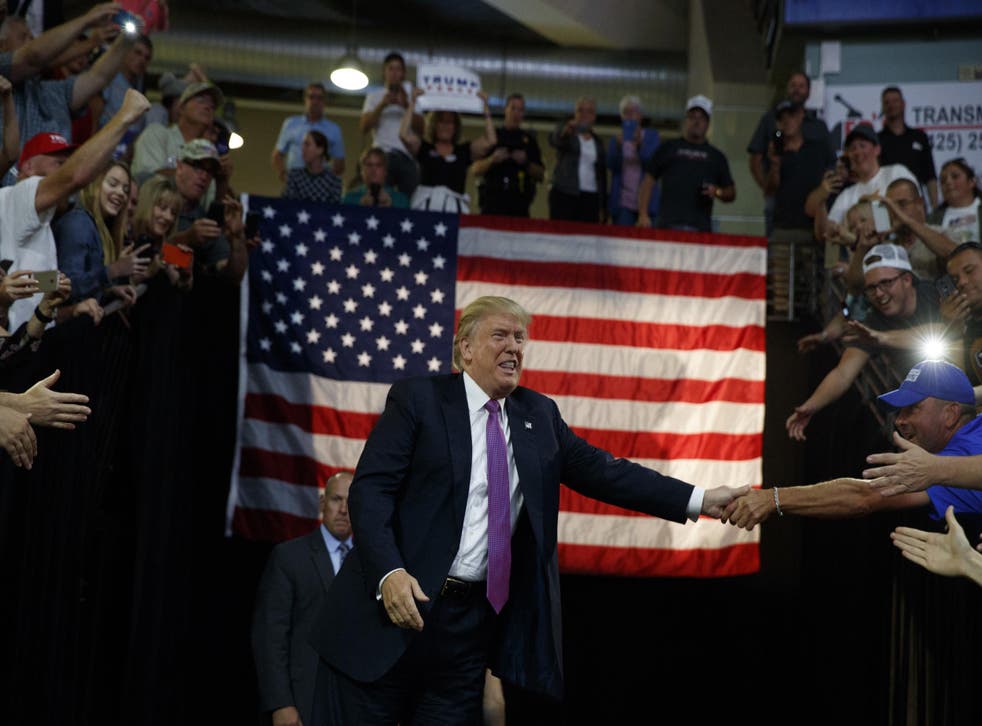 It is the Donald Trump we got used to. Sensing he was in a corner as he approached the delivery of his long-awaited immigration speech, he decided to take a big gamble.
As with most political plunges into the unknown, Mr Trump's surprise visit to Mexico City on Wednesday for talks with President Enrique Peña Nieto, this one will prove in the end to be either a remarkable act of foolishness or an inspired last minute re-arranging of the furniture.
The potential upsides for the Republican nominee, for whom this will be his first foreign visit, were spelled out by his campaign manager, Kellyanne Conway, in an interview with NBC News earlier in the day. It made him look like a man making a "decisive presidential move".
That's good when the media narrative for several days now has been about Mr Trump dithering over whether to hold fast to his original radical stance on immigration - create a "deportation force" and attempt to throw all 11 million people living illegally in the country out en masse - or take a more conciliatory approach in hopes of mending fences with the Hispanic community.
"He wants to establish a conversation with a neighbouring country, a leader. And also to discuss the common problems and challenges that our country is facing," Ms Conway said during an interview with NBC's morning show.
And it creates drama, a state of affairs Mr Trump always prefers over normality. The sudden dash for Mexico echoes a trip he made, again with little warning, just over a year ago to the US-Mexican border in Laredo Texas to highlight the very policies on immigration that are now in flux. As he took off in his 757 jet, he tweeted that he was going even though it would put him in danger. Whether he really feared anything is up for debate. But, again, it was an instrument for creating drama.
Ms Conway intimated that it would be a very different Mr Trump touching down in Mexico City and visiting Los Pinos, the equivalent of the Mexican White House, deep inside one of the capital's wooded parks.
You will "see a presidential Donald Trump at the meeting in Mexico," she averred. "We're just happy the president invited him. I'm sorry that Hillary Clinton is not going and has not accepted the invitation. I mean, I feel like she keeps following the leader here."
These theatrics may have another purpose: if Mr Trump is indeed meaning to unveil a toned down immigration plan when he finally addresses the issues later on Wednesday in Phoenix, he will be able to use his talks in Mexico as part of the context. In other words, he will be backtracking for grown-up reasons of international diplomacy. The US cannot run roughshod over Mexico, therefore any illegal immigrants will be sent home slowly.
Conceivably, he will even use the day's events to back down from building his famous wall along the border. It goes without saying that Mr Peña Nieto will voice firm opposition to it.
The risk of back-fire remains, of course. Notably, it is unlikely that when he arrives in Mexico, the reception on the streets will be exactly warm. Sales of piñatas in the likeness of Mr Trump - the effigies stuffed with candies that kids like to smash to smithereens - have been through the roof in Mexico since he made his remarks about its citizens being "rapists" and "criminals". Burning Trump dolls is a favourite party game these days also.
As for Mr Peña Nieto, he seems to have fallen into a trap of his own making. Last week, he invited both the candidates - Hillary Clinton also - to come to visit to discuss relations and immigration. He can hardly have expected just one of them to respond so quickly. Suddenly he finds himself playing extra in a screenplay over which Mr Trump has complete control.
The President "wanted to invite Hillary (Clinton), but that meant inviting both of them, and nobody thought Trump would accept first," noted Mexico City-based security analyst Alejandro Hope, before adding: "What's in it for Mexico?"
The answer is not a thing, of course. And for Mr Trump there may be a lot. Or it will turn out to be an exercise in self-puffery that will in the end not disguise his coming immigration flip-flop.
Register for free to continue reading
Registration is a free and easy way to support our truly independent journalism
By registering, you will also enjoy limited access to Premium articles, exclusive newsletters, commenting, and virtual events with our leading journalists
Already have an account? sign in
Register for free to continue reading
Registration is a free and easy way to support our truly independent journalism
By registering, you will also enjoy limited access to Premium articles, exclusive newsletters, commenting, and virtual events with our leading journalists
Already have an account? sign in
Join our new commenting forum
Join thought-provoking conversations, follow other Independent readers and see their replies