Talks between Trump and Schumer end with no deal as government shutdown looms within hours
However, Both the President and the Senate's top democrat Chuck Schumer say progress has been made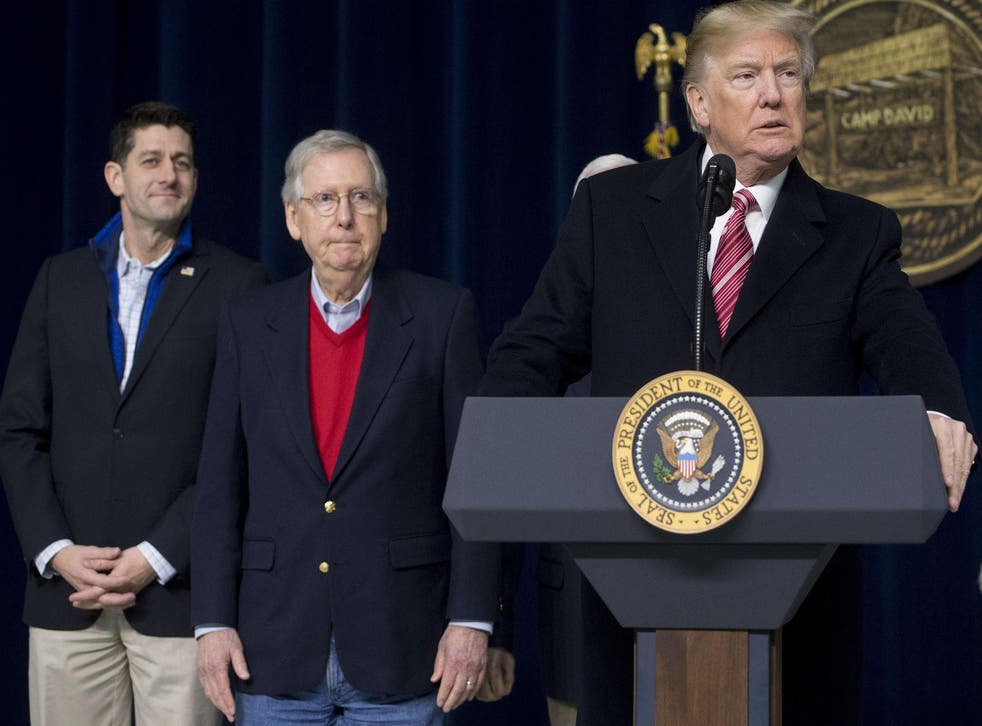 Last ditch talks between President Donald Trump and the Senate's top Democrat to try and avoid a government shutdown have failed to produce a deal, leaving just hours to find a solution.
The Senate has until midnight on Friday (5am Saturday GMT) to pass a short-term spending bill to avert a shutdown for four more weeks – but the possibility was getting more remote as night fell. The measure has already been approved by the House of Representatives.
An evening – and possibly a weekend – of drama is expected in the closely divided upper chamber, where Democrats have already indicated they have enough support to block the spending legislation, as they seek a deal over immigration reform.
Chuck Schumer, Senate Minority Leader, said after his meeting with Trump: "We had a long and detailed meeting. We discussed all of the major outstanding issues. We made some progress, but we still have a good number of disagreements. The discussions will continue."
The president was more upbeat in his tweet following the talks, citing an "excellent preliminary meeting" as he pushed a four-week extension.
Mr Trump had earlier suggested that a shutdown might be inevitable as Democrats "want illegal immigration and weak borders".
"Government Funding Bill past last night in the House of Representatives," Mr Trump tweeted on Friday morning. "Now Democrats are needed if it is to pass in the Senate – but they want illegal immigration and weak borders. Shutdown coming? We need more Republican victories in 2018!"
In a later tweet, Mr Trump quoted Democratic Senator Dianne Feinstein telling CNN on Thursday that "shutting down the government is a very serious thing. People die, accidents happen" as he sought to push the blame for any shutdown onto the Democrats.
"You don't know. Necessary functions can cease," Ms Feinstein said in the interview. "There is no specific list you can look at and make a judgment: 'Well everything is going to be just fine.' You can't make that judgment. So, I think it's a last resort. And I'm really hopeful we don't get to it."
An ABC News/Washington Post poll released on Friday suggested that Republicans may bear the brunt of political damage if a shutdown occurs. Forty-eight per cent of the more than 1,000 people polled nationally, said they would blame Mr Trump and Republicans, while 28 per cent would blame Democrats. An additional 18 per cent said they would blame both parties equally.
Rather than heading to Florida on Friday evening as originally planned, Mr Trump will be staying in Washington until after the Senate's vote on the spending bill.
It is uncertain whether Mr Trump, who has billed himself as the ultimate dealmaker, will be able to craft the ultimate deal to save his presidency from making history. Never before has the government experienced a furlough of federal employees when a single party controls both the White House and Congress.
Republicans hold a 51-49 seat advantage in the Senate, but require 60 votes for the spending measure to pass, meaning that they need Democratic support.
The conflict is coinciding with the one-year anniversary of Mr Trump's presidency and could have lasting repercussions, particularly regarding this year's midterm elections in November.
White House Budget Director Mick Mulvaney told reporters on Friday morning that the chances of a shutdown were between 50 and 60 per cent.
"We've had our meeting just about a half an hour ago, a teleconference with a bunch of agencies to tell them to start to implement their lapse plan, the next step in preparing for a lapse in funding, that's what we call a shutdown, the formal name of it," he said. "I guess the bottom line is we're working to make sure there is no shutdown but if the Senate or the House can't get together to finalise a deal we'll be ready."
Mr Mulvaney noted that members of the House would likely be leaving Washington on Friday until next week, "so if the Senate passes anything else than what the House has passed you could wind up in a short-term lapse in funding".
Donald Trump's first year: in pictures

Show all 29
Nine Senate Democrats who voted for another short-term spending measure in December have said they won't support the latest proposed bill to fund the government for another four weeks. Their decision puts them in the same boat as 30 other Democrats and at least two Senate Republicans who have also said they won't vote for the measure.
In an attempt to deter Democrats from voting against it, Republican leaders had added a provision to the spending bill that would extend the popular Children's Health Insurance Program (CHIP) for six years.
Democrats had fought to continue federal funding for the programme that serves nearly 9 million children. Federal financing for it expired in October and several states are close to exhausting their money.
Several have also made it clear they will not consider voting for another spending measure unless they receive assurances that there will be a permanent legislative fix for the Deferred Action for Childhood Arrivals programme, or DACA. The programme, which expires in March, allows young immigrants brought into the country illegally by their parents to secure work permits and deportation reprieves.
In a press briefing, Mr Mulvaney said DACA legislation "is simply not ready" and that it's unnecessary to tie it to the spending bill.
"As you see with any major piece of legislation, it doesn't and shouldn't come together overnight," Mr Mulvaney said. "There's no DACA bill to vote on and there's no emergency in terms of the timing on DACA. DACA does not expire until March 5th. So there's absolutely no reason to tie these two things together right now."
Negotiations on any immigration deal have been complicated by Mr Trump's commitment to build a wall along the US's southern border – a barrier that Democrats vehemently oppose and would cost billions of dollars to construct. The President maintains that the US needs the wall for safety and security reasons.
Democrats also want concessions from Republicans on Puerto Rico aid and an increase in domestic spending, among other items, according to the New York Times.
Congress has already passed multiple short-term spending bills, known on Capitol Hill as "continuing resolutions" – or CRs – to try to keep negotiations on immigration and other tough issues alive.
But Democratic appetite for passing these CRs appears to have waned, with party members saying more focus should instead be placed on hammering out a longer-term budget deal.
"It's a mess," Mr Schumer said. "We can't keep careening from short-term CR to short-term CR. If this bill passes, there will be no incentive to negotiate and we will be right back here in a month with the same problems at our feet."
Senate Majority Leader Mitch McConnell said his colleagues "on the other side of the aisle do not oppose a single thing in this bill".
He continued: "They know they can't possibly explain to our war fighters and veterans, to our seniors, to our opioid treatment centres, to the millions of vulnerable children and their families who depend on S-CHIP for coverage, or to all the Americans who rely on the federal government for critical services like food inspections and Social Security checks."
Join our new commenting forum
Join thought-provoking conversations, follow other Independent readers and see their replies