US election: Republican strategists still think Trump will lose despite Clinton emails probe
'I think everyone made up their minds a long time ago' about FBI investigation, one analyst says
Greg Sargent
Monday 31 October 2016 16:12 Comments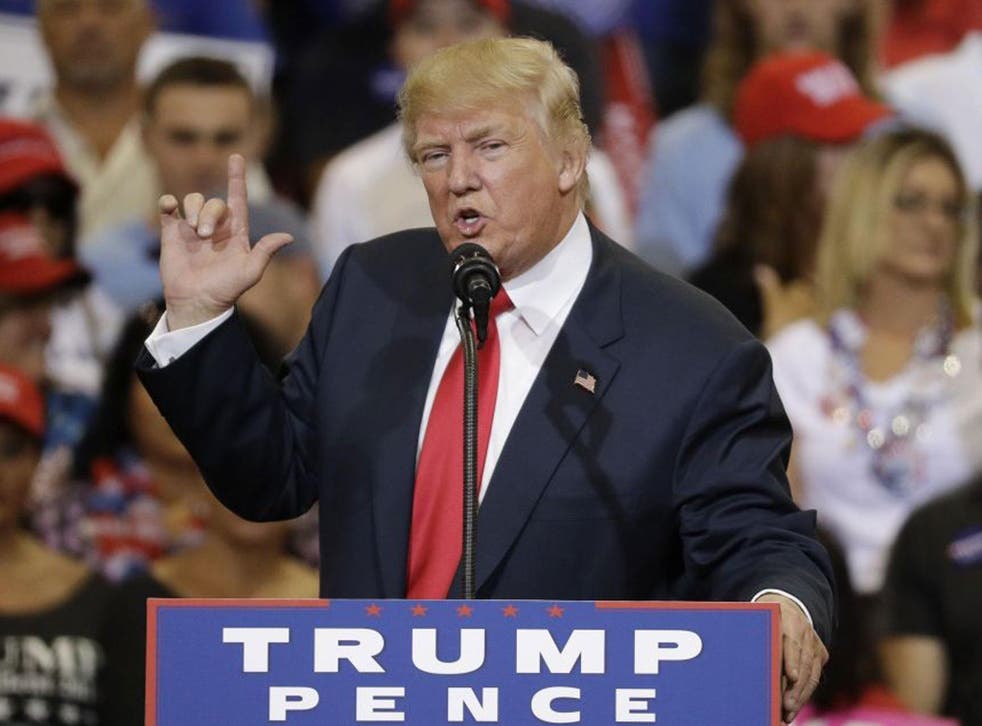 FBI agents have now obtained a warrant to examine the new emails found on Anthony Weiner's laptop, and it now appears possible that the FBI will share more information about the new significance of those emails — or lack thereof — before Election Day. Maddeningly, we don't even know whether that will happen — sources are now hinting they may tell us more soon, but it's not definitive — adding layer upon layer of uncertainty in the final stretch.
But either way, some senior GOP strategists appear convinced that the new revelations — if that's even the right word for the news — won't shift the fundamentals of the race in a dramatic enough way to enable Donald Trump to win.
With polls showing the race tightening, probably because disaffected Republican voters are coming back to Trump, Politico has a rundown on what these GOP strategists think this tightening really means and what comes next:
"I'd characterize it more as Trump consolidating some of the available anti-Clinton vote as opposed to Clinton's support eroding," said GOP strategist Bruce Haynes.
"Now the question is do people interpret this news in a way that raises enough doubts about Clinton's judgment to cut into her number. Because it's not enough for Trump's number to move up. Hers has to go down."
"One thing that really hasn't changed is their 'unfavourables' this entire campaign, hovering within 3-4 points of one another. And their 'strongly unfavourable' have continued to grow: He's over 50 percent and she's almost at 50 percent," said Ed Goeas, a GOP pollster in Washington. "Barring something like a true indictment of her or him being caught today fondling some woman, I just don't think anything is going to change the fundamentals, which favour Clinton."
"It's not just the electoral map," Goeas continued. "The thing about polling is: polling assumes both campaigns are equal. You look at quality of surrogates, money raised, ground game — she has an advantage in all that. So you basically have to look at the polling and say it reflects the worst-case scenario for her."
"She was knocking on 400 electoral votes; that's going to slide back," said Steve Schmidt, the GOP strategist who guided John McCain's 2008 campaign. Schmidt now predicts Clinton winding up with somewhere between 338 and 350 electoral votes. "It's just really unlikely that there is an undecided bloc of voters still weighing Hillary Clinton's emails. I think everyone made up their minds a long time ago on that subject."
The early polling returns — and I stress that they are early — seem to support this general read. The latest Washington Post/ABC News tracking poll finds a dead heat nationally between the two candidates, but crucially, polling taken after the news broke of FBI director James Comey's letter is not statistically different from polling taken before it. A new Morning Consult poll taken entirely after that news broke finds Clinton leading Trump by three points nationally — unchanged from before.
Meanwhile, a CBS poll taken after the news came out found that in 13 battleground states, 71 percent of respondents either say the news won't change their vote or that they've already voted. And CBS also found: "Most of those who say they're less likely to vote for Clinton are Republicans, who are not supporting her anyway." This finding also came up in Post/ABC tracking released yesterday: Only one-third of voters say the news will impact their vote, but the vast majority of those are Republicans and GOP-leaning independents.
What did Donald Trump say during the third presidential debate?

Show all 9
Basically, two things can be true at the same time: First, the news might not make that big a difference. Second, the race actually is tightening, but for different reasons — primarily that Republicans and GOP-leaning independents who had drifted away from Trump were already coming back to him, because the awful headlines that accompanied the release of the sex tape and charges of unwanted advances have faded. This dovetails with the read of those GOP strategists above.
There are two other factors to consider, however. One might be good for Clinton; the other might be good for Trump. The first is that the news could jolt some Democratic voters out of complacency, persuading them that she might still lose, which could help goose early voting and/or turnout and perhaps get some who might have voted for a minor party candidate to vote for her, to keep Trump out of the White House. The Clinton campaign is using the news to try to make that happen.
Every woman to make sexual assault claims against Donald Trump

Show all 16
The second big factor: the FBI might release more information in coming days. If there's something serious in the emails, then all bets are off. But even if the FBI says that most of the emails are duplicates and that there's nothing significant here, that could further rev up Republican voters who will be stoked into a fury. Trump will escalate his ongoing claims that the election is rigged by alleging an FBI cover-up. In this scenario, Trump will have gone from bashing the FBI as corrupt (for not originally suggesting criminal charges); to hailing the FBI's bravery in revisiting the issue (in the wake of the latest news); to bashing the FBI as corrupt again. Republican voters will effortlessly glide through these contortions along with Trump, and may be energized by such an outcome.
I stress again that these latest polling returns are early. We very well could see national polls showing Trump ahead in coming days. If so, don't overreact — remember, in a tightening race, some polls will be good for Trump. Keep focused on the polling averages, both national and in the battleground states. And watch the fundamentals outlined above by GOP strategists. Especially the early voting, which seems to be revealing a clear Clinton ground game advantage.
Copyright The Washington Post
Register for free to continue reading
Registration is a free and easy way to support our truly independent journalism
By registering, you will also enjoy limited access to Premium articles, exclusive newsletters, commenting, and virtual events with our leading journalists
Already have an account? sign in
Join our new commenting forum
Join thought-provoking conversations, follow other Independent readers and see their replies