Donald Trump suffers mass walkout from HIV/Aids council because he 'doesn't care'
The White House has yet to respond to the resignations
Andrew Buncombe
New York
Sunday 18 June 2017 14:53 Comments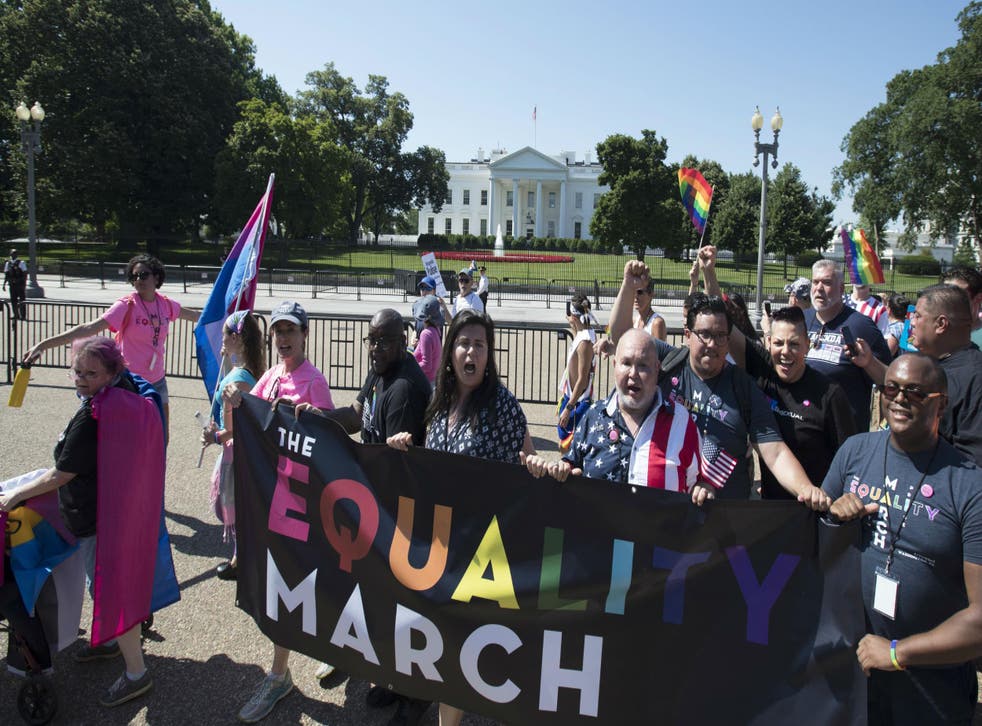 Six members of the group that advises the White House on HIV and Aids have quit their posts - claiming that the Trump administration does not care about the issue.
In a letter of resignation that was published on a US news site, the experts claimed the government had no meaningful policy on tackling Aids, failed to listen to advice from those working in the field, and actually promoted legislation that harmed individuals living with the disease.
"We have dedicated our lives to combating this disease and no longer feel we can do so effectively within the confines of an advisory body to a president who simply does not care," wrote Scott Schoettes, project director at Lambda Legal, a New York-based LGBTQ-rights group and a member of the advisory panel.
"The Trump administration has no strategy to address the on-going HIV/Aids epidemic, seeks zero input from experts to formulate HIV policy, and - most concerning - pushes legislation that will harm people living with HIV and halt or reverse important gains made in the fight against this disease."
Richard Branson says Trump is a 'dangerous individual'
The letter, published by Newsweek under the headline 'Trump doesn't care about HIV. We're outta here', said that Mr Schoettes had resigned last week, along with Lucy Bradley-Springer, Gina Brown, Ulysses Burley III, Michelle Ogle, and Grissel Granados, from the Presidential Advisory Council on HIV/Aids.
World news in pictures

Show all 50
The council, created during former President Bill Clinton's first term in 1995, makes recommendations through the Secretary of Health and Human Services. This year, it has had one single meeting, in March. Before this week's resignations, it had 18 members.
The council members said that Mr Trump took down the Office of National Aids Policy website when he took office and had failed to appoint anyone to lead the White House Office of National Aids Policy.
"We will be more effective from the outside, advocating for change and protesting policies that will hurt the health of the communities we serve and the country as a whole if this administration continues down the current path," the letter said.
"We hope the members of Congress who have the power to affect healthcare reform will engage with us and other advocates in a way that the Trump administration apparently will not."
The White House has yet to respond to the resignations.
Register for free to continue reading
Registration is a free and easy way to support our truly independent journalism
By registering, you will also enjoy limited access to Premium articles, exclusive newsletters, commenting, and virtual events with our leading journalists
Already have an account? sign in
Join our new commenting forum
Join thought-provoking conversations, follow other Independent readers and see their replies