Trump questions need for immigration judges as he blasts 'total catastrophe' of asylum seekers at US border
President blasts America's immigration laws in address to supporters
Jeremy B. White
San Francisco
Saturday 05 May 2018 19:19 Comments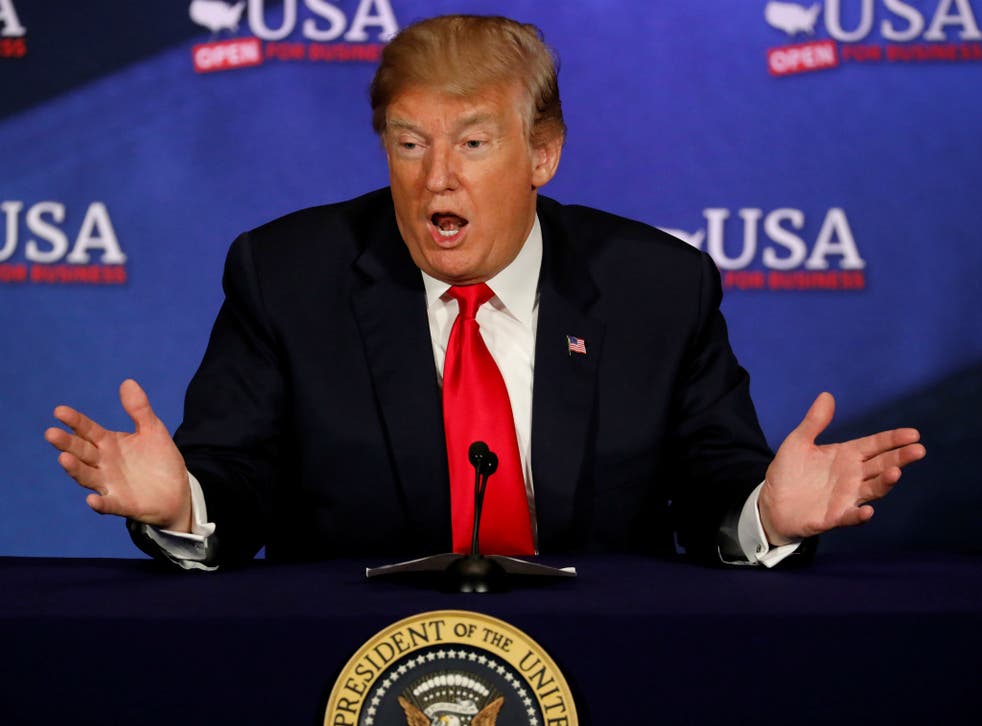 Donald Trump has questioned the need for immigration judges, suggesting that America's guarantee of due process was part of a "mess" of a legal system.
"Do you think other countries have judges? We give them, like, trials," Mr Trump said of immigrants who enter the United States.
The president blasted the existence of immigration judges while renewing his criticism of a caravan of some 160 Central American asylum seekers who arrived at a border station near San Diego last week, which he called a "catastrophe".
While American law allows immigrants without visas to present themselves at ports of entry and claim asylum, Mr Trump and his allies have blasted the caravan as an example of a porous system that encourages illegal immigration.
"You can't allow people to pour into our country like they're doing," Mr Trump said during a speech to supporters in Ohio, calling American immigration laws a "disgrace".
He also assailed "catch-and-release", a term invoked by immigration restrictionists to describe when immigrants are not detained until their court dates.
Protestors rally at JFK Airport against Muslim immigration ban

Show all 20
Earlier in the week attorney general Jeff Sessions announced he would send 35 new US attorneys and 18 immigration judges to the border to handle a surge in asylum claims, saying "we are not going to let this country be overwhelmed".
"People are not going to caravan or otherwise stampede our border," Mr Sessions said.
If asylum seekers pass what is known as a "credible fear" interview with an asylum officer, in which they must establish they have a reasonable expectation that they would be persecuted if returned home, they then have a chance to present their claims to a judge. They are not guaranteed legal counsel.
Migrant 'caravan' gathers at the US-Mexico border
The lag between those two steps can last months. Whether or not asylum seekers are detained during that time depends on factors like their age and family status, with unaccompanied minors more likely to be placed with relatives while they await adjudication.
Immigration advocates have sued the Trump administration for detaining asylum seekers who are not flight risks and who have credible asylum cases.
Mr Trump has a record of blasting America's judicial system. He called the criminal justice system a "joke" and a "laughing stock" after a terrorist attack left eight people dead in New York last year.
Register for free to continue reading
Registration is a free and easy way to support our truly independent journalism
By registering, you will also enjoy limited access to Premium articles, exclusive newsletters, commenting, and virtual events with our leading journalists
Already have an account? sign in
Join our new commenting forum
Join thought-provoking conversations, follow other Independent readers and see their replies