Donald Trump sharing intelligence with Russia confirms Israeli officials' 'worst fears'
President's alleged disclosure goes against 'special relationship' between countries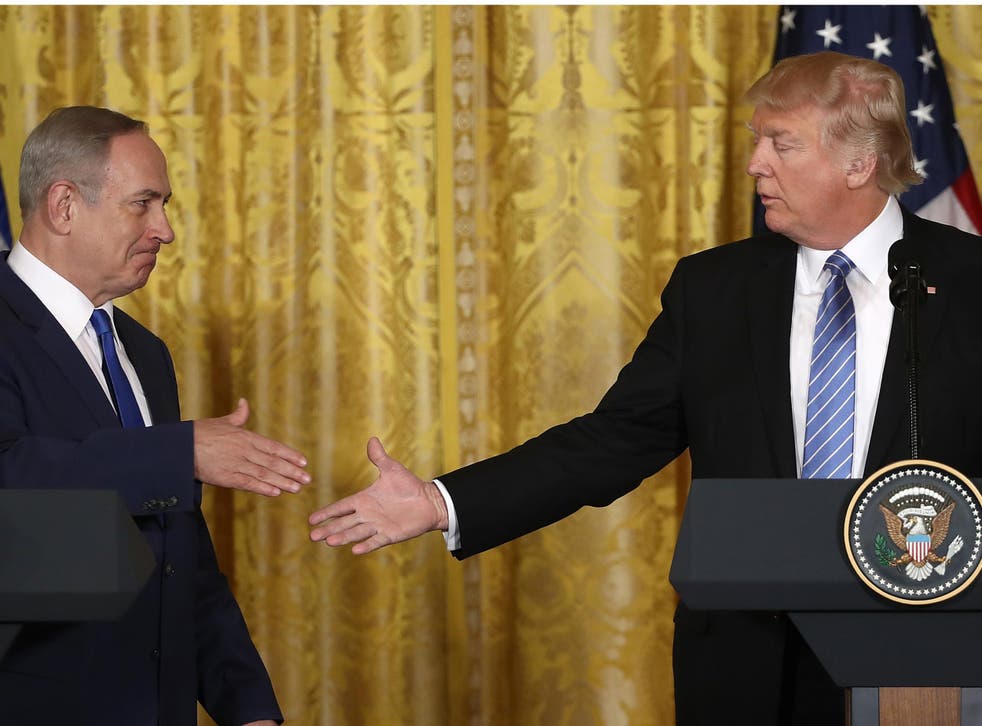 Donald Trump's alleged divulgence of highly classified information to Russia's foreign minister and ambassador, has confirmed Israel's "worst fears", an intelligence official from the Middle Eastern state has reportedly said.
The US President is said to have "spontaneously" told Sergey Lavrov and Sergei Kislyak top secret information about Isis at a meeting in the White House last week, according to The Washington Post.
It is thought the information came from Israel through a sensitive intelligence sharing arrangement and White House officials took steps to contain the damage after the meeting, placing calls to the CIA and National Security Agency.
Now an Israeli official, who spoke on condition of anonymity to Buzzfeed News, has said the President's leak confirmed his country's "worst fears".
National Security Advisor HR McMaster says Trump's conversations with Russian officials were 'wholly appropriate'
"We have an arrangement with America which is unique to the world of intelligence sharing," said the official who spoke on condition of anonymity. "We do not have this relationship with any other country,"
"To know that this intelligence is shared with others, without our prior knowledge?" he added. "That is, for us, our worst fears confirmed."
Israeli daily Yediot Ahronot reported in January that US intelligence agents had warned Israel's officials against sharing sensitive information with Mr Trump's administration.
Israeli intelligence agents were concerned that information given to Russia could be passed on to Iran, it reported.
Moscow and Tehran have formed alliances in conflicts such as in Afghanistan, Yemen and Syria. Iran severed all diplomatic ties with Israel following the 1979 revolution in the country.
The biggest names involved in the Trump-Russia investigation

Show all 17
The White House initially denied reports about Mr Trump's cooments.
"The story that came out tonight as reported is false," HR McMaster, The US's National Security Adviser, told reporters.
He added that the leaders reviewed a range of common threats including to civil aviation.
"At no time were intelligence sources or methods discussed," he said. "The President did not disclose any military operations that were not already publicly known... I was in the room. It didn't happen."
However, in an early morning tweet, Mr Trump said he had the "absolute right" to share facts pertaining to terrorism.
Under current US law, the president has the power to declassify information as he or she sees fit.
In an off-camera briefing, White House press secretary Sean Spicer appeared to confirm intelligence was passed on by Mr Trump.
Asked whether the US had reached out to the ally that provided the information, he replied: "I'm not going to comment on specifically where it came from."
He added: "My understanding is the President, of course, has classification authority…so the President can always discuss common threats or common issues with other heads of government or other government officials as he deems appropriate to tackle the threats our country faces."
Register for free to continue reading
Registration is a free and easy way to support our truly independent journalism
By registering, you will also enjoy limited access to Premium articles, exclusive newsletters, commenting, and virtual events with our leading journalists
Already have an account? sign in
Register for free to continue reading
Registration is a free and easy way to support our truly independent journalism
By registering, you will also enjoy limited access to Premium articles, exclusive newsletters, commenting, and virtual events with our leading journalists
Already have an account? sign in
Join our new commenting forum
Join thought-provoking conversations, follow other Independent readers and see their replies