Donald Trump appears to threaten James Comey over 'tapes of our conversations'
President issues extraordinary early-morning tirade as pressure mounts over controversial dismissal
Emily Shugerman
New York Comments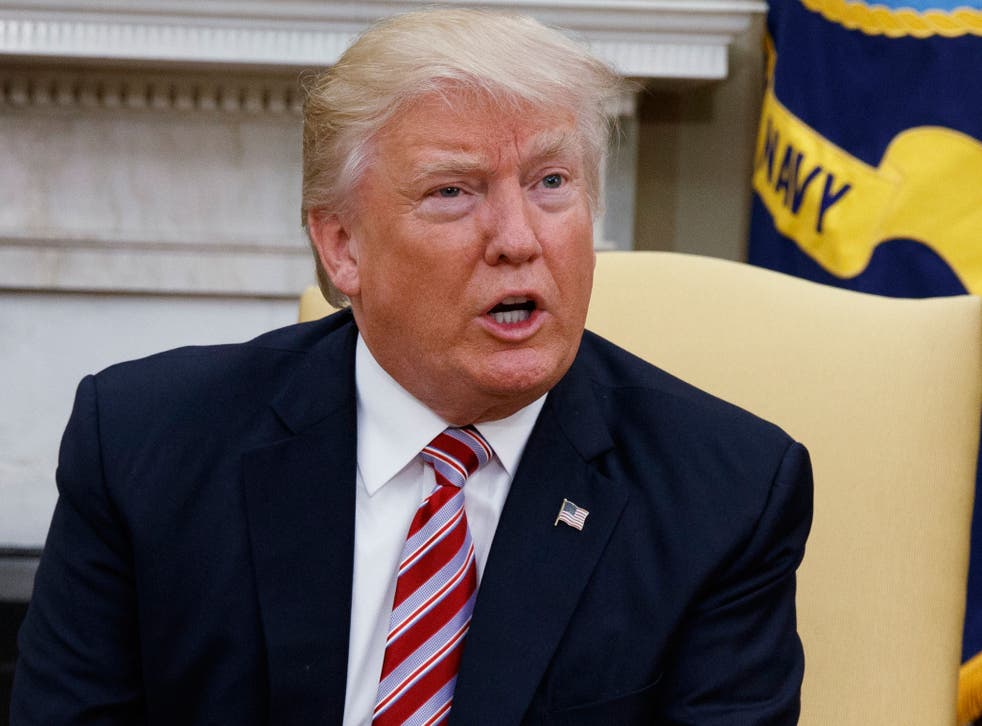 Donald Trump has issued an astonishing apparent threat to James Comey, implying recordings of the pair's conversations could be released if the FBI director he fired "starts leaking to the press".
The last in a series of early-morning tweets, the President said: "James Comey better hope that there are no 'tapes' of our conversations before he starts leaking to the press!"
The tweets immediately drew comparisons to former President Richard Nixon, who secretly taped all meetings in his Oval Office before he was impeached in 1974.
Mr Trump's comments seemed motivated by recent reports of a post-inauguration meeting with Mr Comey, in which Mr Trump is said to have demanded his FBI director's loyalty. Mr Comey is said to have declined.
Associates of Mr Comey said they felt comfortable revealing the details of the dinner meeting to The New York Times now that Mr Comey had been fired. Rank-and-file members of the FBI are reported to be upset by the unexpected dismissal.
The biggest names involved in the Trump-Russia investigation

Show all 17
Mr Trump, in his first interview after the firing, described the dinner meeting differently. The president told NBC's Lester Holt that Mr Comey used the meeting to request to keep his job as FBI director – a 10-year appointment of which he had served four years. Mr Trump said Mr Comey also reassured him during that meeting that he was not under investigation by the FBI.
White House Deputy Press Secretary Sarah Huckabee Sanders said Mr Trump would "never even suggest the expectation of personal loyalty, only loyalty to our country and its great people."
The online tirade suggests the leader has become increasingly agitated by the fallout from his controversial dismissal of Mr Comey, who had been overseeing the FBI's investigation into Russian collusion with his campaign team during his election.
The White House maintains that Mr Comey was fired because of his improper handling of the investigation into former Secretary of State Hillary Clinton's private email server. Leaks from inside the White House and FBI - and public contradictions from the White House itself – have cast doubt on this narrative.
Mr Trump's tweets followed previous posts in which he complained about what he described as "fake news", before making an unprecedented threat to cancel all future White House press briefings and only issue written statements.
Mr Trump followed his apparent warning to Mr Comey with another tweet referring to former national intelligence chief, James Clapper.
"When James Clapper himself, and virtually everyone else with knowledge of the witch hunt, says there is no collusion, when does it end?" he said.
Register for free to continue reading
Registration is a free and easy way to support our truly independent journalism
By registering, you will also enjoy limited access to Premium articles, exclusive newsletters, commenting, and virtual events with our leading journalists
Already have an account? sign in
Join our new commenting forum
Join thought-provoking conversations, follow other Independent readers and see their replies