Donald Trump Jr summoned to testify again to Senate committee over Russia investigation
Renewed interest in president's son comes after former Trump lawyer Michael Cohen contradicted Trump Jr's evidence during Mueller probe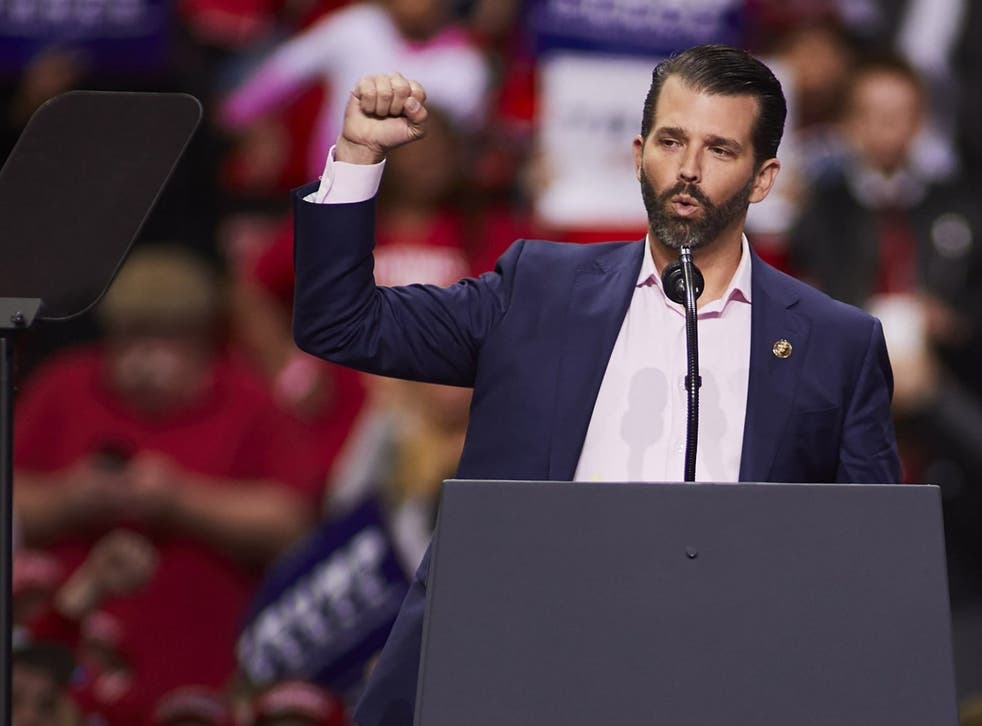 The body which oversees the US intelligence services has formally summoned the president's son, Donald Trump Jr, to testify again over his alleged dealings with Russia ahead of the 2016 general election.
The Senate Intelligence Committee, which is still examining Russian election interference, issued the subpoena after the testimony Mr Trump Jr gave to the Senate Judiciary Committee in September 2017 was later contradicted in a testimony given by his father's former attorney Michael Cohen.
It is the first known subpoena of a member of Donald Trump's immediate family, and indicates the Senate panel is continuing with its own Russia investigation even after the release of special counsel Robert Mueller's report on the same subject.
It is unclear if Mr Trump Jr will comply with the subpoena from the committee, which is chaired by Republican Senator Richard Burr of North Carolina.
According to CNN the president's son is considering invoking his rights under the US constitution's fifth amendment, which do not compel him to attend unless he is indicted by a grand jury (such a move would indicate a strong legal case against him).
The Democrat challengers to Trump in 2020

Show all 25
Another option may be for him to simply not appear at all, the broadcaster said, citing "one source".
A person "close to the president's eldest son", who requested anonymity to discuss the matter, told AP Mr Trump Jr has continued to cooperate by producing documents and answering written questions.
The Senate Intelligence Committee has interviewed many of the same witnesses who spoke to Mr Mueller's team, and the committee has recently begun re-interviewing witnesses.
These include the president's son-in-law, Jared Kushner, who made a second appearance earlier this year.
The committee's renewed interest in talking to Mr Trump Jr comes after Cohen testified earlier this year and said he had briefed Mr Trump Jr approximately 10 times about a plan to build a Trump Tower in Moscow before the presidential election.
But Mr Trump Jr had told the Senate Judiciary Committee in 2017 he was only "peripherally aware" of the plans.
The panel has also investigated a meeting between Mr Trump Jr, other Trump campaign staff and a Russian lawyer.
Emails leading up to the meeting promised "dirt" on Hillary Clinton.
Cohen became the first of the president's inner circle to allege that, in 2016, Mr Trump knew in advance his eldest son was meeting Russians who claimed to have compromising information on Ms Clinton.
Mr Mueller's report, released last month, said Cohen recalled being in Mr Trump's office "when Mr Trump Jr told his father that a meeting to obtain adverse information about Clinton was going forward".
But the report said Mr Trump Jr told the Senate Judiciary Committee, however, that he did not inform his father about the emails or the upcoming meeting.
This week Cohen arrived at prison to start a three-year sentence for crimes including tax evasion and campaign finance violations related to hush-money payments made to protect his former boss.
A spokeswoman for the Senate Intelligence Committee would not confirm the subpoena. But Maine Senator Susan Collins, a Republican member of the panel, hinted after Cohen spoke behind closed doors to the Senate intelligence panel that the committee would want to talk to Mr Trump Jr again.
She said senators "clearly need to re-interview some witnesses whose accounts [Cohen] contradicts".
Additional reporting by AP.
Join our new commenting forum
Join thought-provoking conversations, follow other Independent readers and see their replies