Donald Trump says Steve Scalise's health is 'in some trouble' after Virginia shooting
The congressional baseball game will go ahead as planned 
Alexandra Wilts
Washington DC
Thursday 15 June 2017 19:00 Comments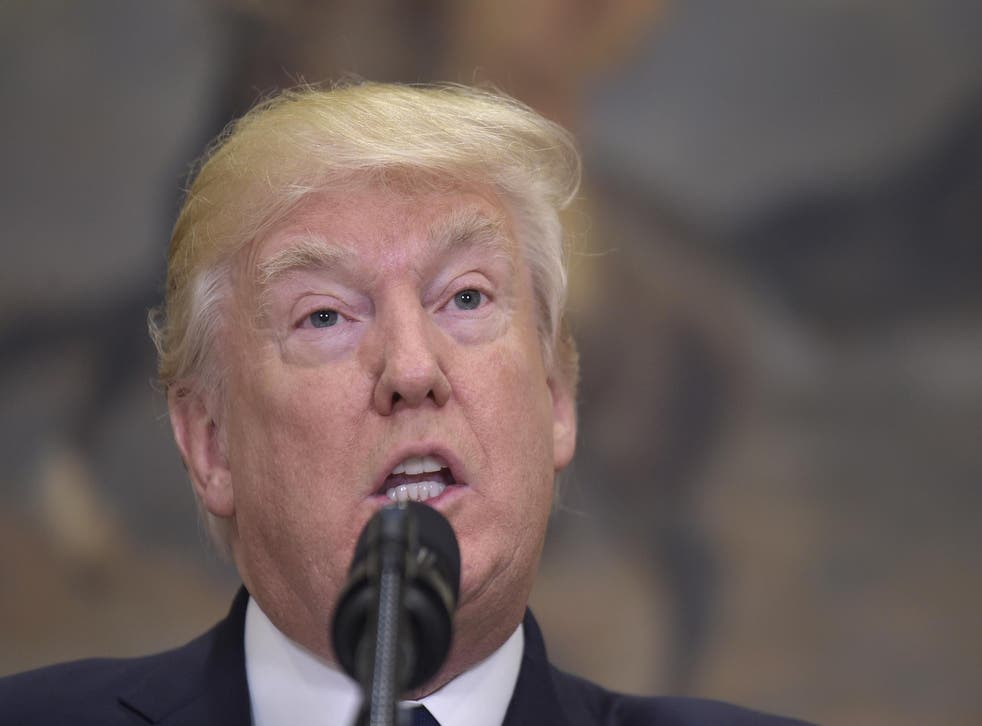 Donald Trump has said that congressman Steve Scalise, the third-ranking Republican in the House of Representatives, is "in some trouble" following the surgery he received after being shot during a baseball practice.
At a press conference at the White House, Mr Trump described Mr Scalise as a "greater fighter", while also suggesting that the Louisiana congressman's situation remained very serious.
"It's been much more difficult than people even thought at that time," Mr Trump said.
MedStar Washington Hospital Centre, where Mr Scalise is receiving treatment, said in a statement the congressman "sustained a single rifle shot to the left hip", and that he will need additional surgeries. The bullet fractured bones, injured internal organs, and has caused severe bleeding, the hospital said.
Since the shooting, which left members of Congress shaken, several have called for unity to bridge the divide between Republicans and Democrats.
Virginia Shooting

Show all 20
Democrats are still scheduled to face off against Republicans in the annual congressional baseball game – an event that is expected to bring members of Congress together for some fun and good-natured competition in the wake of the attack on the Republicans' game in Alexandria, Virginia.
Mr Trump also said at the White House that "Steve, in his own way, may have brought some unity to our long-divided country".
"We've had a very, very divided country for many years, and I have a feeling that Steve has made a great sacrifice, but there could be some unity being brought to our country," the President added.
Also wounded were a congressional aide and one former aide who now works as a lobbyist, officials said. One Capitol Hill police officer suffered a gunshot wound and another officer twisted an ankle and was released from a hospital, police said. The gunman, identified as James Hodgkinson of Illinois, died of his injuries after a shootout with the police.
"I am proud to live in a country where expressing a strong opinion is a right, and one that I exercise regularly," Congressman Tim Ryan, who plays shortstop for the Democratic congressional baseball team, told CNN. "And while we may disagree on the direction of the country, we all agree that violence is never the answer."
"My hope is that in response to this horrific event, we begin to tone down the partisan language that has come to occupy our political dialogue and get back to the issues at hand," he added. "While Wednesday gave us all a pause, on Thursday we get back to work both on the House floor – and on the baseball field."
The game, first established in 1909, will be hosted at Nationals Park – just down the road from Capitol Hill.
"It's a chance to take a break from the polarised atmosphere of legislating and just have a little bit of fun with our colleagues in something that's our national pastime," Congresswoman Linda Sanchez told CBS News. Ms Sanchez has played for 15 years.
Tickets and sponsorships for the game each year raise several hundred thousand dollars for local charities, including the Boys & Girls Clubs of Greater Washington, the Washington Nationals Dream Foundation and the Washington Literacy Centre. This year proceeds will also go to the Capitol Police Memorial Fund.
Register for free to continue reading
Registration is a free and easy way to support our truly independent journalism
By registering, you will also enjoy limited access to Premium articles, exclusive newsletters, commenting, and virtual events with our leading journalists
Already have an account? sign in
Join our new commenting forum
Join thought-provoking conversations, follow other Independent readers and see their replies