Donald Trump accuses 'crazy' MSNBC host Mika Brzezinski of 'bleeding badly from a face-lift'
Mr Trump has been repeatedly criticised for his comments about women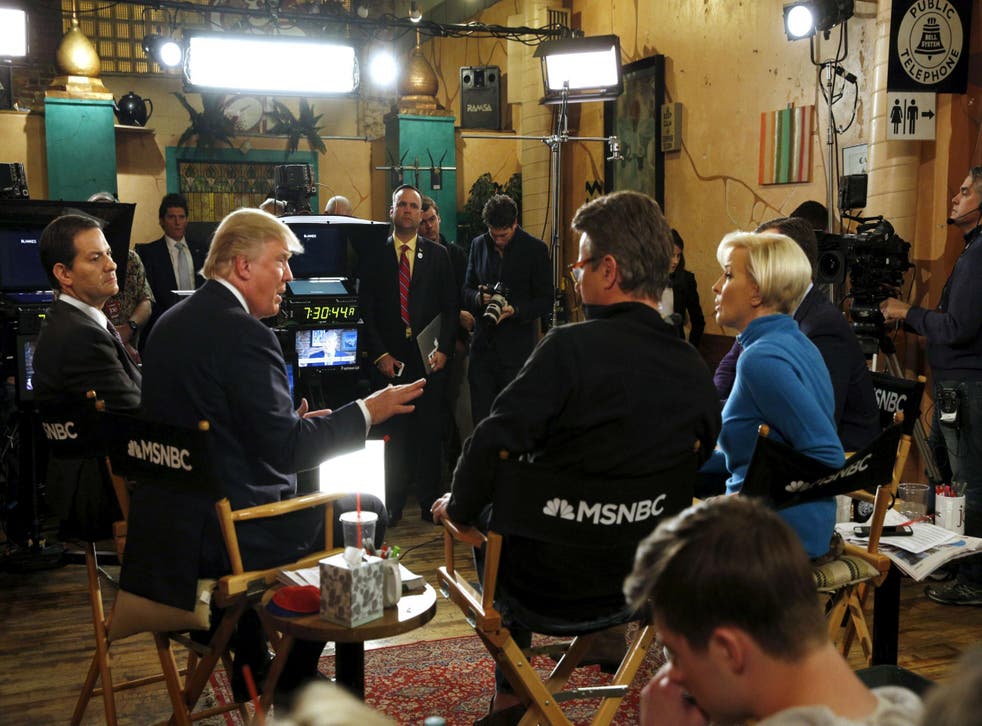 Just when you think Donald Trump's Twitter feed cannot sink much lower, he proves everyone wrong again.
In his latest messages, posted shortly after the conclusion of the "Morning Joe" breakfast show on MSNBC, the President fired off an unpleasant attack about its hosts, Joe Scarborough and Mika Brzezinski.
"I heard poorly rated @Morning_Joe speaks badly of me (don't watch anymore)," he wrote.
"Then how come low IQ Crazy Mika, along with Psycho Joe, came to Mar-a-Lago 3 nights in a row around New Year's Eve, and insisted on joining me. She was bleeding badly from a face-lift. I said no!
A White House spokeswoman is defending President Donald Trump's tweets attacking two cable television hosts, saying he fights "fire with fire."
Defending the tweets - White House spokeswoman Sarah Huckabee Sanders told Fox News the president has never been someone "who gets attacked and doesn't push back."
Ms Sanders said "Morning Joe" has made "an outrageous number of personal attacks" on the president and says Trump "fights fire with fire and certainly will not be allowed to be bullied by liberal media and the liberal elites within the media or Hollywood or anywhere else."
Reaction to Mr Trump's comments was immediate and strident. NBC journalist Katy Tur, wrote: "Doesn't the President of the United States have anything better to do?"
Mark Kornblau, the head of PR for NBC News and MSNBC, also weighed in, saying: "Never imagined a day when I would think to myself, 'it is beneath my dignity to respond to the President of the United States'."
Yet the best response was almost certainly from Ms Brzezinski, the daughter of the late Zbigniew Brzezinski, the national security advisor to Jimmy Carter.
Ivanka Trump speaks after 2017 human trafficking report release
She tweeted a photograph of the back of a box of Cheerios cereal, bearing the phrase 'Made for little hands'. During the campaign, Mr Trump was mocked after he got angry when it was suggested he had small hands, and perhaps small genitalia.
"Look at those hands, are they small hands," Mr Trump said during a Republican primary debate, raising them for viewers to see. "And, he referred to my hands - 'if they're small, something else must be small'. I guarantee you there's no problem. I guarantee."
World news in pictures

Show all 50
For a number of months when Mr Trump was campaigning for the White House, the New York tycoon appeared on the morning show several times.
Mr Scarborough, a former Republican congressman, was criticised by a number of people for being too close to Mr Trump.
Among the things he found himself having to defend, was the anchors' presence at Mr Trump New Year's Eve party at his Florida estate.
"Well, we did what anybody at CNN or the New York Times or 60 Minutes or any other news agency would do," he said. "We talked about an interview, that we'd like to set up an interview with him around the time of the inauguration. Obviously there have been a lot of tough things said on both sides."
Join our new commenting forum
Join thought-provoking conversations, follow other Independent readers and see their replies