Donald Trump's revised executive order is a Muslim ban, says Hawaii federal judge
'A reasonable, objective observer... would conclude that the executive order was issued with a purpose to disfavour a particular religion,' says Derrick Watson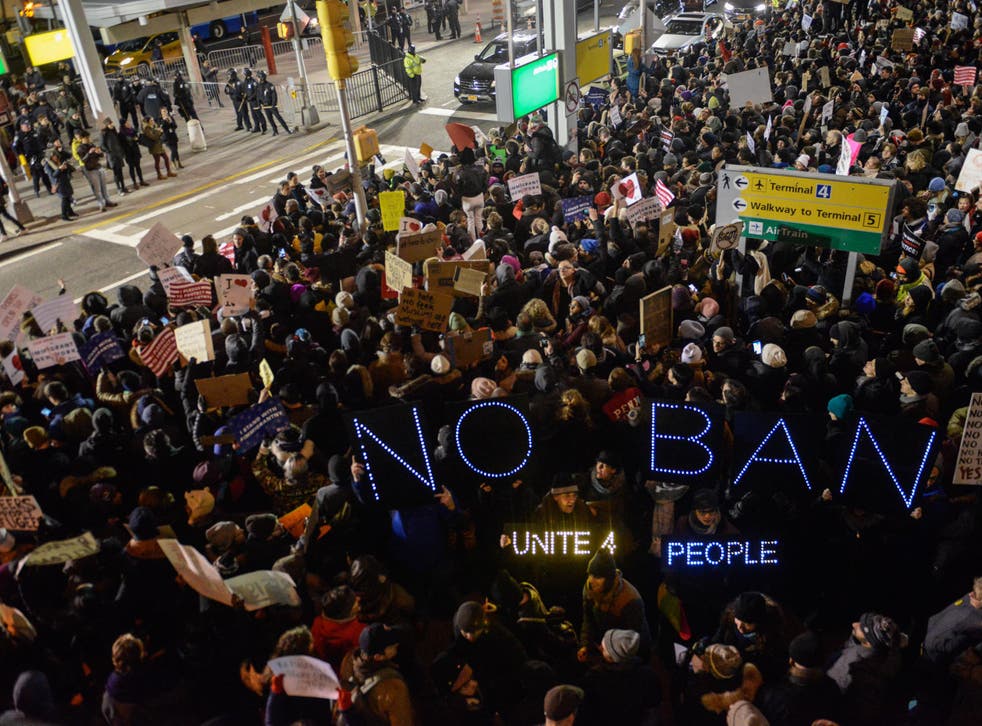 The judge who blocked Donald Trump's revised executive order barring travel from six predominantly Muslim nations has said it "targets Islam".
Hours before it was due to come into effect, Derrick Watson, a district judge in Hawaii, placed a nationwide block on the President's action.
Rejecting claims by Mr Trump's administration that it was not a "Muslim ban", because it did not mention religion and was instead focussed on the citizens of specific countries, he ruled that "the illogic of the Government's contentions is palpable."
He wrote: "A reasonable, objective observer... would conclude that the Executive Order was issued with a purpose to disfavour a particular religion, in spite of its stated, religiously-neutral purpose."
He added: "It is undisputed, using the primary source upon which the Government itself relies, that these six countries have overwhelmingly Muslim populations that range from 90.7 percent to 99.8 percent."
"It would therefore be no paradigmatic leap to conclude that targeting these countries likewise targets Islam. Certainly, it would be inappropriate to conclude, as the Government does, that it does not."
Mr Trump has denied the orders are a "Muslim ban". Shortly after his inauguration, he called his plans "extreme vetting".
Donald Trump blast "judicial overreach" as Hawaii judge blocks travel ban
"It's not the Muslim ban," he told ABC News. "But it's countries that have tremendous terror… countries that people are going to come in and cause us tremendous problems."
The President issued the revised executive order after the first was barred in the courts.
His second attempt did not affect current visa holders but it continued to block travel to the US for citizens of Somalia, Sudan, Syria, Iran, Libya and Yemen for 90 days. The first travel ban included Iraq.
As with the first order, refugees were still blocked from entering the US for 120 days but an indefinite ban on all refugees from Syria was dropped in the new one.
The Trump administration has also said the ban is not religiously motivated because the six countries only represent a small fraction – around nine per cent – of the world's Muslim population.
But campaigners said the new ban still discriminated, on both grounds of nationality and religion.
Judge Watson, who was appointed by former President Barack Obama, was one of three federal judges across the US that listened to legal arguments.
Up to half-a-dozen states are seeking to block the executive order and judges in Maryland and the state of Washington also heard cases.
Rudy Giuliani, the former Mayor of New York and an adviser to Mr Trump, explained the beginnings of the order and said the President had used the term "Muslim ban".
"When [Mr Trump] first announced it, he said, 'Muslim ban.' He called me up. He said, 'Put a commission together. Show me the right way to do it legally'," Mr Giuliani told Fox News.
Mass protests followed the sudden implementation of the first order which caused widespread chaos at airports.
New York City bodegas strike to protest Trump's travel ban

Show all 27
Mr Trump issued a statement at the time in which he claimed: "To be clear, this is not a Muslim ban, as the media is falsely reporting. This is not about religion – this is about terror and keeping our country safe.
"There are over 40 different countries worldwide that are majority Muslim that are not affected by this order."
At a rally in Nashville Mr Trump called the move by the judge an "unprecedented judicial overreach" and said he was ready to take the case "as far as it needs to go" including to the Supreme Court.
"The order he blocked was a watered-down version of the first order that was also blocked by another judge and that should never have been blocked to start with," said the President. "This is, in the opinion of many, an unprecedented judicial overreach."
Register for free to continue reading
Registration is a free and easy way to support our truly independent journalism
By registering, you will also enjoy limited access to Premium articles, exclusive newsletters, commenting, and virtual events with our leading journalists
Already have an account? sign in
Register for free to continue reading
Registration is a free and easy way to support our truly independent journalism
By registering, you will also enjoy limited access to Premium articles, exclusive newsletters, commenting, and virtual events with our leading journalists
Already have an account? sign in
Join our new commenting forum
Join thought-provoking conversations, follow other Independent readers and see their replies