Donald Trump branded 'international embarrassment' after handing made-up Nato invoice to Angela Merkel
President claims Berlin owes Washington money for 'the powerful, and very expensive, defence' it provides
Caroline Mortimer
Monday 27 March 2017 13:56 Comments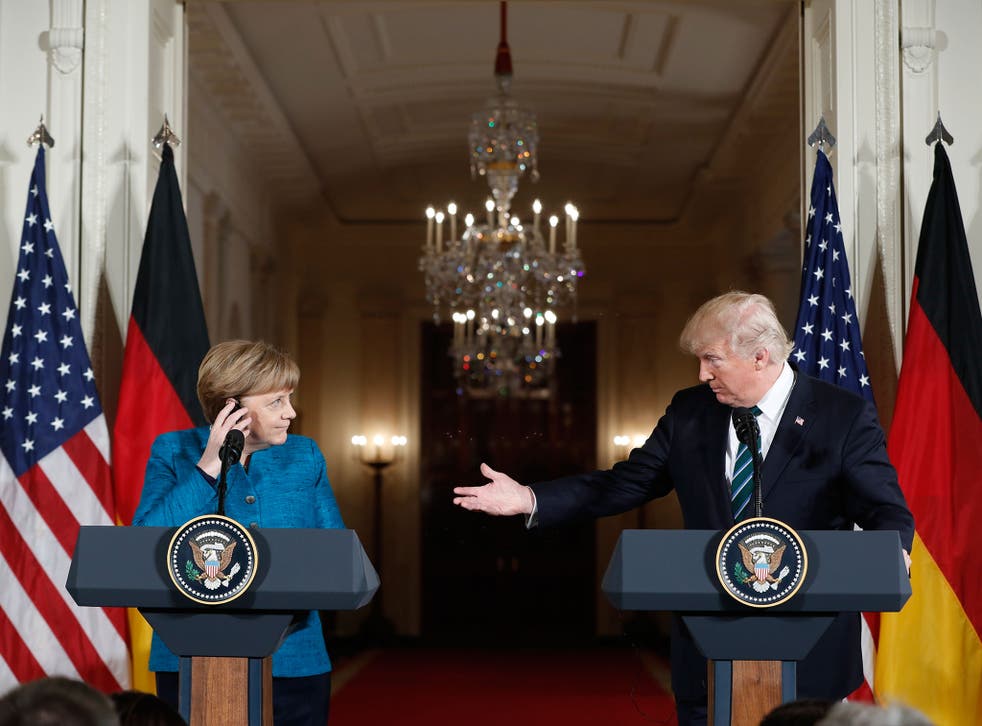 Donald Trump has been branded an "international embarrassment" after he reportedly presented Angela Merkel with a bill for what he thought Germany "owed" Nato during her recent trip to the White House.
The bill – which was reportedly given to the Chancellor during private talks last weekend – was described as "outrageous" by one unnamed German minister.
They told The Sunday Times: "The concept behind putting out such demands is to intimidate the other side, but the chancellor took it calmly and will not respond to such provocations".
Branson: Trump is an embarrassment for the world
All Nato countries have previously agreed to spend two per cent of GDP on defence spending but only five countries – the US, the UK, Greece, Poland and Estonia – are currently meeting that target.
Germany, which currently spends around 1.23 per cent, previously pledged to increase its defence spending in 2002 and it is believed that Mr Trump's team calculated the amount Berlin has fallen short of the 2 per cent target from that point then added interest.
But the move has been condemned by many Americans who said the move showed Mr Trump failed to understand how Nato worked.
Former Secretary of Labor under Bill Clinton Robert Reich said: "Trump is an international embarrassment. To our allies around the world: He doesn't represent most Americans, and we're doing all we can."
The alleged gesture came as Mr Trump tweeted that Germany owed the US and Nato "vast sums of money" for the "powerful, and very expensive, defence it provides to Germany".
White House spokesman Sean Spicer subsequently denied that Mr Trump had handed the invoice to Ms Merkel, Business Insider reported.
Under the terms of Article 5 of the Nato agreement, member states must come to the aid of each other if one is subject to military attack.
It was originally signed in 1949 as a way to combat the dominance of the Soviet Union in Europe.
As tensions have increased between Russia and the West over its annexation of Crimea, its support for rebels in the Donbas region of Ukraine and its intervention in Syria, vulnerable Eastern European states have seen their defences bolstered by Nato troops.
Countries which share a border with Russia – including Poland, Lithuania and Estonia but not Germany – have seen one of the biggest deployments to Eastern Europe since the Cold War in recent weeks.
World news in pictures

Show all 50
But this does not mean the US is funding the defence of other countries.
As Ivo Daalder, the US ambassador to Nato between 2009 and 2013, explained on Twitter last week Washington decides how much it spends on defence on its own and has chosen to provide a large military commitment to Europe for its own security as well as that of its allies.
But Mr Trump has repeatedly suggested he may roll back the US commitment to Nato.
On the campaign trail he called it "obsolete" and suggested he would cut spending – but since his inauguration he has attempted to reassure European leaders that he understood its strategic importance.
During a Nato summit in February, US Secretary of Defense James Mattis suggested the US would "moderate its commitment" unless other members increased their own spending.
He said: "No longer can the American taxpayer carry a disproportionate share of the defence of Western values. Americans cannot care more for your children's security than you do.
"Disregard for military readiness demonstrates a lack of respect for ourselves, for the alliance and for the freedoms we inherited, which are now clearly threatened."
The bill was a further embarrassment during Ms Merkel's first trip to the Trump White House after the President was roundly criticised for refusing to shake her hand during their initial meeting and then trying to suggest they had being hacked by Barack Obama "in common" – before receiving a withering stare from the Chancellor.
Register for free to continue reading
Registration is a free and easy way to support our truly independent journalism
By registering, you will also enjoy limited access to Premium articles, exclusive newsletters, commenting, and virtual events with our leading journalists
Already have an account? sign in
Join our new commenting forum
Join thought-provoking conversations, follow other Independent readers and see their replies