Trump hints at military action as he says 'only one thing will work on North Korea'
The president has repeatedly hinted that diplomatic options have been exhausted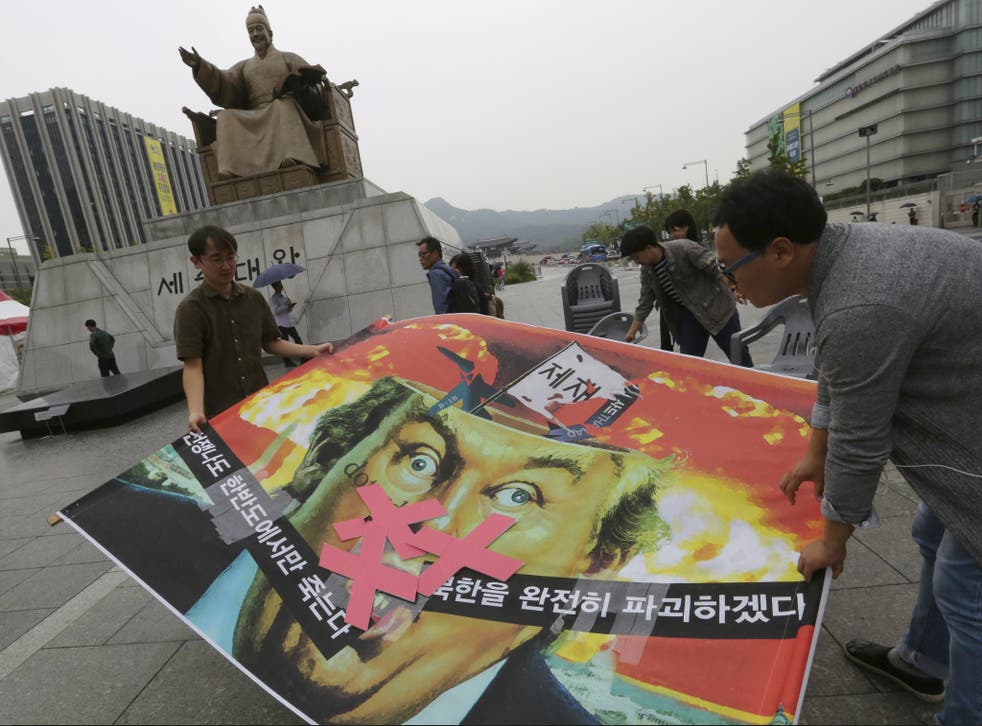 Donald Trump has hinted at military action against North Korea, suggesting on Twitter that "only one thing will work" on the secretive communist state.
The US leader said previous American presidential "administrations have been talking to North Korea for 25 years", but in his opinion it was "to no avail".
It appears Mr Trump is hinting at using military action against the isolated Asian country, but when he was asked about the comments by reporters ahead of a trip to North Carolina, the US president said he had nothing more to clarify.
White House spokeswoman Sarah Sanders referred to Iran and North Korea the following day when asked about Trump's "calm before the storm" comments.
Asked about the tweet, Ms Sanders said she had nothing to add to the president's comments.
The Pentagon meanwhile referred a question for clarification to the White House and said the Defense Department's job was to "present the president military options and carry out orders."
Mr Trump's comments came after a Russian politician, Anton Morozov, told state-backed news media RIA Novost that he has seen a North Korean missile capable of reaching the US and tests of it will be conducted "in the nearest future".
Mr Morozov said he and two colleagues had been told by North Korean authorities that Pyongyang had developed the technology to allow its missiles to survive the heat upon re-entering the atmosphere after a launch, a problem in its past tests.
He reportedly saw "mathematical calculations" that would allow the nuclear-capable missile to reach the west coast of the US, however he was speaking to a state-backed media organisation and did not verify the calculations to ensure the claims were accurate.
The president has said previously that US administrations going back 25 years saying they all "left me with a mess ... But I'll fix that mess" and reiterated that in his latest tweets.
Mr Trump's tweets come on the heels of another set of social media posts in which he appeared to take a swipe at Secretary of State Rex Tillerson and threatened action against North Korea.
The President tweeted that the former Exxon CEO should stop "wasting his time" on negotiating with the country's leader Kim Jong-un, who he recently referred to as "Rocket Man".
"We'll do what has to be done!," he tweeted.
His comments came days after a report by NBC News claimed that Mr Tillerson had called the President a "moron" during a Pentagon meeting this past summer.
He held an impromptu briefing during which he denied the rumour that he was ready to resign from his post, but did not directly deny calling Mr Trump a "moron."
During the same statement he was full of praise for Defence Secretary James Mattis, with whom he communicates every day, and said there is "no better partner than Secretary of Defence who believes in diplomacy."
Mr Mattis has said on several occasions that military action would be reserved for when all diplomatic solutions had been tried and even then, only if the Pyongyang attacked the US, its territories like Guam, or its allies like South Korea or Japan first.
Mr Trump said he would "totally destroy" North Korea if provoked when he spoke at the United Nations General Assembly, adding that Mr Kim was on a "suicide mission" in continuing to develop his nuclear arsenal.
Since then, he and Mr Kim have exchanged public barbs with the North Korean leader calling Mr Trump a "dotard" and "frightened dog".
The United Nations Security Council has imposed the strictest-ever sanctions on Pyongyang last month.
The sanctions, passed by a unanimous vote, were actually weaker than the US initially wanted in order to punish Pyongyang for their sixth – and largest – nuclear test earlier this month. The US had wanted a full ban on oil exports to North Korea but diluted that to a ban on textile exports and a cap on fuel supplies in order to ensure support from China and Russia who hold the power to veto resolutions.
Though President Trump complimented the UN over the new sanctions, he said "it's just another very small step. Not a big deal … but certainly it was nice to get a 15-0 vote," he added.
Mr Trump said that the sanctions, regardless of how limiting they are on Pyongyang's economy, are "nothing compared to what ultimately will have to happen".
The sanctions vote was particularly important because it was unanimous, signalling that even Russia and China - large trading partners with North Korea - were willing to work on a diplomatic solution.
In fact, last month Chinese banks announced they would stop accepting North Korean money or open new accounts for North Korean citizens. This was after Mr Trump had blacklisted a small Chinese bank for facilitating business with Pyongyang. The bank faced heavy penalties and fees.
North Korea has conducted six nuclear tests thus far.
A US intelligence official said last month they had no reason to doubt Mr Kim and his military had developed a hydrogen bomb.
The US official said, however, it would take some time to complete a thorough analysis of the size of the blast and type of device detonated during the last North Korean test.
In July, US intelligence officials said they believed North Korea had been able to make a nuclear warhead capable of fitting on an intercontinental ballistic missile – claiming missiles will have the range to reach the US. Recently, Pyongyang also launched a missile over the Hokkaido island of Japan.
Register for free to continue reading
Registration is a free and easy way to support our truly independent journalism
By registering, you will also enjoy limited access to Premium articles, exclusive newsletters, commenting, and virtual events with our leading journalists
Already have an account? sign in
Register for free to continue reading
Registration is a free and easy way to support our truly independent journalism
By registering, you will also enjoy limited access to Premium articles, exclusive newsletters, commenting, and virtual events with our leading journalists
Already have an account? sign in
Join our new commenting forum
Join thought-provoking conversations, follow other Independent readers and see their replies