Top US general says he would resist illegal nuclear strike order from Donald Trump
'If it's illegal...I'm going to say "Mr President, that's illegal'"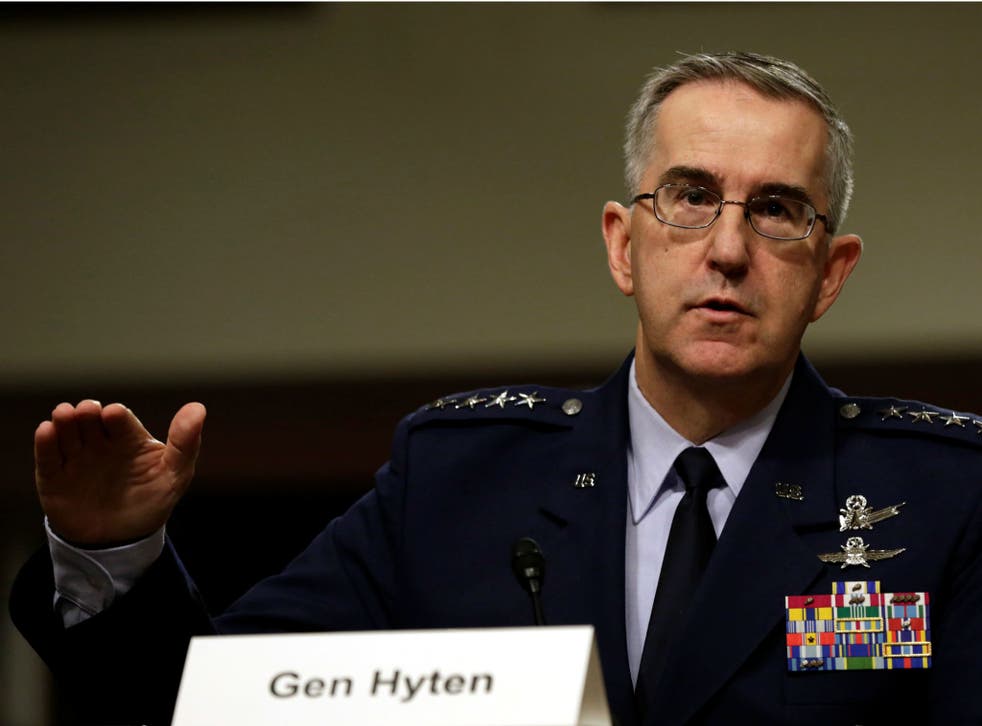 A top general says would resist an illegal nuclear strike order issued by Donald Trump, tamping down fears about a reckless foray into nuclear war.
"If it's illegal, guess what's going to happen? I'm going to say, 'Mr President, that's illegal.' And guess what he's going to do? He's going to say, 'What would be legal?' And we'll come up (with) options," Air Force General John Hyten, commander of the US Strategic Command, told a security forum in Canada.
"We think about these things a lot," Gen Hyten said according to CBS. "When you have this responsibility, how do you not think about it?"
The general's comments follow a hearing in which senators pressed military officials to explain safeguards against hasty nuclear strikes, with multiple Democrats citing fears that Mr Trump's haphazard decision-making could have devastating consequences.
Officials told the Senate Foreign Relations Committee that although the President has ultimate authority to lunch nuclear strikes, he is tempered by layers of review and constrained by legal barriers depending on whether the strike is preemptive or responsive.
"This is a system controlled by human beings. Nothing happens automatically," testified former commander of US Strategic Command Gen C Robert Kehler.
Kim Jong-un inspects weapon North Korea says is powerful hydrogen bomb

Show all 6
He noted that civilians would be able to vet those commands and that the military's obligation to disobey an "illegal order" for a first strike could override a commander-in-chief.
Those statements did little to assuage Democrats on the committee, who noted Mr Trump's propensity for antagonising foes like North Korea on Twitter.
Ri Yong Pil tells CNN the possibility of a nuclear threat from North Korea should be taken 'literally'
"I don't think that the assurances that I've received today will be satisfying to the American people," said Massachusetts Democrat Ed Markey. "I think they can still realise that Donald Trump can launch nuclear codes just as easily as he can use his Twitter account".
Hovering behind the committee's questions was an escalating international crisis spurred by North Korea's belligerent talk and tests of increasingly sophisticated weaponry, including a hydrogen bomb. Mr Trump and North Korea have traded barbs, with both the President and his advisers threatening to destroy the nuclear-armed nation.
Join our new commenting forum
Join thought-provoking conversations, follow other Independent readers and see their replies