Donald Trump lashes out over obstruction of justice allegations in 'phony' Russia investigation
'Now they go for obstruction of justice on the phony story. Nice,' tweets US President
Katie Forster
,
Andrew Buncombe
Thursday 15 June 2017 13:10 Comments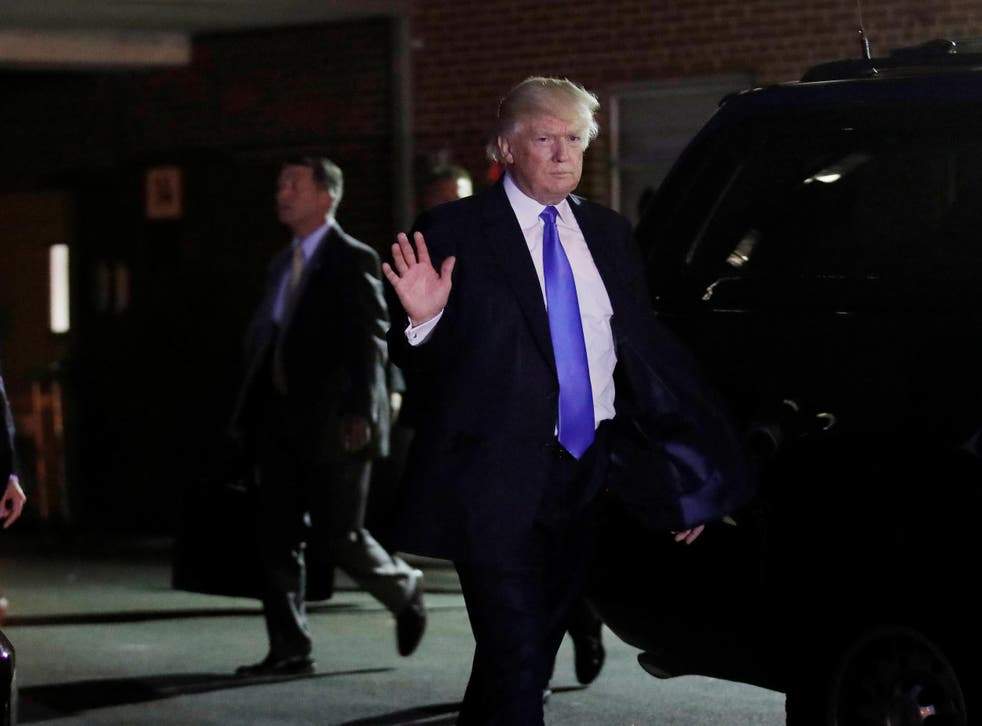 Donald Trump has hit out at reports he is being investigated for possible obstruction of justice as part of the investigation into his campaign team's links to Russia.
The US President, who faces allegations of obstructing the investigation for firing former FBI director James Comey, is reportedly the subject of a probe by the Special Counsel, Robert Mueller, looking into possible collusion between his campaign and Moscow.
"They made up a phony collusion with the Russians story, found zero proof, so now they go for obstruction of justice on the phony story. Nice," Mr Trump wrote on Twitter.
"You are witnessing the single greatest WITCH HUNT in American political history – led by some very bad and conflicted people!" he added.
According to The Washington Post, since Mr Comey's firing on 9 May, Mr Mueller, the special prosecutor, has started to look at Mr Trump's actions as part of the wider investigation into alleged Russia interference in the 2016 US presidential election.
The move would mark a dramatic shift in the course of the investigation, which Mr Trump has so far sought to dismiss and brush away.
The Post reported that five officials, speaking on condition of anonymity, had said the possible obstruction-of-justice investigation of the New York tycoon began days after Mr Trump fired Mr Comey.
Dan Coats, the director of national intelligence, Mike Rogers, the head of the National Security Agency, and Richard Ledgett, the former deputy director of the National Security Agency (NSA), had agreed to be interviewed by Mr Mueller's investigators as early as this week, said the newspaper.
Mark Corallo, a spokesman for Mr Trump's legal team, on Wednesday denounced the report, saying: "The FBI leak of information regarding the President is outrageous, inexcusable and illegal." A spokesman for Mr Mueller's team declined to comment.
The NSA said in a statement that it would "fully cooperate with the special counsel" and declined to comment further.
Last week, Mr Comey testified in a Senate hearing that he believed he was fired because of the Russia investigation. Mr Comey also said he had told Mr Trump he was not under investigation.
"I know I was fired because of something about the way I was conducting the Russia investigation was in some way putting pressure on him, in some way irritating him, and he decided to fire me because of that," he said.
Donald Trump is willing to testify under oath on Comey
Mr Trump had previously told a television reporter that one of the reasons he had fired the 56-year-old was because of the ongoing probe into possible collusion with Russia – something the President said was nothing more than "fake news" being generated by those angry about his election victory.
"When I decided to just do it, I said to myself, I said 'You know, this Russia thing with Trump and Russia is a made up story, it's an excuse by the Democrats for having lost an election that they should've won'," Mr Trump told NBC.
Thousands march against Donald Trump in LGBT rights parade

Show all 8
Mr Comey told the Senate Intelligence Committee that he believed Mr Trump had directed him in February to drop an FBI probe into former national security adviser, Michael Flynn, that was part of the broader Russia investigation.
Mr Comey would not say in his testimony whether he thought the President sought to obstruct justice, but added it would be up to special counsel Mr Mueller "to sort that out".
The administration initially gave differing reasons for his dismissal, including that he had lost the confidence of the FBI, before Mr Trump cited the Russia issue.
Clearly still having the issue on his mind, Mr Trump tweeted again hours after his first outburst, suggesting that Hillary Clinton, his Democratic opponent in the election, should be under investigation instead of him.
"Why is that Hillary Clintons family and Dems dealings with Russia are not looked at, but my non-dealings are?" the President tweeted, adding in a second missive, "Crooked H destroyed phones w/ hammer, 'bleached' emails, & had husband meet w/AG days before she was cleared- & they talk about obstruction?"
Several US congressional committees are also looking into the question of Russian election interference and possible Trump campaign collusion.
On Thursday, Vice President Mike Pence's office said he had hired a lawyer known for defending government officials in high-profile investigations to help Mr Pence through the various probes
Mr Pence chose Richard Cullen, chairman of law firm McGuireWoods, a former US federal prosecutor who has long ties to former former FBI director Mr Comey
Mr Cullen represents former FIFA President Sepp Blatter in the corruption probe into world soccer's governing body. He represented Tom DeLay, a Texas Republican and former majority leader of the U.S. House of Representatives, during the investigation into corrupt Washington lobbyist Jack Abramoff. Mr DeLay was not charged.
Mr Pence had been looking at hiring his own counsel for several weeks, and made his decision earlier this week after interviewing several candidates, his office said.
"The vice president is focused entirely on his duties and promoting the president's agenda and looks forward to a swift conclusion of this matter," Pence spokesman Jarrod Agen said in a statement.
As for Mr Trump, while a sitting president is unlikely to face criminal prosecution, obstruction of justice could form the basis for impeachment. Any such step would face a steep hurdle as it would require approval by the US House of Representatives, which is controlled by Mr Trump's fellow Republicans.
Adam Schiff, the top Democrat on the House intelligence Committee – one of the bodies looking at the issue of Russian meddling – said he would not comment on whether Mr Mueller was looking at possible obstruction of justice by Mr Trump but said Congress "certainly needs to get to the bottom" of the issue.
Separately, the House committee said former Homeland Security Secretary Jeh Johnson would appear at a public hearing on the Russia probe on 21 June.
Register for free to continue reading
Registration is a free and easy way to support our truly independent journalism
By registering, you will also enjoy limited access to Premium articles, exclusive newsletters, commenting, and virtual events with our leading journalists
Already have an account? sign in
Join our new commenting forum
Join thought-provoking conversations, follow other Independent readers and see their replies