Trump praises Xi for releasing US basketball players after failing to raise issues of human rights in China
'Go out and give a big Thank You to President Xi Jinping of China who made your release possible'
Chris Baynes
Thursday 16 November 2017 12:57 Comments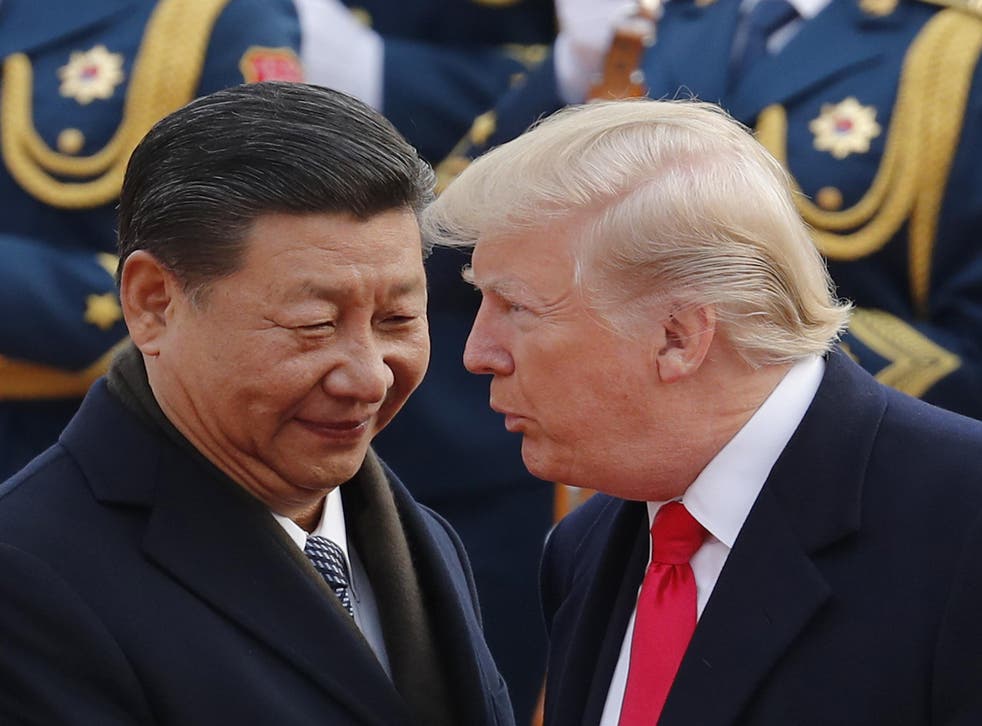 Donald Trump has praised China's President after three American college basketball players were freed following their arrest for shoplifting in the country.
The US leader said the players from University of California, Los Angeles (UCLA), should "go out and give a big thank you to President Xi Jinping of China who made your release possible".
Cody Riley, LiAngelo Ball and Jalen Hill were caught stealing at a Louis Vuitton store in China during Mr Trump's visit to the country earlier this month.
The American leader's praise for President Xi's intervention comes after he remained silent on the issue of human rights in China, where dissidents are routinely arrested and handed lengthy prison sentences, during his Asia tour.
Mr Trump previously claimed the players had been "headed for 10 years in jail" following their arrest in Hangzhou.
After their release, he tweeted: "Do you think the three UCLA Basketball Players will say thank you President Trump?"
In further posts on Thursday morning, he wrote: "To the three UCLA basketball players I say: You're welcome, go out and give a big Thank You to President Xi Jinping of China who made your release possible.
In the same tweet, he added: "HAVE A GREAT LIFE! Be careful, there are many pitfalls on the long and winding road of life!"
The three players returned to Los Angeles on Tuesday after Chinese authorities withdrew charges against them following an intervention from the US government.
They each apologised after admitting shoplifting from three stores, and thanked Mr Trump in a press conference.
"I'm sorry for stealing from the stores in China," said Mr Ball, the younger brother of Los Angeles Lakers rookie Lonzo Ball, who played last season at UCLA. "I've learned my lesson from this big mistake and I'm a hundred percent sure I'll never make a mistake like this again. It's going to make me a better person from here on out."
He added: "I'd like to thank President Trump and the United States government for the help that they provided us as well."
UCLA athletic director Dan Guerrero said the students were released by the Chinese police after paying $2,200 bail.
He said White House Chief of Staff John Kelly called the students over the weekend to assure them that the government was working on their release.
After the players' release, Chinese Foreign Ministry officials said the case had been resolved according to law.
The UCLA team had been in China for a game against Georgia Tech in Shanghai on Saturday, which UCLA won 63-60. The teams had travelled to Hangzhou earlier in the week.
The three students, all freshmen, were taken in for questioning by police about alleged shoplifting from a Louis Vuitton store.
Chinese police searched rooms at the hotel where both teams were playing before identifying the players as suspects.
"These are good young men who have exercised an inexcusable lapse of judgement," coach Steve Alford said. "I am extremely disappointed in their actions."
Register for free to continue reading
Registration is a free and easy way to support our truly independent journalism
By registering, you will also enjoy limited access to Premium articles, exclusive newsletters, commenting, and virtual events with our leading journalists
Already have an account? sign in
Join our new commenting forum
Join thought-provoking conversations, follow other Independent readers and see their replies