Donald Trump blames Democrats after pulling healthcare bill from Congress vote
'I've been saying for the last year and a half that the best thing we can do, politically speaking, is let Obamacare explode,' says President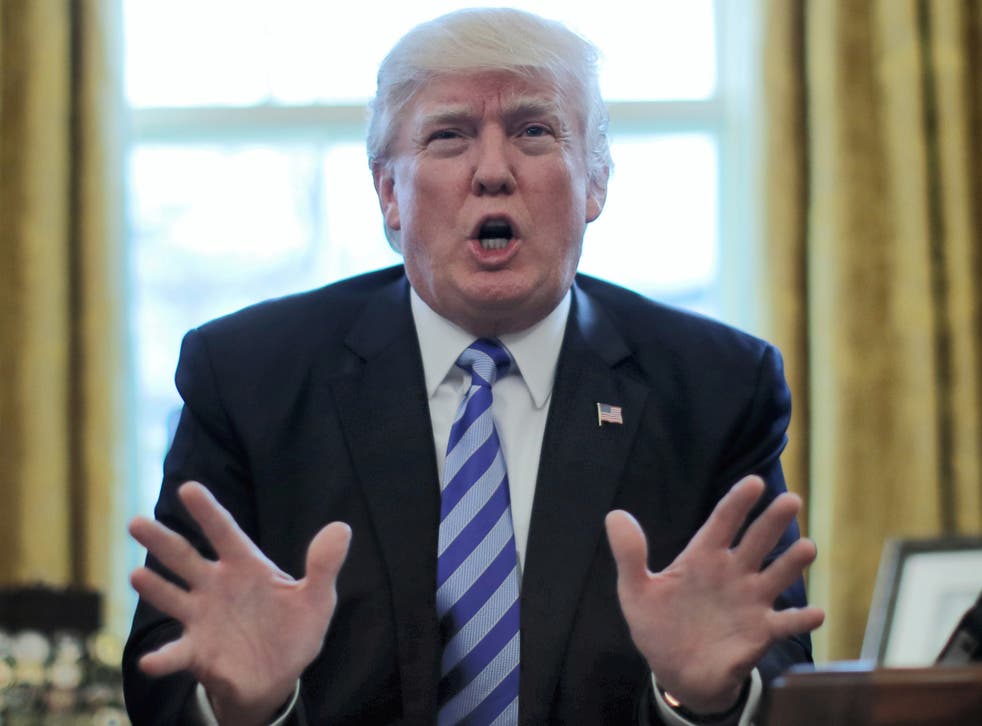 Donald Trump has addressed the failure of the Republican Party's healthcare bill in Congress by saying "Obamacare will explode" and "cease to exist".
The President blamed Democrats' lack of cooperation for having to pull the bill, despite the GOP holding a majority in the House. He said his next priority will be tax reform.
Mr Trump claimed that "I've been saying for the last year and a half that the best thing we can do politically speaking is let Obamacare explode. It's exploding right now."
"When you get no votes from the other side, meaning the Democrats, it's really a difficult situation," he added.
He said: "We will end up with a truly great healthcare bill in the future.
"It will go very smoothly, I really believe, I think this is something that certainly was an interesting period of time. We all learned a lot. We learned a lot about loyalty, we learned a lot about the vote-getting process."
He said he remained confident in Republican House Speaker Paul Ryan, who he said "worked very very hard" on the bill.
Mr Trump added that eventually Democrats would see the error of their ways. He said: "I honestly believe that Democrats will come to us and say, look, let's get together and get a great healthcare bill, or plan, that's really great for the people of our country."
But following the news the bill had been pulled, Democratic senator Bernie Sanders said: "Our job is to improve the Affordable Care Act, not repeal it. Our job is to guarantee health care to all people as a right, not a privilege."
Mr Sanders had been vehement in his opposition to the Republicans' plan. He added: "The bill's defeat shows Americans won't accept huge tax breaks for billionaires while 24 million people are kicked off health insurance.
And House minority leader Nancy Pelosi said: "Today is a great day for our country. What happened on the floor is a victory for the American people. For our seniors, for people with disabilities, for our children."
Asked whether he felt betrayed by the Freedom Caucus, the group of Republican lawmakers who opposed his healthcare plan, Mr Trump said: "I'm not betrayed. They're friends of mine. I'm disappointed. I'm a little surprised, to be honest with you. It was pretty much there within grasp."
Among the group's objections was the "essential health benefits" clause of the bill.
It said that requiring insurance companies to cover a list of items—including, but not limited to, access to mental health services, substance abuse counselling, physical therapy, maternal care and paediatric care like vaccinations—would raise premiums.
The American Health Care Act, Mr Trump and Mr Ryan's proposed plan, would have left 24 million people uninsured by 2026 according to an analysis by the Congressional Budget Office (CBO).
The CBO also said that while it would have saved the government money, people's insurance premiums would have risen by between 15 and 20 per cent above the expected increase under Obamacare.
Register for free to continue reading
Registration is a free and easy way to support our truly independent journalism
By registering, you will also enjoy limited access to Premium articles, exclusive newsletters, commenting, and virtual events with our leading journalists
Already have an account? sign in
Register for free to continue reading
Registration is a free and easy way to support our truly independent journalism
By registering, you will also enjoy limited access to Premium articles, exclusive newsletters, commenting, and virtual events with our leading journalists
Already have an account? sign in
Join our new commenting forum
Join thought-provoking conversations, follow other Independent readers and see their replies