Donald Trump's recklessness 'could start third World War', senior Republican senator warns
Former Trump backer Bob Corker says every day at White House is 'a situation of trying to contain him'
Will Worley
Monday 09 October 2017 09:37 Comments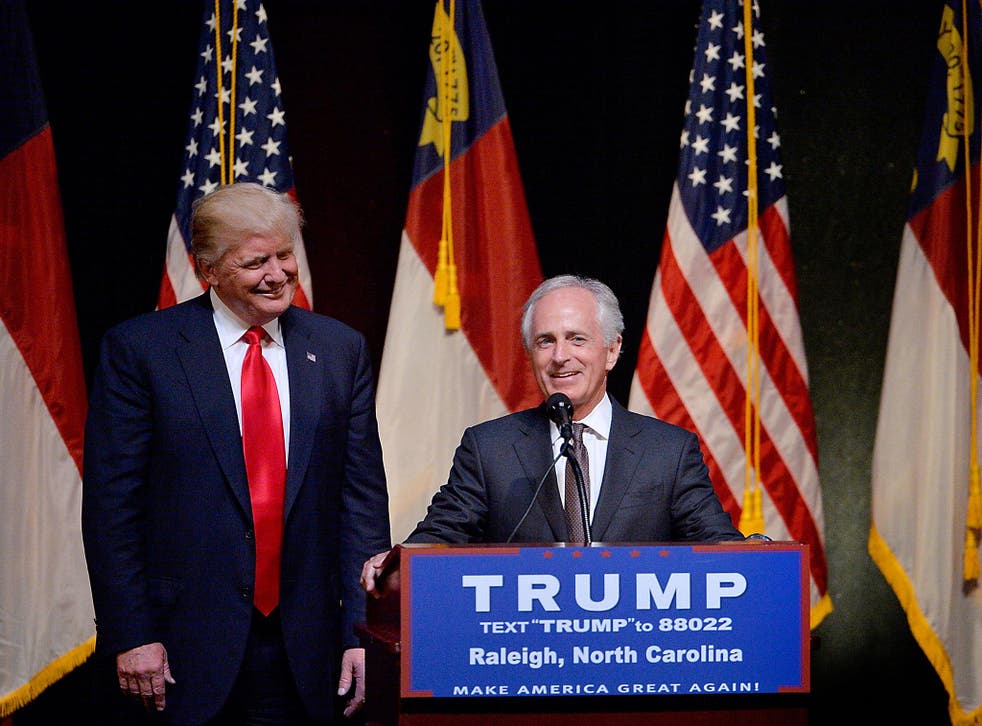 Donald Trump's recklessness could set the world on course for World War III, a former ally and senior Republican party figure has warned in an extraordinary intervention.
Tennessee senator Bob Corker said the President acted "like he's doing 'The Apprentice' or something" while leading the country.
The pair have engaged in a public spat in recent days but Mr Corker's latest comments are some of the most critical yet from a serving Republican politician.
"He concerns me," Mr Corker told the New York Times. "He would have to concern anyone who cares about our nation."
The senator said his actions could put the US "on the path to World War III".
His comments came after he compared the White House to an "adult day care centre" on Twitter, a claim he then doubled down on in the newspaper interview.
"I know for a fact that every single day at the White House, it's a situation of trying to contain him," Mr Corker told the Times, referring to Mr Trump.
The war of words was all the more stark because of how close the two men were just a year ago.
Mr Corker was a national security adviser to Mr Trump during the 2016 presidential campaign and featured on Mr Trump's shortlists last year for both Vice President and Secretary of State.
Trump standing with military leaders: "This is the calm before the storm"
But Mr Corker has since turned on the man he supported as the Republican candidate in 2016, including criticising Mr Trump's response to the white supremacist demonstration in Charlottesville, Virginia, in August.
Mr Corker, who is chairman of the Senate Committee on Foreign Relations, was asked about the most pressing current diplomatic issue for the US.
He dismissed the idea that the President could be using provocative comments about North Korea to advance US negotiations, being conducted by Secretary of State Rex Tillerson, by playing "bad cop" to the top diplomat's "good cop" efforts to broker a deal with Pyongyang.
"He's hurt us as it relates to negotiations that were under way by tweeting things out," Mr Corker said. "A lot of people think that there is some kind of 'good cop, bad cop' act under way, but that's just not true."
The senator also said he believed the majority of other Republican politicians – many of whom have refused to publicly criticise Mr Trump – shared his views on the volatile President.
World news in pictures

Show all 50
"Except for a few people, the vast majority of our caucus understands what we're dealing with here," he said. "Of course they understand the volatility that we're dealing with and the tremendous amount of work that it takes by people around him to keep him in the middle of the road."
Mr Corker also expressed exasperation with the President's use of social media - something he has been on the receiving end of in recent days.
"I don't know why the President tweets out things that are not true," he said. "You know he does it, everyone knows he does it, but he does."
Register for free to continue reading
Registration is a free and easy way to support our truly independent journalism
By registering, you will also enjoy limited access to Premium articles, exclusive newsletters, commenting, and virtual events with our leading journalists
Already have an account? sign in
Join our new commenting forum
Join thought-provoking conversations, follow other Independent readers and see their replies