Trump's White House has 'become an adult day care center', Republican senator Bob Corker says in extraordinary response to President's attack
'Someone obviously missed their shift this morning,' Bob Corker tweets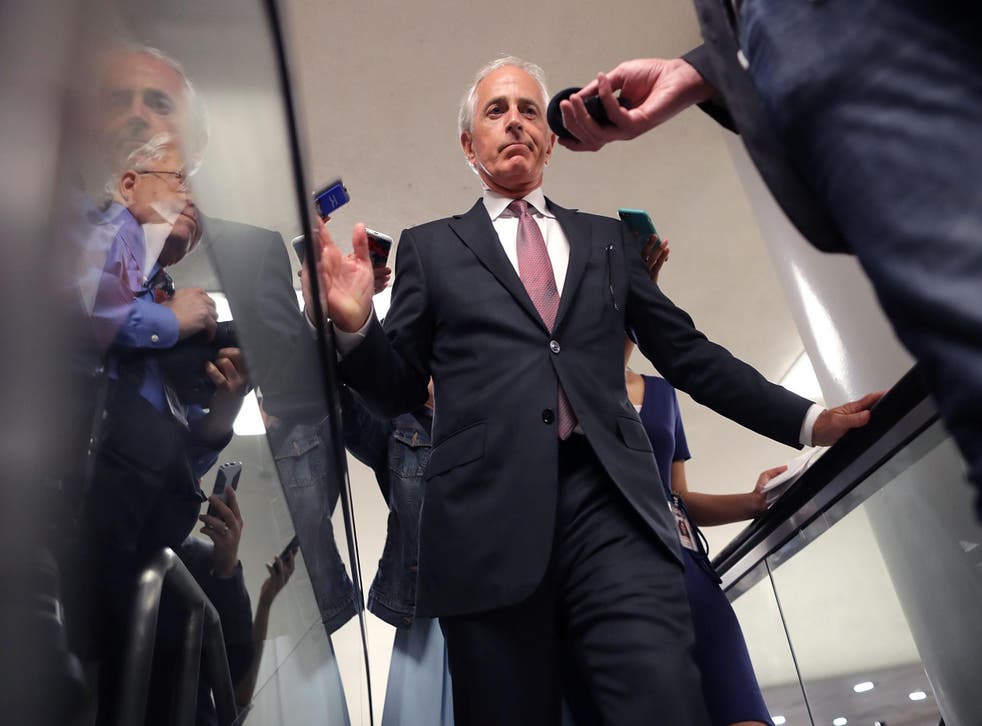 Republican Senator Bob Corker has likened Donald Trump's White House to "an adult day care centre", in an extraordinary response after the President's attack on him.
"It's a shame the White House has become an adult day care centre," Mr Corker tweeted. "Someone obviously missed their shift this morning."
Earlier that day, Mr Trump had issued a series of tweets disparaging the Senator, who announced last month that he would not seek re-election in 2018.
"Senator Bob Corker 'begged' me to endorse him for re-election in Tennessee. I said 'NO' and he dropped out," the President tweeted, adding that he had rejected the Senator's request to be Secretary of State.
He continued: "Hence, I would fully expect Corker to be a negative voice and stand in the way of our great agenda. Didn't have the guts to run!"
Donald Trump's least presidential moments so far...

Show all 30
Mr Corker, the head of the chairman of the Senate Foreign Relations committee, has been critical of the President in the past.
In August, he told an audience in his home state of Tennessee that Mr Trump "has not yet been able to demonstrate the stability, nor some of the competence, that he needs to demonstrate in order for him to be successful". He was also highly critical of the President's response to a white supremacist rally in Charlottesville, Virginia.
Just last week, Mr Corker said Secretary of State Rex Tillerson, Defence Secretary James Mattis and chief of staff John Kelly were the only people protecting the country from "chaos".
Bob Corker: Kelly, Tillerson & Mattis are the people that "separate our country from chaos"
Despite the public war of words, however, reports claim Mr Trump has been encouraging the senior Republican to run again. The two held a private meeting last month where Mr Trump pushed him to run, according to the Associated Press.
But a prominent, anti-establishment Republican has since announced she will run for Mr Corker's seat in 2018 – and has highlighted her support for Mr Trump.
"I'm a hardcore, card-carrying Tennessee conservative. I'm politically incorrect and proud of it," said Tennessee Representative Marsha Blackburn in her first campaign video. "...Too many Senate Republicans act like Democrats or worse. And that's what we have to change."
Former Republican Representative Stephen Fincher, and even former football star Peyton Manning, may also be considering a run for the seat, according to CNN.
Tennessee, a reliably Republican state, went for Mr Trump by 61 per cent in the 2016 election. Mr Corker last secured his seat in 2012, with almost 65 per cent of the vote.
Register for free to continue reading
Registration is a free and easy way to support our truly independent journalism
By registering, you will also enjoy limited access to Premium articles, exclusive newsletters, commenting, and virtual events with our leading journalists
Already have an account? sign in
Register for free to continue reading
Registration is a free and easy way to support our truly independent journalism
By registering, you will also enjoy limited access to Premium articles, exclusive newsletters, commenting, and virtual events with our leading journalists
Already have an account? sign in
Join our new commenting forum
Join thought-provoking conversations, follow other Independent readers and see their replies