Donald Trump refuses to release his tax returns - the first candidate not to do so since 1976
Mr Trump's critics have seized on his decision
Andrew Buncombe
New York
Wednesday 11 May 2016 20:04 Comments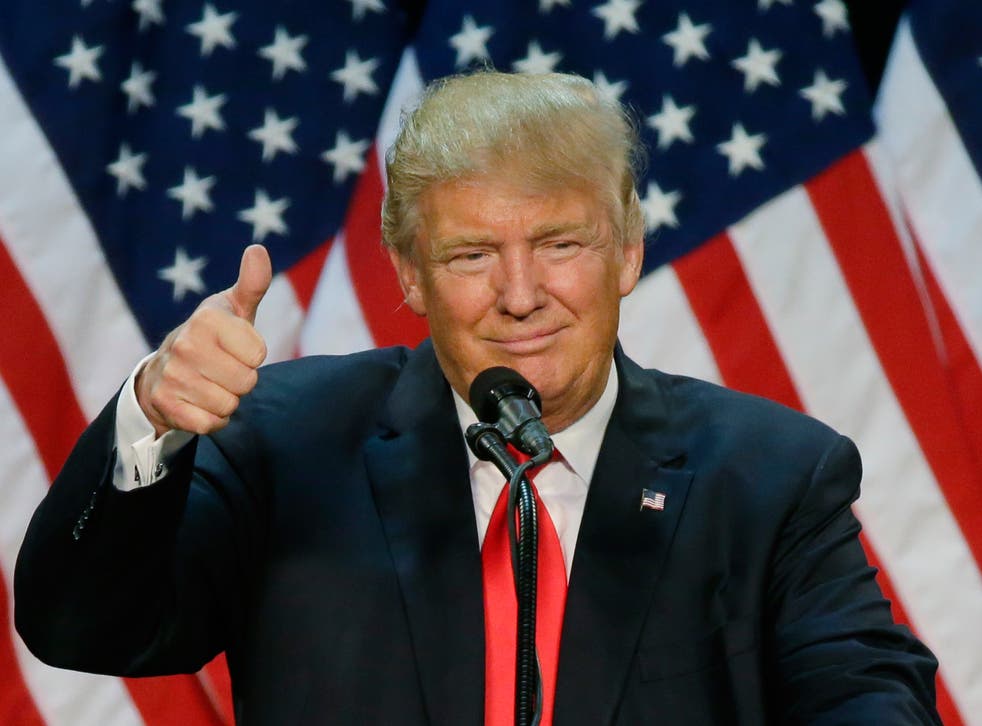 Donald Trump has sparked fresh controversy by declaring he will not release his tax returns - making him the first major party presidential candidate to refuse to do so in four decades.
The presumptive Republican candidate said he did not intend to make public the information ahead of November's election and said he did not believe voters were interested in what details it may contain.
"There's nothing to learn from them," Mr Trump told the Associated Press.
The release of tax returns is not a legal requirement for by presidential candidates, but there is a lengthy tradition of the parties nominees releasing the information that details their earnings, charitable donations and taxes paid.
Joseph Thorndike of the Tax History Project, said Mr Trump would be the first major candidate since 1976 to not make any of his full returns public. President Gerald Ford released a tax summary that year, but not his full records.
"I think 40 years of tradition carries real moral and ethical weight," Mr Thorndike said. "It is quite striking that a major candidate would decide not to release their tax information, especially someone with an admittedly complex tax situation."
Donald Trump: What are his actual policies?
During the primary battle, Mr Trump promised that he would release his tax information but said he was unable to do so immediately because he was being audited by the Internal Revenue Service, and that his lawyers advised him against it. Mr Trump has also explained that he cannot release returns from previous years because the government audits him almost every year.
Mr Trump told the news agency that he would release the information once the IRS audit ends, but said if it was not completed by election day, he would not simply release them.
The financial disclosure Mr Trump gave to the Federal Election Commission last summer that he was worth $10bn, but it was inexact and incomplete.
Former Republican presidential candidate Mitt Romney released his tax returns in 2012 and urged Mr Trump to do so this year, suggesting that he may be reluctant to do so because he was either not as wealthy as he claimed or else had not been paying "the kind of taxes we would expect him to pay."
Democratic frontrunner Hillary Clinton has released over 20 years of her joint returns with former President Bill Clinton, dating from 1992 up until 2014, and Bernie Sanders released his 2014 tax return in April.
In a speech at a rally in New Jersey on Wednesday, Mr Clinton seized on Mr Trump's refusal to release his returns.
"You've got to ask yourself, why doesn't he want to release it?" she said. "We're going to find out."
Register for free to continue reading
Registration is a free and easy way to support our truly independent journalism
By registering, you will also enjoy limited access to Premium articles, exclusive newsletters, commenting, and virtual events with our leading journalists
Already have an account? sign in
Join our new commenting forum
Join thought-provoking conversations, follow other Independent readers and see their replies