Atheist organisation files lawsuit against Donald Trump's 'Religious Liberty' executive order
A group from the Midwest claims the president is breaching the constitution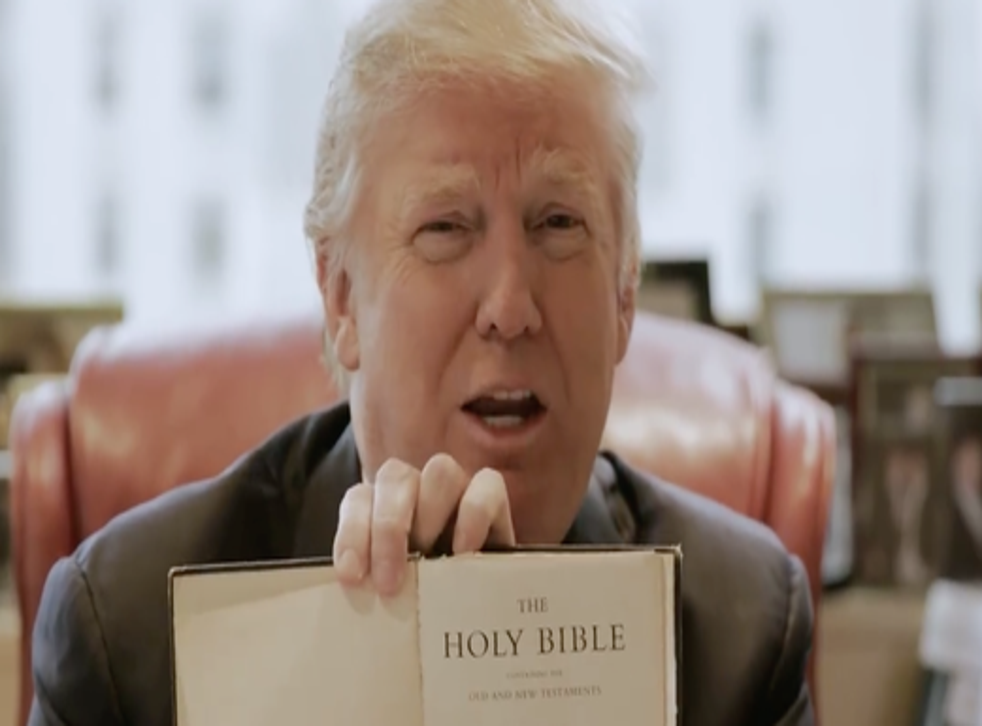 The Godless are trying to take down Donald Trump.
A organisation of atheists from Wisconsin has filed a lawsuit challenging the president's so-called "religious liberty" order, claiming his move to allow religious groups to preach politics from the pulpit is in breach of the constitution.
The Freedom from Religion Foundation (FFRF), established in 1978, said recent comments by Mr Trump were a clear attempt to roll-back the provisions of the Johnson Amendment, a 1954 law that prohibits all tax-exempt institutions from campaigning for political candidates.
The group cited the president's comments when he signed a recent executive order that directed the US's Internal Revenue Service (IRS), not to target churches.
"Now [you're] in a position to say what you want to say. I know you'll only say good," he said to an audience of religious leaders gathered in the White House's Rose Garden.
"Freedom is not a gift from government, it's a gift from God."
The atheist group said that his actions would would selectively benefit churches and religious organisations by allowing them to endorse political candidates without risking losing their tax-exempt status.
Obama takes dig at Trump during award acceptance speech: 'We need courage to stand up to hate'
Annie Laurie Gaylor, an executive director with the FFRF, said Mr Trump was seeking to use this order to "usher in a new era" of church politicking.
"Trump is communicating to churches that his administration will not enforce the Johnson Amendment," said Ms Gaylor. "The IRS needs clear direction that it must enforce the law equally."
Mr Trump's views on religion have been fluid, both when he was a presidential candidate and now as the country's leader.
While campaigning during the Iowa primaries he famously appeared confused on how to behave when he attended a communion service at a neighbourhood church.
However, he has worked hard to court the support of religious conservatives and evangelicals.
The controversial orders Donald Trump has already issued

Show all 9
Jerry Falwell Jr, the head of Liberty University in Lynchburg, Virginia, was among his early backers. Vice President Mike Pence is also a member of the religious right who has sought their backing.
Two days before the election, Mr Pence appeared in a campaign video aimed a religious conservatives in which he urged people to vote for Mr Trump for two key reasons - his support of a Supreme Court Justice who would defend the "rights of the unborn", and his promise to repeal the Johnson Amendment.
Mr Pence said: "The Johnson Amendment has literally been on the books since the 1950s and it essentially threatens tax-exempt organisations and churches with losing their tax status if they speak out against important issues facing the nation from the pulpit."
The FFRF lawsuit says: "Among its many faults, [Mr Trump's] order requires the IRS to selectively and preferentially discontinue enforcement of the electioneering restrictions of the tax code against churches and religious organisations, while applying a more vigorous enforcement standard to secular non-profits."
Register for free to continue reading
Registration is a free and easy way to support our truly independent journalism
By registering, you will also enjoy limited access to Premium articles, exclusive newsletters, commenting, and virtual events with our leading journalists
Already have an account? sign in
Register for free to continue reading
Registration is a free and easy way to support our truly independent journalism
By registering, you will also enjoy limited access to Premium articles, exclusive newsletters, commenting, and virtual events with our leading journalists
Already have an account? sign in
Join our new commenting forum
Join thought-provoking conversations, follow other Independent readers and see their replies