Donald Trump challenges Rex Tillerson to IQ test amid reports Secretary of State called him a 'moron'
'If he did that, I guess we'll have to compare IQ tests. And I can tell you who is going to win'
Chris Baynes
Tuesday 10 October 2017 13:56 Comments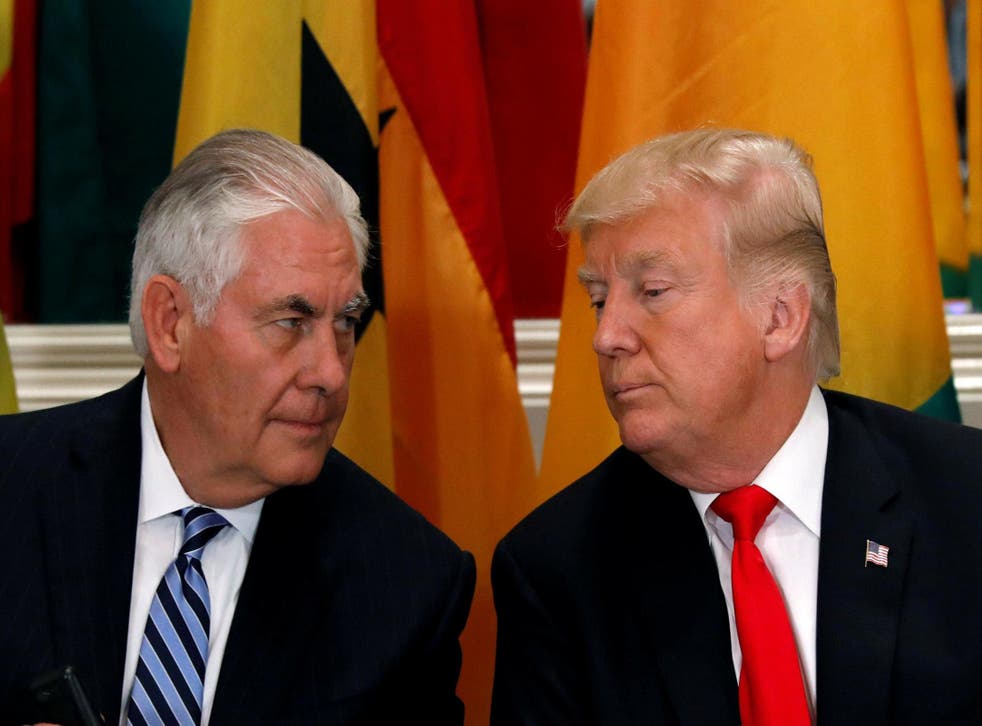 Donald Trump has challenged Rex Tillerson to "compare IQ tests" if the Secretary of State did call him a "moron", as reported.
The president said he believed the reports were "fake news" but boasted he would win in a battle of wits with Mr Tillerson.
The pair's tense relationship burst into public view last week. An NBC News story claimed Vice President Mike Pence had to talk the secretary of state out of resigning this summer and that Mr Tillerson had described the president as a "moron."
Rex Tillerson evades answering whether he called Trump a moron
In an interview with Forbes magazine, Mr Trump said: "I think it's fake news. But if he did that, I guess we'll have to compare IQ tests. And I can tell you who is going to win."
Mr Tillerson, who is scheduled to have lunch with Mr Trump and Defence Secretary Jim Mattis on Tuesday, held a special press conference last week to deny considering quitting. His spokeswoman insisted he had not used the language attributed to him.
Mr Trump also took to Twitter to deny the story last week, writing: "Rex Tillerson never threatened to resign. This is Fake News put out by @NBCNews. Low news and reporting standards. No verification from me."
But he was reportedly left "seething" after footage of him comforting victims of the Las Vegas massacre was overshadowed by the story.
MSNBC anchorwoman Stephanie Ruhle, who broke the story, was later quoted as saying: "My source didn't just say he called him a moron. He said he called him an f***ing moron."
Mr Tillerson was reported to have made the remarks during at meeting with national security officials at the Pentagon after Mr Trump's highly politicised speech - likened by some to a "drunk stepdad" - to the Boy Scouts of America in July.
The Secretary of State once led the Boy Scouts organisation and was said to be unhappy with the president's election victory boasts and political attacks in his address to an audience of thousands of children at the 2017 National Scout Jamboree.
In Thursday's press conference, however, he insisted the reports were "erroneous" and described Mr Trump as "smart".
Pressed of the alleged "moron" comment, the former Exxon chief executive described the story as "misreported... petty nonsense" meant to divide the Trump administration.
Donald Trump's presidency 'could be doomed'
The president and his secretary of state have not always seen eye to eye. Earlier this month, Mr Trump said Mr Tillerson was "wasting his time trying to negotiate" with North Korea amid escalating fears of nuclear war.
"Save your energy Rex, we'll do what has to be done," he wrote on Twitter.
Register for free to continue reading
Registration is a free and easy way to support our truly independent journalism
By registering, you will also enjoy limited access to Premium articles, exclusive newsletters, commenting, and virtual events with our leading journalists
Already have an account? sign in
Join our new commenting forum
Join thought-provoking conversations, follow other Independent readers and see their replies