North Korea's Foreign Minister says he 'feels sorry' for Donald Trump's aides
Threats from US leader compared to 'a dog barking', by Ri Yong-ho
Jeremy B. White
San Francisco
Thursday 21 September 2017 01:23 Comments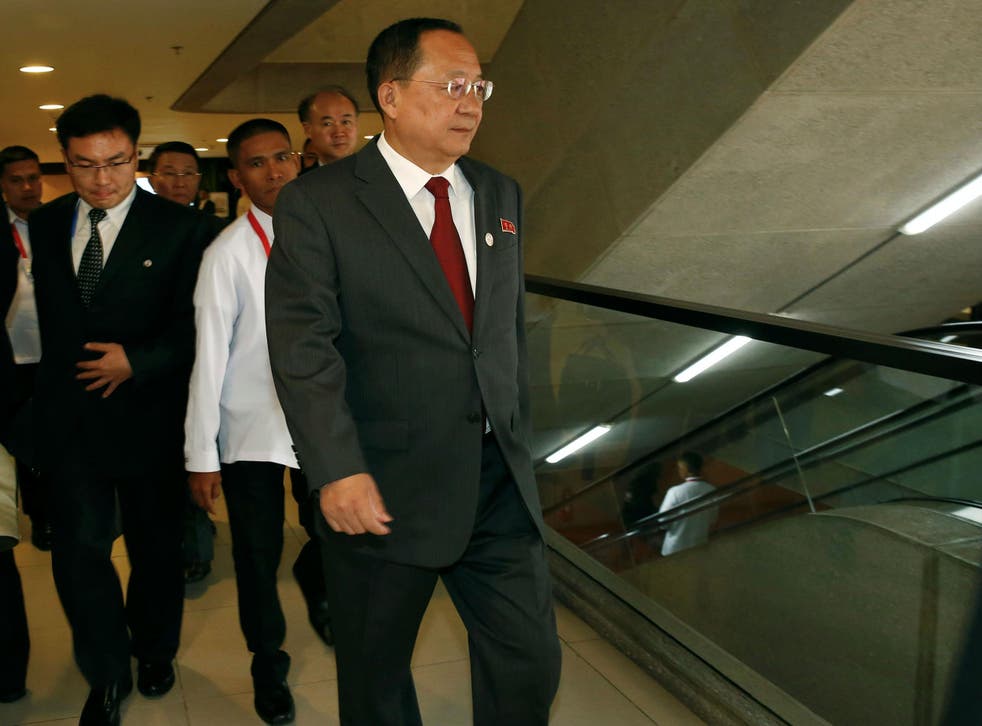 North Korea's foreign minister has said he feels "sorry" for Donald Trump's aides.
Speaking on the sides of the United Nations general assembly in New York, Ri Yong-ho also compared the US President's threats against his country as the equivalent of a "dog barking".
His comments followed Mr Trump's description of North Korea's leader Kim Jong-un as a "Rocket Man on a suicide mission".
After first using the name in a tweet, Mr Trump invoked it again during his first speech to the United Nations General Assembly.
The US leader's description was backed by members of his administrations including his National Security Adviser HR McMaster, who said the title made sense, because North Korea is "where the rockets are coming from".
America's ambassador to the United Nations, Nikki Haley, said the nickname "worked" because other countries now use it.
But Mr Ri had a different take.
"I feel sorry for his aides", he said, according to South Korea's Yonhap News agency.
Kim Jong-un inspects weapon North Korea says is powerful hydrogen bomb

Show all 6
He added: "If he was thinking he could scare us with the sound of a dog barking, that's really a dog dream."
North Korea has stepped up its testing of intercontinental ballistic missiles over the past year. Earlier this month, the secretive communist state said it had successfully detonated a hydrogen bomb in its sixth nuclear test.
It has regularly taunted the American president as the two nations engage in an escalating war of words over the north's nuclear-powered defiance, referring to Mr Trump in August as "bereft of reason".
Register for free to continue reading
Registration is a free and easy way to support our truly independent journalism
By registering, you will also enjoy limited access to Premium articles, exclusive newsletters, commenting, and virtual events with our leading journalists
Already have an account? sign in
Register for free to continue reading
Registration is a free and easy way to support our truly independent journalism
By registering, you will also enjoy limited access to Premium articles, exclusive newsletters, commenting, and virtual events with our leading journalists
Already have an account? sign in
Join our new commenting forum
Join thought-provoking conversations, follow other Independent readers and see their replies