Donald Trump engages disgraced former Fox chief Roger Ailes as debate coach
Role inside Trump campaign may widen beyond debate focus
David Usborne
New York
Tuesday 16 August 2016 18:02 Comments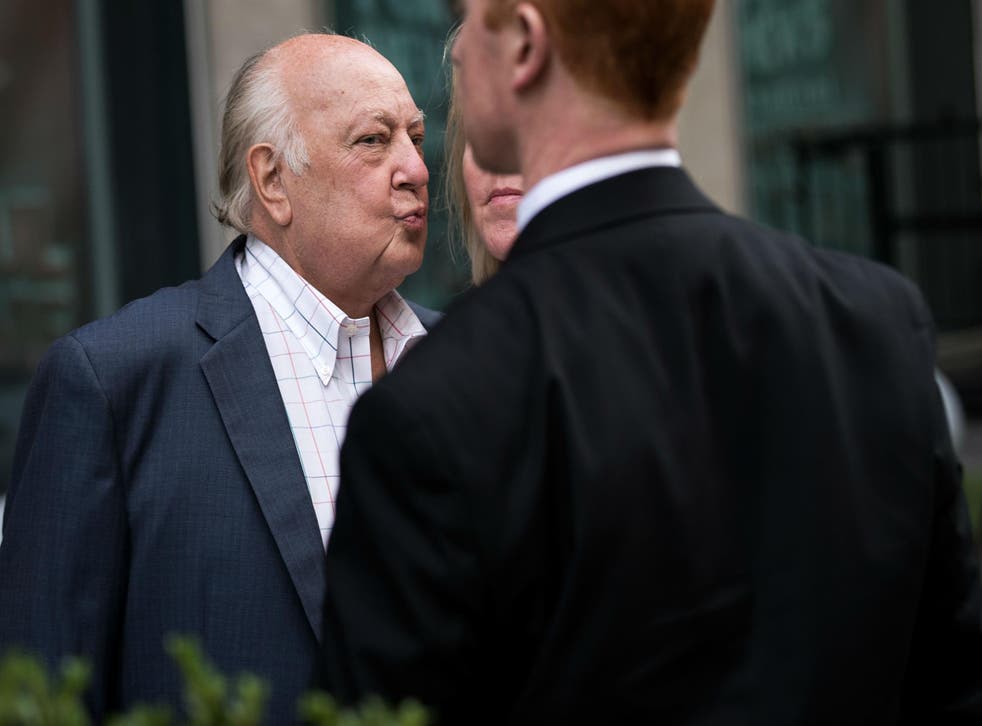 Roger Ailes, the long-serving chief and founder of the Fox News channel who was forced out of his job last month after being hit with sexual harassment charges, has re-emerged as a key advisor to Donald Trump, the New York Times has reported.
The engagement of Mr Ailes is a potential political risk for Mr Trump because of the circumstances of his departure from the cable channel that is owned by Rupert Murdoch, who agreed to pay him $40m (£31m) in return for his leaving his once all-powerful perch at Fox.
The Republican nominee is already burdened by low approval ratings from female voters, some of whom are put off by unappealing stories of his own dealings with women. His wife Melania Trump gave a speech at the Republican Convention offering a softer side of her husband, but it was overshadowed by evidence that parts of it had been lifted from an address given by Michelle Obama at the Democratic Convention in 2008.
Citing several unidentified sources, the New York Times said that Mr Ailes would first and foremost coach Mr Trump ahead of the vitally important presidential debates with Hillary Clinton. The first of the three planned encounters will be at Hofstra University on Long Island on 26 September.
The Trump campaign later on Tuesday issued a denial of the reports. "He is not advising Mr Trump or helping with debate prep. They are longtime friends, but he has no formal or informal role in the campaign," said Hope Hicks, the campaign spokeswoman.
If it proves he is assisting Mr Trump, there was no indication as to whether Mr Ailes's responsibilities could widen in time or indeed if he is being paid for his services or even has an official title within the Trump campaign.
That he may have squeezed through the Trump revolving doors is hardly a surprise, however. The two men have been friends for years. On top of that, Mr Ailes has a long, feared record of presidential campaign consulting that predates his long stint as circus-master at Fox News.
He rose to prominence advising Richard Nixon on his 1968 presidential campaign, giving him tips on softening his less than cuddly image at the time. And he served in the capacity as debate coach both for Ronald Reagan when he was up against Democrat Walter Mondale in 1984 and George HW Bush in his contest with Michael Dukakis in 1988.
Mr Ailes, who is 76, first started to come unstuck at Fox News when a former anchor Gretchen Carlson filed a sexual harassment lawsuit against him in early July. The allegations soon triggered a wider internal review by Fox management into his stewardship of the channel. He resigned on 21 July and Mr Murdoch succeeded him as the channel's chairman.
In spite of their friendship, tensions boiled up between Mr Trump and Mr Ailes during the primary campaign after the nominee complained he had been unfairly treated by Fox anchor Megyn Kelly at a first debate between Republican candidates in Cleveland in 2015. He subsequently refused to show up at a debate hosted by Fox in Iowa earlier this year.
Register for free to continue reading
Registration is a free and easy way to support our truly independent journalism
By registering, you will also enjoy limited access to Premium articles, exclusive newsletters, commenting, and virtual events with our leading journalists
Already have an account? sign in
Join our new commenting forum
Join thought-provoking conversations, follow other Independent readers and see their replies