Donald Trump urged to hire experienced outside counsel for Russia probe by White House aides
The President has made use of number of lawyers during his career
Andrew Buncombe
New York Comments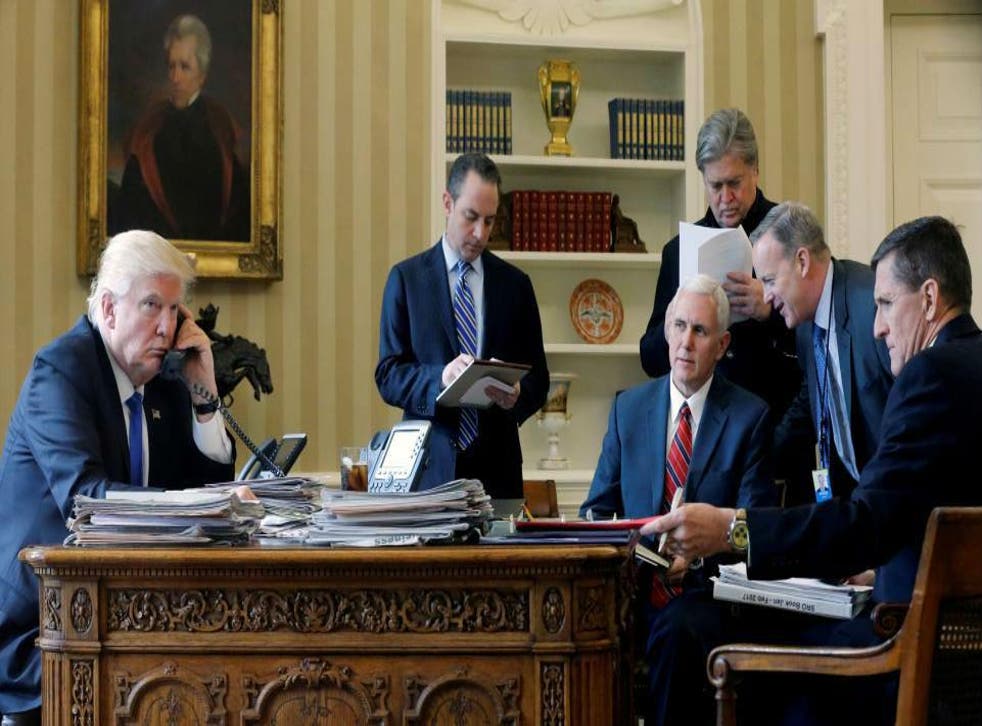 Donald Trump has reportedly been advised to hire an experienced outside lawyer as the controversy over his alleged links to Moscow continues to grow and reverberate.
Following the news that the Department of Justice had appointed a special counsel, former FBI Director Robert Mueller, to lead a probe into the alleged connections, the president has been told he may benefit from retained additional lawyers to those whose services he has already made use of.
Advisers and personal associates of Mr Trump have been increasingly concerned since details have emerged of conversations he had with James Comey, the FBI Director, in which he purportedly asked for Mr Comey's loyalty and suggested he drop an ongoing investigation into his former national security advisor, Michael Flynn.
"Mr Trump has signalled he is likely to hire a new lawyer, but has not yet made a decision, according to three people who have spoken with him," the New York Times reported.
Mr Trump has dismissed claims that his campaign colluded with Russia to allegedly interfere with the 2016 election to benefit him.
Trump denies that he urged Comey to close Flynn investigation
In addition to the FBI that was being led by Mr Comey, several congressional committees are investigating Russia's alleged effort to cyber-meddle in the election and whether members of Mr Trump's campaign.
World news in pictures

Show all 50
Mr Trump has said he fired Mr James Comey as FBI Director because he was "unpopular". "Director Comey was very unpopular with most people," Mr Trump claimed, during a press conference with the Colombian president.
"Look at all the people on the Democratic side, not only the Republican side, who were saying such terrible things about Director Comey."
He also claimed that he was the victim of a political "witch hunt".
Speaking of the decision by the Department of Justice to appoint Robert Mueller as a special prosecutor, he said: "I respect the move. But the entire thing has been a witch hunt."
He added: "And there is no collusion between, certainly, myself and my campaign, but I can always speak for myself, and the Russians. Zero."
Register for free to continue reading
Registration is a free and easy way to support our truly independent journalism
By registering, you will also enjoy limited access to Premium articles, exclusive newsletters, commenting, and virtual events with our leading journalists
Already have an account? sign in
Join our new commenting forum
Join thought-provoking conversations, follow other Independent readers and see their replies