Republicans adopted pro-Russia stance on Ukraine as Trump officials met with Russian ambassador
Mr Trump is at the centre of fresh controversy over alleged links to Moscow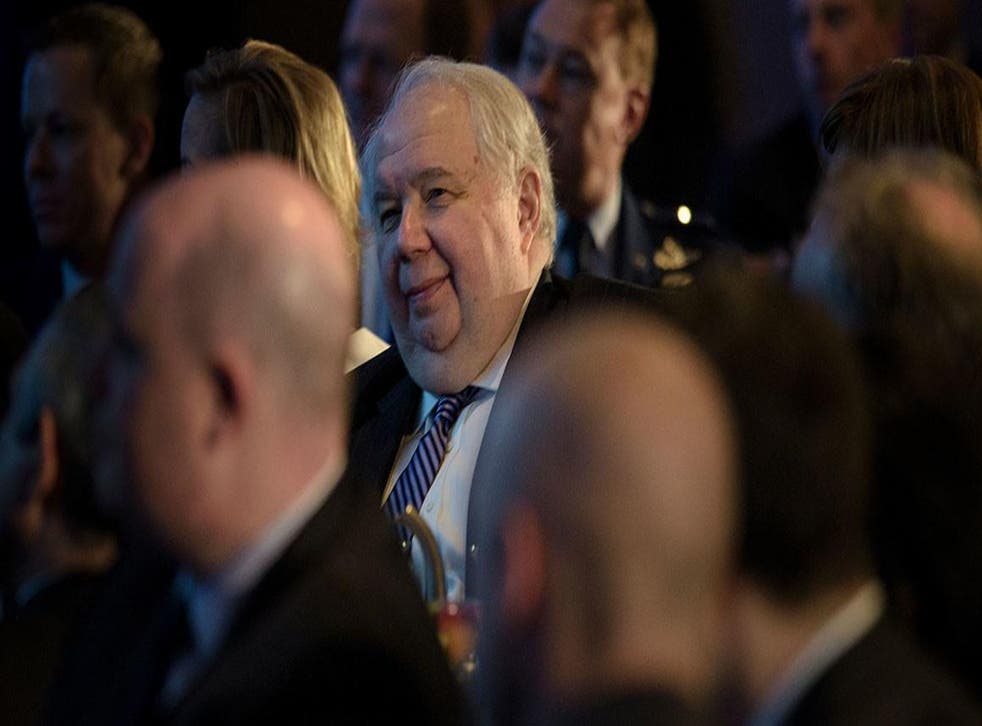 Donald Trump appears to have pushed for the Republicans to adopt a pro-Moscow policy over Ukraine just as his senior aides were meeting with Russia's US Ambassador.
At the Republican National Convention last summer, the party agreed to insert language into its platform that opposed arming or providing Ukraine with weapons to take on pro-Russian rebels. At the time, Mr Trump told an interviewer he "wasn't involved in it".
But now, a former adviser to Mr Trump has revealed that the push to change the platform came after the direct intervention of the New York tycoon. Mr Trump had hinted as to his views on Ukraine during a speech in the spring of 2016, where the Russian Ambassador, Sergey Kislyak, was among the guests.
CNN said that a Republican advisor, JD Gordon, had said the move to push the change in the party's policy was to make it align with Mr Trump's personal views.
Mr Gordon previously said that he did not speak publicly at the GOP national security sub-committee meeting, where the amendment was discussed. Originally the policy called for "providing lethal defence weapons" to the Ukrainian army to fend off Russian-backed rebels. It was changed to "providing appropriate assistance" to Ukraine.
The broadcaster said that Mr Gordon had now revealed that he and others "advocated for the GOP platform to include language against arming Ukrainians against pro-Russian rebels because this was in line with Trump's views."
"Gordon says Trump said at the meeting…that he didn't want to go to World War Three over Ukraine," CNN said.
Trump says he still has 'total' confidence in Jeff Sessions
Mr Gordon also confirmed that he and another policy advisor to Mr Trump, Carter Page, met Mr Kislyak at the Republican National Convention (RNC) in Cleveland last July. Mr Gordon did not respond to inquiries on Friday.
The development comes as Mr Trump's administration is facing further scrutiny over its alleged links to Russia.
This week, Mr Trump's Attorney General was forced to recuse himself from overseeing the federal inquiry into Russsia's alleged interference in the US election and its possible links to members of Mr Triump's team, after it emerged he had twice met with Mr Kislyak. He had previously told senators while under oath that he had never done so. One of the meeting was at the RNC.
It also emerged that two other senior members of Mr Trump's team, former general Mike Flynn and policy adviser Jared Kushner, had met Mr Kislyak in December to establish initial contacts with the Russian government. Mr Flynn was in January forced to resign as his national security adviser after he lied about a conversation he had with Mr Kislyak - prior to Mr Trump's taking office - at which the issue of sanctions was discussed.
Trump denies involvement in softening the GOP stance on Ukraine
Mr Trump has never hidden his wish to try and reset the US-Russia relationship.
At the speech he delivered at Washington DC's Mayflower Hotel in April, Mr Trump said: "I believe an easing of tensions and improved relations with Russia- from a position of strength only - is possible, absolutely possible. Some say the Russians won't be reasonable. I intend to find out."
Yet after the Republican position on Ukraine was changed that summer, Mr Trump he claimed he had nothing to do with it.
"I wasn't involved in that," Mr Trump said in an interview with ABC. "Honestly, I was not involved."
Several investigations are underway into Russia's alleged interference in the 2016 election - an operation supposedly undertaken to benefit Mr Trump. Mr Trump has repeatedly denied that either he or any members of his team have had any contact with Russia, or colluded in anyway in its efforts to influence the election.
An unverified dossier presented to Trump in January by top US intelligence officials alleged that Mr Trump "agreed to sideline" the issue of Russian intervention in Ukraine during his campaign after Russia promised to feed the emails it stole from prominent Democrats' inboxes to WikiLeaks.
Join our new commenting forum
Join thought-provoking conversations, follow other Independent readers and see their replies