Donald Trump's spokeswoman claims Barack Obama 'invaded Afghanistan'
The comments of Katrina Pierson followed Mr Trump assertion earlier in the week that Mr Obama was the 'founder' of Isis
Andrew Buncombe
New York
Saturday 13 August 2016 20:55 Comments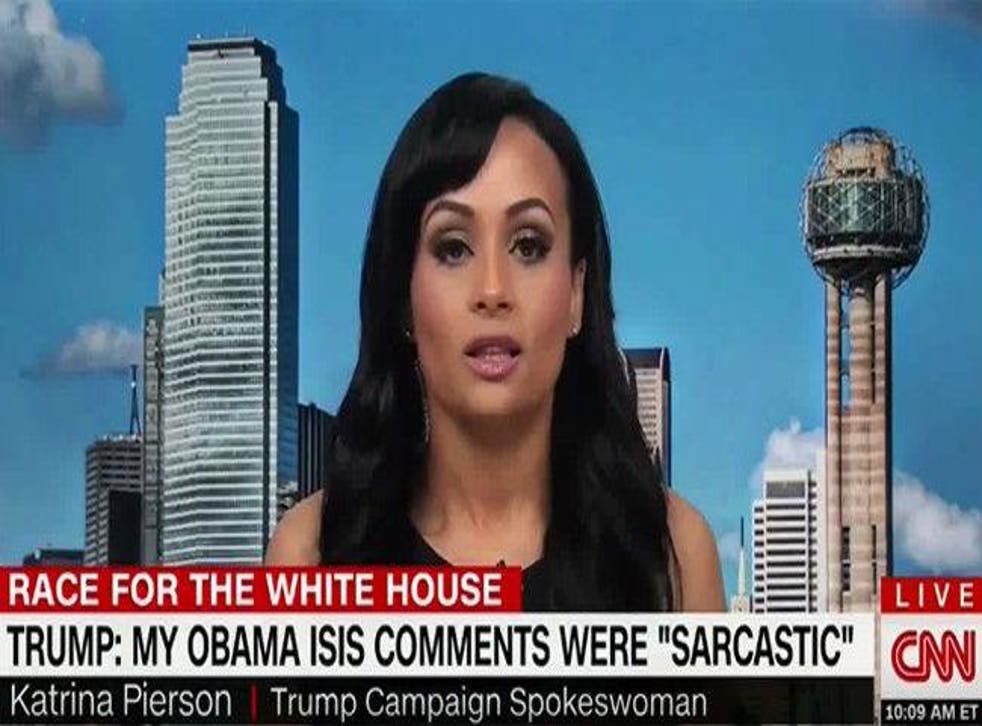 In another piece of historical revision from Donald Trump's campaign, his spokeswoman has claimed that President Barack Obama was responsible for the invasion of Afghanistan.
Spokeswoman Katrina Pierson said on Saturday that Afghanistan was "Obama's war". In truth, the US and UK led the invasion of the country in October 2001 at the direction of President George W Bush and Prime Minister Tony Blair.
Ms Pierson, who is Mr Trump's national spokeswoman, was talking on CNN about Mr Trump's shifting views on whether or not Mr Obama was the "founder" of Isis - a claim he made earlier this week.
"If you want to go way back, we can look at the troop surge. And after 2007, Al-Qaeda was essentially in ashes," she said.
"It was Barack Obama and Hillary Clinton who then destroyed the entire rollout by wanting to pull out early, announcing their plan, ignoring intelligence."
She said: "Remember, we weren't even in Afghanistan by this time. Barack Obama went into Afghanistan creating another problem. It was Hillary Clinton in Libya which was also a reckless decision to create that vacuum. They armed the rebels and they're even funding them now."
The Clinton campaign speculates why Trump has not released his taxes
Her interviewer sough to clarify the comment. "So you're saying Barack Obama took the country into Afghanistan post-2009. Is that what you're saying?" Ms Pierson was asked.
She replied: "What I'm saying is - the policies of Barack Obama and Hillary Clinton…That was Obama's war, yes."
The comments come days after Mr Trump claimed that Mr Obama was the founder of Isis.
"In many respects, you know, they honour President Obama," Mr Trump told a crowd in Florida on Wednesday night. "He's the founder of Isis. He's the founder of Isis. He's the founder. He founded Isis."
The next day he agains attacked the media and said that he been sarcastic when he made the remark and was surprised the media had not understood this. Mr Trump has previously said that he was being sarcastic when he suggested Russia should hack into Hillary Clinton's email.

Register for free to continue reading
Registration is a free and easy way to support our truly independent journalism
By registering, you will also enjoy limited access to Premium articles, exclusive newsletters, commenting, and virtual events with our leading journalists
Already have an account? sign in
Join our new commenting forum
Join thought-provoking conversations, follow other Independent readers and see their replies