Donald Trump refuses to rule out sacking Attorney General Jeff Sessions if he will not investigate his political opponents
'They should be looking at a lot of things, and a lot of people are disappointed with the Justice Department,' says President as aides warn not to take him seriously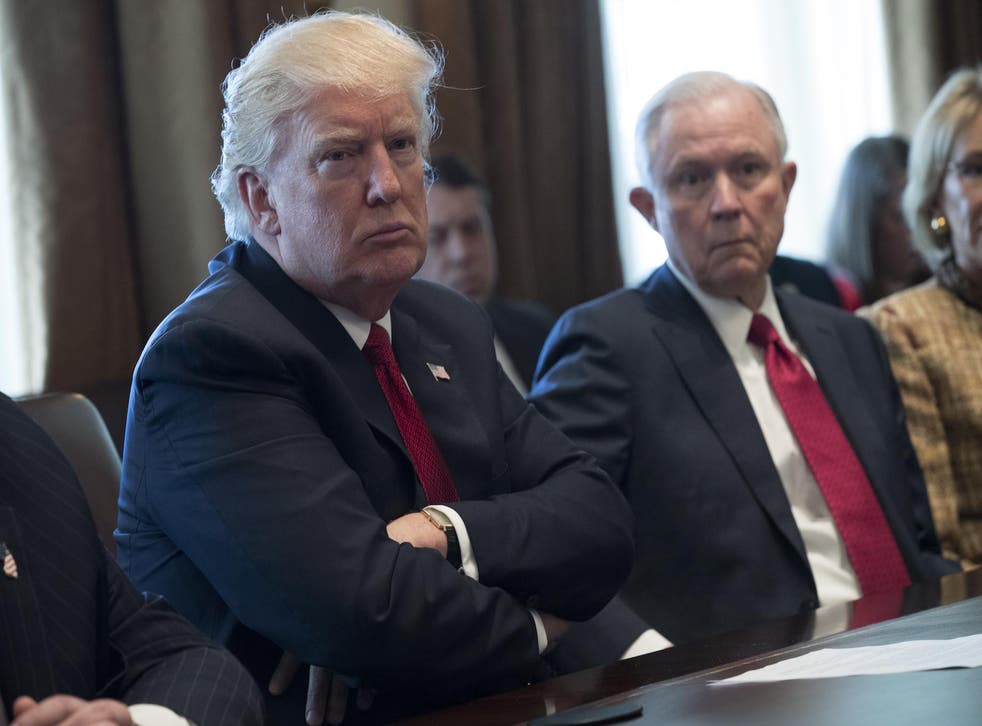 Donald Trump has refused to rule out sacking his attorney general if he decides not to investigate Democratic politicians.
As he embarked on a 12-day tour of the Asia Pacific region, Mr Trump hit out at Jeff Sessions and said he was "disappointed" the former Alabama senator was not probing alleged "dishonesty" among his political rivals.
He told ABC that "I don't know" what he would do if Mr Sessions did not pursue Hillary Clinton, who he continues to call "Crooked Hillary".
"I'm not really involved with the Justice Department," he said. "I'd like to let it run itself. But honestly, they should be looking at Democrats ... They should be looking at a lot of things, and a lot of people are disappointed with the Justice Department, including me."
In later tweets, the President referenced recent claims about a back-room deal between Hillary Clinton's campaign and the Democratic National Committee (DNC), that gave the eventual presidential nominee some say in staff hiring and canvassing in return for $1.2m (£918,000).
Most controversially, the deal, revealed in an excerpt of a new book by former acting DNC chair Donna Brazile, was done before Ms Clinton won the party's nomination as its candidate in the 2016 election.
Written into it was a clause that "nothing in this agreement shall be construed to violate the DNC's obligation of impartiality and neutrality through the nominating process".
Donald Trump's least presidential moments so far...

Show all 30
Mr Trump tweeted: "The real story on Collusion is in Donna B's new book. Crooked Hillary bought the DNC & then stole the Democratic Primary from Crazy Bernie!
"People are angry. At some point the Justice Department, and the FBI, must do what is right and proper. The American public deserves it!
"Everybody is asking why the Justice Department (and FBI) isn't looking into all of the dishonesty going on with Crooked Hillary & the Dems."
Donald Trump says 'Im the only one who matters'
Two White House officials quickly cautioned against reading too much into Mr Trump's comments, reiterating that he has no plans to fire Mr Sessions.
And although the White House maintains that Mr Trump's tweets are an "official record", it says Trump has not ordered Sessions or the FBI to do anything related to Democrats.
Republican senator Bob Corker, who has been an outspoken critic of the President, said that "like me, most Americans hope that our justice system is independent and free of political interference".
He added: "President Trump's pressuring of the Justice Department and FBI to pursue cases against his adversaries and calling for punishment before trials take place are totally inappropriate and not only undermine our justice system but erode the American people's confidence in our institutions."
White House aides said the tweets were a way to deflect attention from the investigation by special counsel Robert Mueller into Russian meddling in the 2016 election.
This week, former Trump campaign chairman Paul Manafort and his business associate Rick Gates, who also had a role in the campaign, were indicted on 12 counts, and former Trump campaign adviser George Papadopoulos pleaded guilty to lying about his dealings with Russians who were offering "dirt" on Ms Clinton.
Additional reporting by agencies
Join our new commenting forum
Join thought-provoking conversations, follow other Independent readers and see their replies