Donald Trump announces Gen James 'Mad Dog' Mattis will be Secretary of Defence at 'thank you' rally
Spokesman Jason Miller denied that a decision had been made – but the President-elect said he was supposed to wait until Monday to make the announcement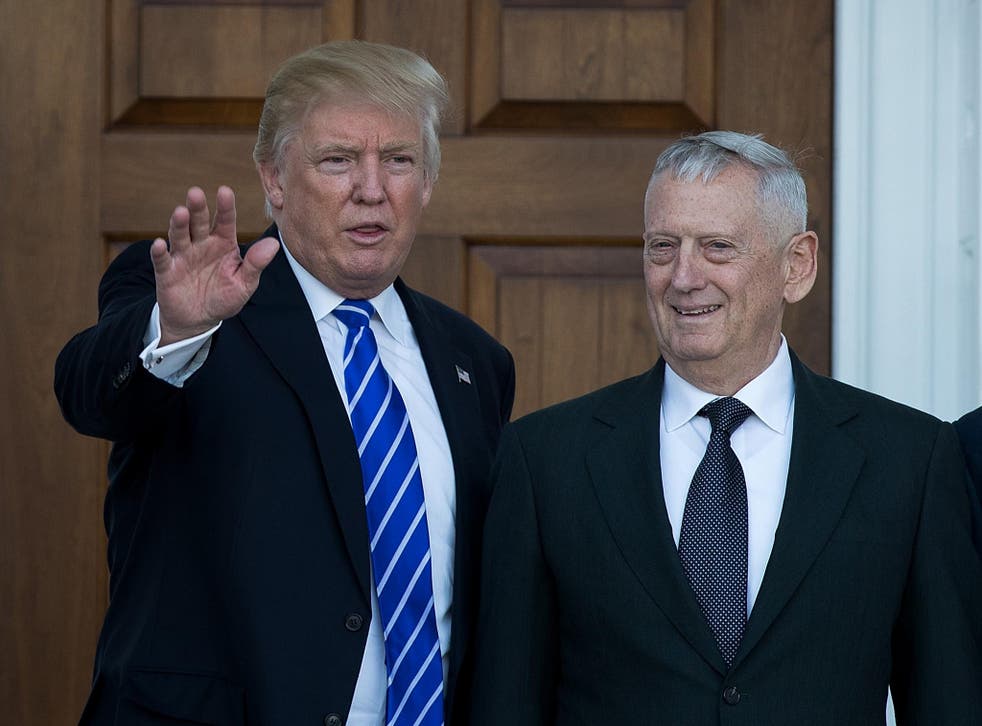 President-elect Donald Trump announced that he chose retired Marine Gen Jame Mattis to run the Pentagon as Secretary of Defence.
The announcement came prematurely following reports citing anonymous sources from The Washington Post and CNN. But Mr Trump yet again defied convention by making the announcement during his first stop on an unprecedented "thank you" tour in key battleground states.
"We are going to appoint 'Mad Dog' Mattis as our Secretary of Defence," he told the Cincinnati audience Thursday evening. "But we're not announcing it until Monday, so don't tell anybody."
He added: "They say he's the closest thing to [World War II] Gen George Patton that we have – and it's about time."
President Trump protests

Show all 20
Earlier in the day, a Trump spokesperson denied the speculation of Mr Mattis' new role, as he tweeted that no decision had been made.
Mr Mattis, 66, will join Mr Trump's national security team, which includes national security advisor Michael Flynn and Mike Pompeo for CIA director.
The retired general will face a legal barrier before taking the job in January. He retired four years ago, but federal law prohibits service members from entering civilian positions for seven years.
Congress will need to pass legislation for Mr Mattis to serve as defence secretary – something that has not been done since 1950.
Noam Chomsky: 'Trump has no known ideology other than me'
Mr Mattis is best known for leading the Marines during the 2004 Battle of Fallujah in Iraq. But he sparked controversy in 2005 when he made light of killing people while in battle.
"Actually it's quite fun to fight them, you know. It's a hell of a hoot," he told a San Diego audience in 2005. "It's fun to shoot some people. I'll be right up there with you. I like brawling.
"You go into Afghanistan, you got guys who slap women around for five years because they didn't wear a veil. You know, guys like that ain't got no manhood left anyway. So it's a hell of a lot of fun to shoot them."
But Mr Mattis has already appeared to soften Mr Trump's position on positions, such as torture – although the President-elect maintains he still wants to continue waterboarding terror suspects.
When Mr Trump asked him his thoughts on the now-banned method of torture that simulates drowning, he said he did not find it useful.
He said "'I've always found, give me a pack of cigarettes and a couple of beers, and I do better with that than I do with torture'," Mr Trump shared with The New York Times.
"I'm not saying it changed my mind. Look, we have people that are chopping off heads and drowning people in steel cages and we're not allowed to waterboard? But I'll tell you what, I was impressed by that answer."