Donald Trump's presidential campaign in chaos amid multiple sexual assault allegations
The Republican nominee has been hit with fresh accusations of sexual assault and harassment from at least five women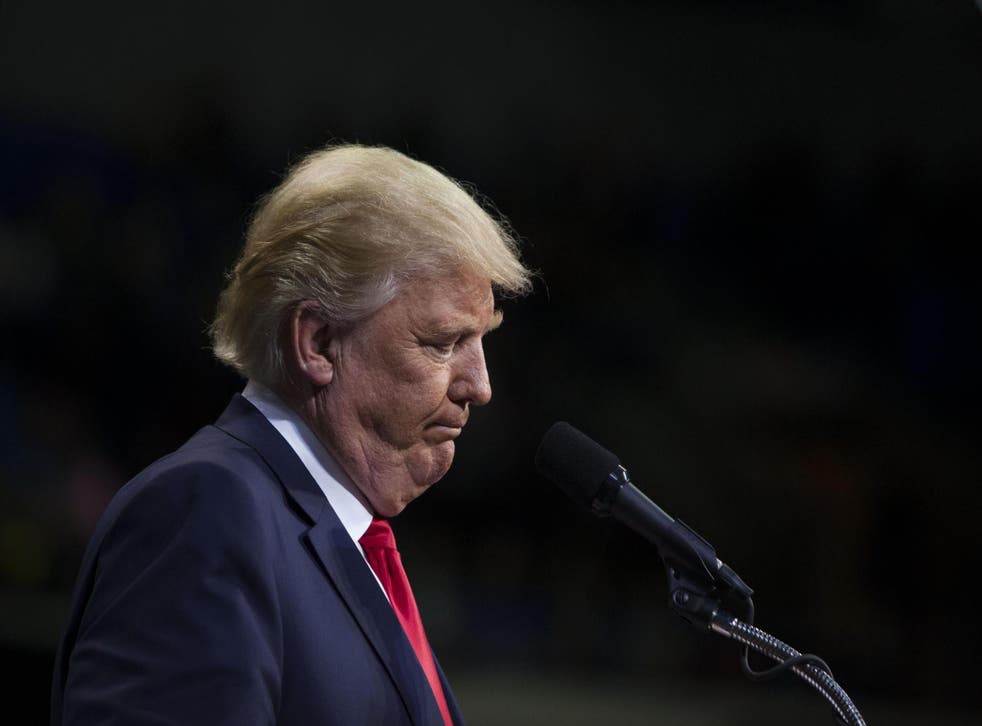 Donald Trump's presidential campaign was mired ever more deeply in ugliness and recrimination on Wednesday night, after the Republican nominee was hit with fresh accusations of sexual assault and harassment from at least five women.
The New York Times interviewed two women who both claimed to have had unpleasant encounters with the property developer. Jessica Leeds, 74, said Mr Trump had groped her when the two were seated next to each other on a flight more than three decades ago. Rachel Crooks, who worked for a firm based in Trump Tower in 2005, found herself in a lift with Mr Trump and tried to introduce herself by shaking his hand. The Apprentice star kissed Ms Crooks, then 22, "directly on the mouth," she told the newspaper.
Mindy McGillivray, 36, told the Palm Beach Post that she was groped by Mr Trump during a party at his Florida property Mar-a-Lago 13 years ago, while former Apprentice contestant Jennifer Murphy told Grazia Mr Trump had kissed her on the lips at the end of a 2005 job interview.
Trump makes crude comments in 1992 about young girl
In a lengthy account published late on Wednesday night, People magazine writer Natasha Stoynoff recalled travelling to Mar-a-Lago to interview Mr Trump and his wife Melania, also in 2005. Mr Trump, she claimed, had cornered her in private and "within seconds, he was pushing me against the wall, and forcing his tongue down my throat."
The Trump campaign condemned Ms Stoynoff's story as "fabricated" and the New York Times piece as "fiction" and "a completely false, coordinated character assassination". Mr Trump himself was said to be weighing a lawsuit against the newspaper, and, when called for comment on the accusations, told a Times reporter that she was a "disgusting human being".
The women have come forward in the wake of last week's emergence of a 2005 tape in which Mr Trump can be heard boasting about "grabbing" women "by the p****". At Sunday night's second presidential debate, the Republican nominee insisted the remarks were merely "locker room talk" and denied he had ever engaged in such behaviour.
Yet the new claims come on top of existing allegations against the embattled, 70-year-old presidential candidate. Earlier this year Cassandra Searles, a competitor in the Trump-owned Miss USA pageant in 2013, wrote on Facebook that Mr Trump had "continually grabbed my ass". In a 1997 lawsuit, Jill Harth accused Mr Trump of having groped her four years earlier when the two were business associates.
The Trump campaign is now fighting wars on several fronts, after a stream of GOP leaders withdrew their support from the party's nominee following the emergence of the "p****" tape. Mr Trump has since gone on the offensive against senior Republican figures including House Speaker Paul Ryan and Senator John McCain.
Meanwhile, his campaign has promised to dredge up further accusations of sexual impropriety against former president Bill Clinton, the husband of Democratic nominee Hillary Clinton. Mr Trump invited three women who have accused Mr Clinton of rape or sexual assault to attend the weekend's debate.
That aggressive strategy appears to have been counterproductive, with voter surveys conducted since the debate showing Ms Clinton's solid poll lead expanding ever further. The Democrat is ahead by comfortable margins in most swing states, while the GOP's internecine strife has helped her to draw level in one new poll of Utah, a conservative state that has voted Republican in every presidential election since 1964.
Register for free to continue reading
Registration is a free and easy way to support our truly independent journalism
By registering, you will also enjoy limited access to Premium articles, exclusive newsletters, commenting, and virtual events with our leading journalists
Already have an account? sign in
Register for free to continue reading
Registration is a free and easy way to support our truly independent journalism
By registering, you will also enjoy limited access to Premium articles, exclusive newsletters, commenting, and virtual events with our leading journalists
Already have an account? sign in
Join our new commenting forum
Join thought-provoking conversations, follow other Independent readers and see their replies