Donald Trump boasts of war with Republican leaders: 'The shackles have been taken off me'
The Trump Tapes controversy has left the Republican Party in a shambles as leaders try to save the House and Senate without their presidential nominee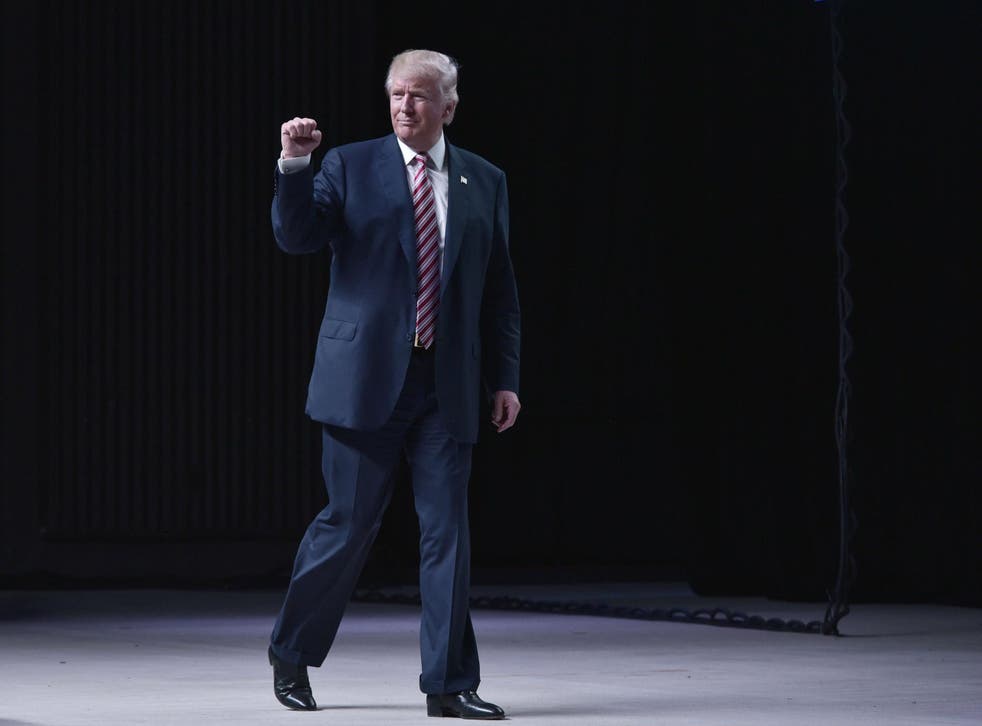 Donald Trump fanned the flames of chaos within the Republican Party, as he boasted of his apparent break from the GOP in a series of tweets.
The release of a 2005 tape that captured Mr Trump making obscene remarks about sexually assaulting women prompted a mass exodus of Republican support from the candidate's corner. Former supporters denounced his comments, where he said he could grab women "by the pussy" – some have even called for his outright withdrawal from the presidential race.
In yet another unprecedented display of turmoil between a presidential nominee and party leadership, Mr Trump expressed his feeling of betrayal Tuesday morning on Twitter yet felt satisfied that he could run his campaign without the fetters of the party.
"It is so nice that the shackles have been taken off me and I can now fight for America the way I want to," he tweeted.
Pouring salt into the hemorrhaging wound of the GOP, Mr Trump – who has supported Democrats in the past – praised liberals for their loyalty.
"With the exception of cheating Bernie [Sanders] out of the nom, the Dems have always proven to be far more loyal to each other than the Republicans!"
He continued: "Disloyal [Republicans] are far more difficult than Crooked Hillary. They come at you from all sides. They don't know how to win – I will teach them!"
Republican leaders backing away from Donald Trump after lewd remarks

Show all 12
Shortly before, he decried Mr Ryan as a "weak and inneffective leader" and complained of the difficulty in running his campaign with little support from his party.
On Monday, Mr Ryan held a conference call with Republicans where he said he would no longer campaign for the New York businessman. He stopped short of retracting his endorsement of the candidate, but instead said he would rather focus his time and energy on getting Republican members of Congress re-elected in November.
Donald Trump hints that more inappropriate tapes might be released
He told members of the call: "You all need to do what's best for you in your district," Politico reported.
In the midst of the GOP chaos, Republican National Committee chair Reince Priebus assured members that "everything is on course", during an emergency conference call.
"First of all, I want to make it very clear that the RNC is in full coordination with the Trump campaign, and we have a great relationship with them. If there's any takeaway from this call, that's the takeaway," Mr Priebus said.
"Nothing has changed in regard with our relationship," he added. "And we remain very much involved and together in all levels of making these decisions with how to run this operation across this country."
The tweetstorm follows a new NBC/Wall Street Journal poll that has him trailing Hillary Clinton by 14 points.
Register for free to continue reading
Registration is a free and easy way to support our truly independent journalism
By registering, you will also enjoy limited access to Premium articles, exclusive newsletters, commenting, and virtual events with our leading journalists
Already have an account? sign in
Register for free to continue reading
Registration is a free and easy way to support our truly independent journalism
By registering, you will also enjoy limited access to Premium articles, exclusive newsletters, commenting, and virtual events with our leading journalists
Already have an account? sign in