Donald Trump's surprise visit to Korean DMZ thwarted by bad weather
Chinook helicopters bearing the President and reporters forced to return to Seoul
Jeremy B. White
San Francisco
Wednesday 08 November 2017 01:44 Comments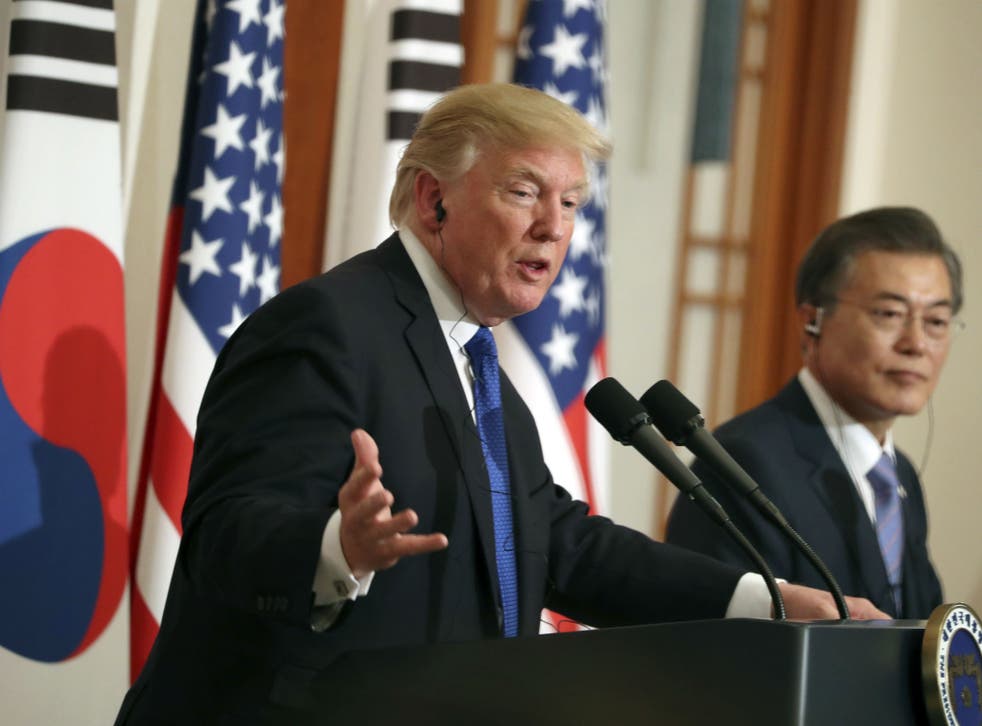 Donald Trump sought to make an unannounced visit to the demilitarized zone between North and South Korea but was thwarted by bad weather.
According to a White House pool report, the President intended to make a surprise visit to the heavily fortified area dividing communist North Korea from Western ally South Korea. Mr Trump has shown a propensity for catching others off guard with foreign policy moves, as when he ordered a strike on Syria.
But bad weather forced Chinook helicopters bearing the President and reporters to return to Seoul about half an hour after they lifted off.
Soaring tensions on the Korean peninsula have consumed much of the Trump administration's attention as North Korea has menaced its neighbours with repeated ballistic missile launches and its first successful test of a hydrogen bomb. Mr Trump and North Korea have traded militaristic rhetoric and threats of destruction.
The demilitarized zone, commonly known as the DMZ, separates two neighbours who remain locked in conflict more than half a century after the Korean War ended in an armistice rather than a peace treaty.
Vice President Mike Pence had already visited the DMZ, but this would have been Mr Trump's first visit. He was in South Korea as he continued his first visit to Asia as President, having already stopped in Japan.
Kim Jong-un inspects weapon North Korea says is powerful hydrogen bomb

Show all 6
Speaking to reporters alongside South Korean President Moon Jae-in, Mr Trump said the two leaders discussed "North Korea's grave nuclear threat" and reaffirmed the "crucial US security partnership with South Korea".
The two countries have conducted a series of joint military drills, which North Korea has denounced as acts of aggression.
Mr Moon said South Korea was exploring purchasing American-made military equipment, with Mr Trump chiming in that South Korea planned to buy "billions of dollars" worth.
Register for free to continue reading
Registration is a free and easy way to support our truly independent journalism
By registering, you will also enjoy limited access to Premium articles, exclusive newsletters, commenting, and virtual events with our leading journalists
Already have an account? sign in
Join our new commenting forum
Join thought-provoking conversations, follow other Independent readers and see their replies